Leaders laud Jayashankar's achievements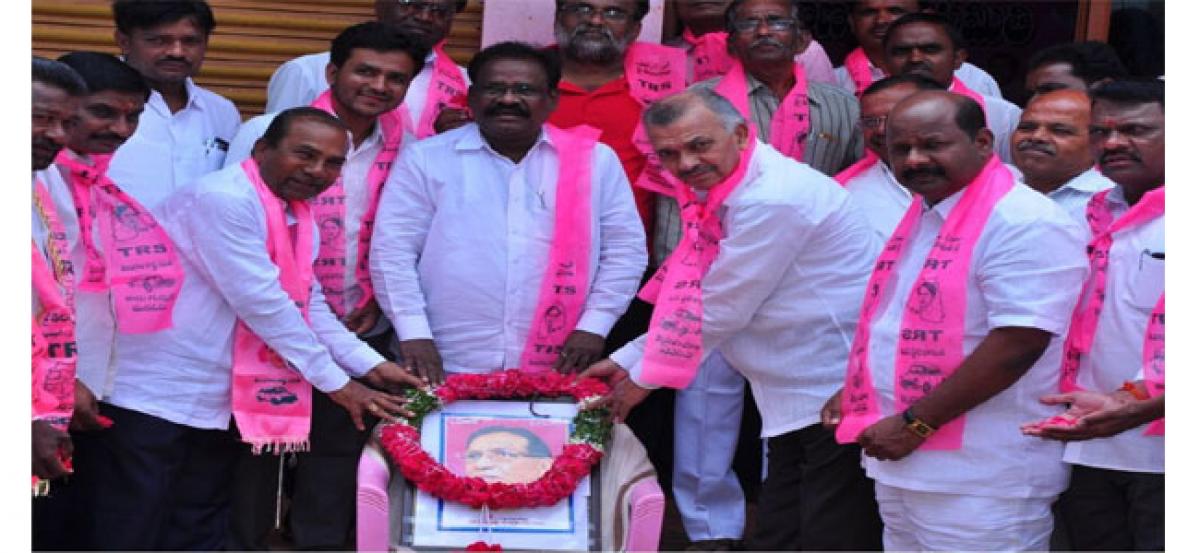 Highlights
Rich tributes were paid to Telangana Ideologue Prof Jayashankar here on Monday on the occasion of his birth anniversary Several speakers lauded Prof Jayashankars achievements
Siddipet: Rich tributes were paid to Telangana Ideologue Prof Jayashankar here on Monday on the occasion of his birth anniversary. Several speakers lauded Prof Jayashankar's achievements. They described him as the staunch proponent of statehood to Telangana right from his childhood till he breathed his last.
The part played by Prof Jayashankar in various movements during the past six decades will be etched in the state's history permanently. They said that he had played a very crucial role in the final phase of the movement for Telangana under the leadership of KCR. The strategy worked out by Jayashankar to involve various outfits ranging from the Radical Students' Union to the Rashtreeya Swayamsevak Sangh (RSS) was an excellent strategy, they recalled.
It was unfortunate to note that he had breathed his last on the verge of Telangana getting statehood.
Telangana state council for higher education chairman Papaiah and Telangana Vikas Samiti president Nandini Bhagawan Reddy, secretary K Rangachary, media academy member K Anjaiah and others paid floral tributes to the ideologue by garlanding Jayashankar's statue near the government degree college here.
At Jogipet
At Jogipet, Telangana Jagruti leader Bikshapati paid tributes to Jayashankar and noted that the state is on the road to development as part of achieving the cherished goal of Bangaru Telangana. TRS leaders Golla Srinivas, Gajula Anil Kumar, Telangana Jagruti leader Nagaraj, Faizal, Maruti, Siva, Akhil, Srinith and others took part.
At Zaheerabad
At Zaheerabad, TRS leaders, officials of various government departments paid rich tributes to Jayashankar on the occasion of his 84th birth anniversary. At the TRS party office here, former minister Fariduddin, TRS leader Siva Kumar, Zaheeraabd councilors, farmers leaders and others garlanded the portrait of Jayashankar and paid rich tributes to him.
At Jharasangham
Telangana jagruti leaders Pandu, Parameshwar, Jharasnagam mandal level leader Manikyam and others paid rich tributes to Jayashankar at a programme held at MPDO office here.