40 Migrants Die off Italy as Europe Faces 'Worst Crisis Since World War II'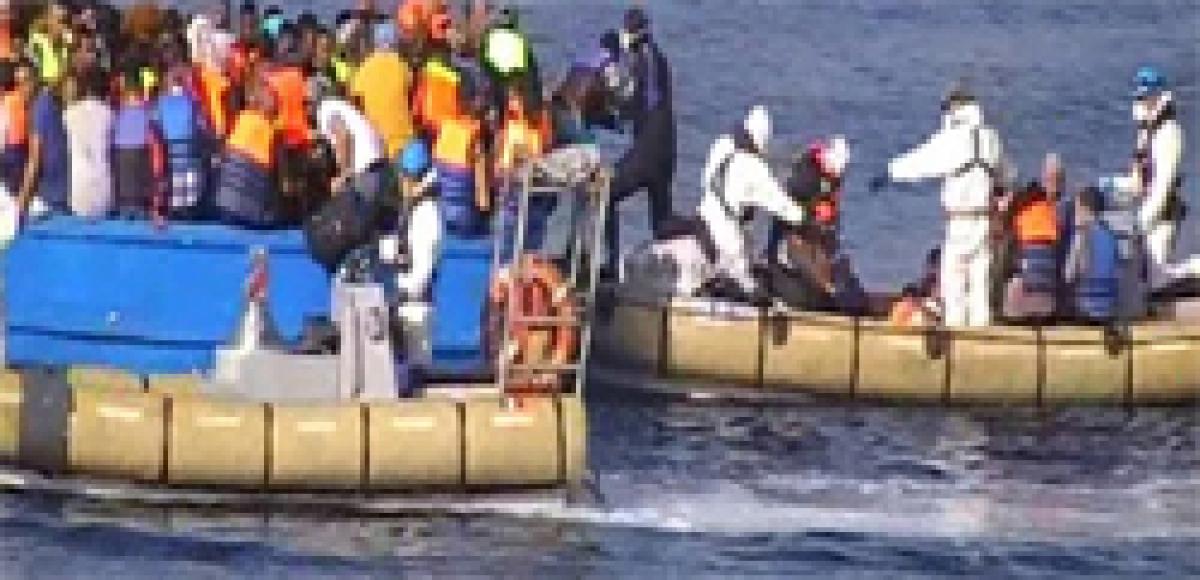 Highlights
At least 40 migrants died in the hold of a boat off Italy Saturday as the EU struggled to cope with \"the worst refugee crisis since World War II\", with thousands making dangerous crossings to reach Italy and Greece.
At least 40 migrants died in the hold of a boat off Italy Saturday as the EU struggled to cope with "the worst refugee crisis since World War II", with thousands making dangerous crossings to reach Italy and Greece.
"Operation under way... many migrants saved. At least 40 dead," the Italian navy said on Twitter, while the Corriere della Sera newspaper said those who died were found in the hold of the vessel, apparently having suffocated below deck.
An Italian navy helicopter had spotted the boat, which was "overcrowded and starting to sink", about 21 nautical miles off the Libyan coast, south of the Italian island of Lampedusa, a reporter with Italy RaiNews TV at rescue operation headquarters said.
An Italian navy patrol boat was sent to its aid at 7 am (0500 GMT) and when its sailors boarded the boat, the grim discovery was made.
"We were faced with a very emotional scene," Commander Massimo Tozzi, told the Italian news agency AGI, describing how some bodies were floating on the water.
The 312 survivors -- including 45 women and three children -- were then transferred to the Norwegian vessel Siem Pilot.
Almost 400 other migrants were picked up in the Mediterranean Saturday by other vessels taking part in the EU's patrol and rescue operation, Triton.
'This tragedy not the last'
Survivors of the hazardous crossing from Libya often tell of how traffickers lock migrants in the hold -- mostly black Africans -- who pay less for the voyage.
Packed inside the confined space they not only risk drowning if the rickety boats capsize, but many are also overcome by diesel fumes.
"This tragedy will not be the last if the international community does not find a solution to the crisis in Libya," from which most of the migrants set out, Italy's Interior Minister Angelino Alfano said.
The European Union says the scale of migration, driven by war, disaster and poverty, has no parallel since the end of World War II.
"The world finds itself facing the worst refugee crisis since the Second World War," EU Migration Commissioner Dimitris Avramopoulos said on Friday.
Italy and Greece have born the brunt of the emergency.
On the Greek island of Kos, scores of exhausted migrants, many of whom arrived on inflatable boats early Saturday, were turned away from a ferry that was due to start registering new arrivals.
"We don't know where to go. We were told we could no longer register at the stadium" where Greek authorities were registering new arrivals this week, said Sleiman, a Syrian refugee among those gathering near the ferry in the morning.
Hundreds of people who have managed to register could however be seen leaving the resort island Saturday on a ferry bound for Athens.
Earlier this week, there were some 7,000 refugees and migrants on Kos, but that number has fallen to some 2,500, according to Greek police.
Medical charity Doctors Without Borders (MSF) on Saturday voiced concern over claims by some of the migrants on Kos that they had been attacked at sea.
"We have heard enough stories for us to be concerned," MSF humanitarian affairs officer Constance Theisen told AFP, adding that the first such reports started coming in in July.
Ahmad Yousef, a 40-year-old refugee from Baghdad who is now in Kos, said his boat had been attacked on a previous failed attempt to reach Greece.
"Big, tall men with their faces covered, carrying weapons, sticks and knives approached our boat, punctured it, and threw our motor into the water," Yousef said.
Greece's coastguard said on August 1 that it had arrested three men on the island of Samos, some 100 kilometres (60 miles) north of Kos, suspected of preying on migrants seeking to cross over from Turkey.
They were dressed like Greek coastguards and wore hoods, the coastguard said.
Some 102,000 migrants have arrived on Italy's shores since the start of the year while nearly 135,000 have arrived in Greece. At least 2,300 people have died making the crossing, according to the latest figures issued by the International Organization for Migration (IOM).
To deal with the crisis the EU is fast-tracking 2.7 million euros ($3 million) to debt-wracked Greece, which will also receive 30 million euros from a total fund of 2.4 billion euros created for all 28 EU member states to cope with migrants until 2020.
Interested in blogging for thehansindia.com? We will be happy to have you on board as a blogger.