Malaysia to charge women with airport murder of North Korean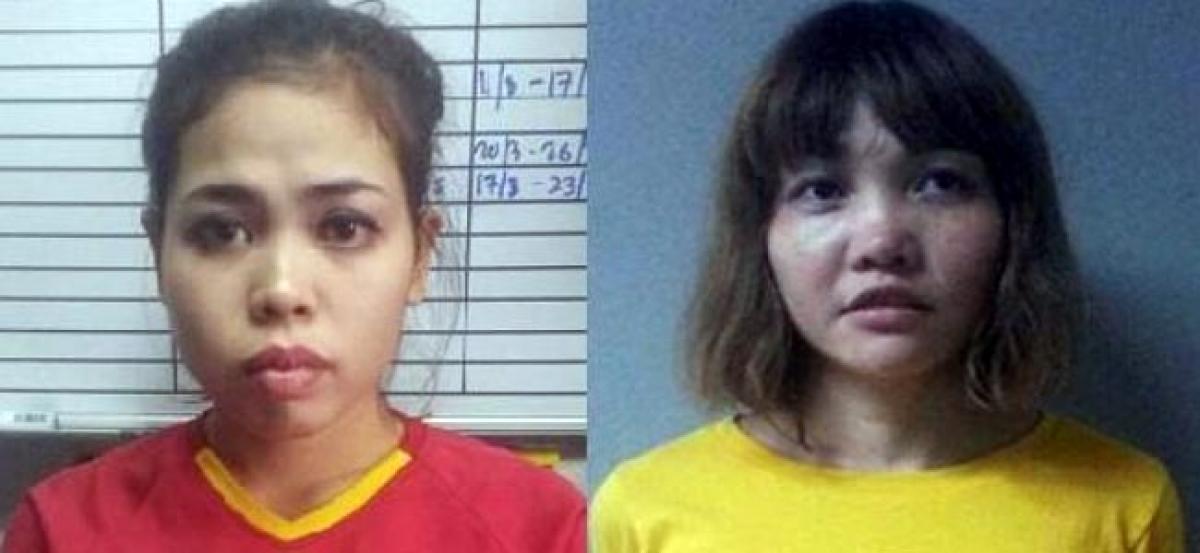 Highlights
Two women - an Indonesian and a Vietnamese - will be charged on Wednesday with murder over the killing in Malaysia of the estranged half-brother of North Korea\'s leader, Malaysia\'s attorney general said.
KUALA LUMPUR: Two women - an Indonesian and a Vietnamese - will be charged on Wednesday with murder over the killing in Malaysia of the estranged half-brother of North Korea's leader, Malaysia's attorney general said.
Police have said the women smeared VX nerve agent, a chemical on a U.N. list of weapons of mass destruction, on Kim Jong Nam's face in an assault recorded on security cameras in the Malaysian capital's airport on Feb. 13.
U.S. and South Korean officials believe Kim was the victim of an assassination orchestrated by North Korea. He had been living in exile, under Beijing's protection, in the Chinese territory of Macau, and had criticised the regime of his family and his half-brother Kim Jong Un.
Malaysian police arrested Doan Thi Huong, the Vietnamese woman, and Indonesian Siti Aishah in the days after the attack.
Police are also holding one North Korean man and have identified seven other North Koreans wanted in connection with a case that reads like the plot to a spy movie.
Both women will be formally charged on Wednesday under section 302 of the penal code, which carries the death penalty.
"I can confirm that," Attorney General Mohamed Apandi Ali told Reuters in a text message.
He said the North Korean in custody would not be charged yet. His remand period ends on Friday.
The security camera footage, which has been released in the media, showed two women assaulting Kim Jong Nam in the departure hall of Kuala Lumpur International Airport, and the victim stumbling into a clinic. He died within 20 minutes of the assault.
Both women have told diplomats from their countries that they had been paid to take part in what they believed was a prank for a reality television show.
HUMBLE ROOTS
Huong, the Vietnamese woman, was detained 48 hours after the murder in the same airport terminal where Kim Jong Nam was killed.
She is believed to be the woman wearing a white shirt emblazoned with the acronym "LOL", whose image was caught on security cameras while waiting for a taxi after the attack.
The daughter of a rice farmer in northern Vietnam, Huong had left home aged 18 more than a decade ago. She was described by Malaysian police as working for an "entertainment outlet", but they gave no details of where she had been employed or her immigration status.
A South Korean police official said Huong visited the holiday destination of Jeju Island in November for four days and they were looking into what she may have been doing there.
The Indonesian woman, Siti Aishah, was detained a day after Huong. Indonesian diplomats said Aishah claimed she had been paid around $90 for her role in what she thought was a prank for reality TV.
Old neighbours in a slum in Indonesia's capital, Jakarta, said before she left to find work in Malaysia, she had lived a quiet life, working from home in her ex-husband's family tailoring business before the couple separated in 2012.
Aishah's former father-in-law said she had returned to Jakarta on Jan. 28 to visit her seven-year-old son.
Police have said that the women knew what they were doing when they attacked Kim Jong Nam and were instructed to wash their hands afterwards. But regardless of whether they did or not know of the murder plot, both appear to have been viewed as expendable by whoever gave them the VX.
Police said Aishah fell sick, vomiting repeatedly while in custody possibly as a side-effect of VX, though Indonesian embassy officials have subsequently said she is in good health.
Malaysia's investigation into the killing has sparked diplomatic tension with North Korea, and on Tuesday a high- ranking delegation arrived in Kuala Lumpur from Pyongyang in a bid to smooth ties.
Ri Tong Il, North Korea's former deputy ambassador to the United Nations, repeated requests that Malaysia hand over the victim's body to the embassy and release the North Korean in custody. He said he was in Malaysia for "the development of friendly relations between the DPRK and the Malaysian government", media reported.
North Korea's official name is the Democratic People's Republic of Korea.