Pak polls' results: All you want to know about key players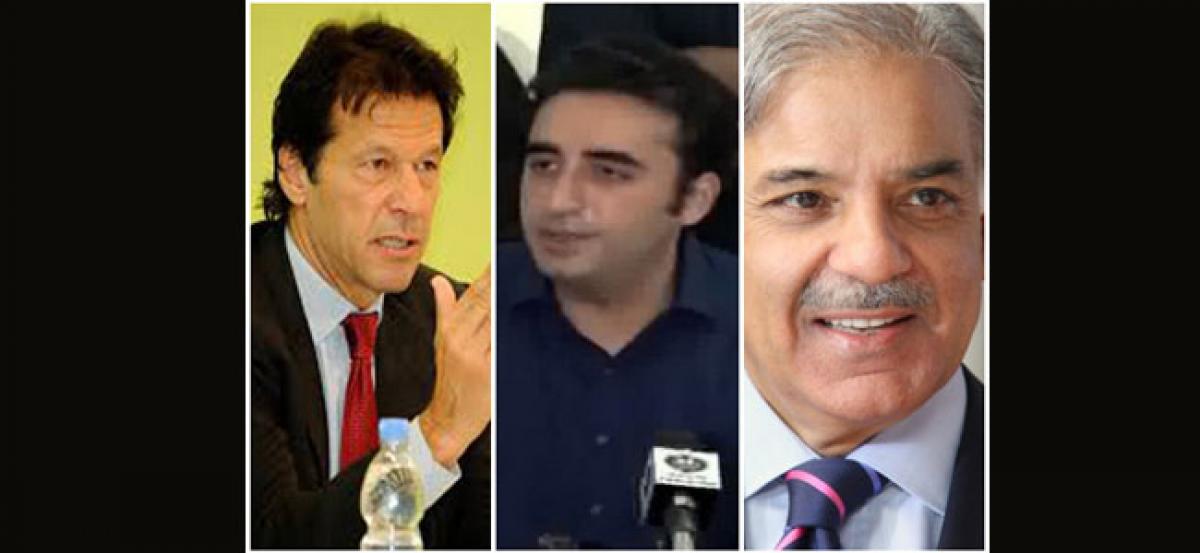 Highlights
Pakistan TehreekeInsaf PTI chairman Imran Khan has won the NA95 Mianwali constituency in Punjab, defeating Pakistan Muslim LeagueNawaz PMLN candidate Abdullah Khan by nearly 80,000 votes, ARY News reported citing unofficial results
Islamabad [Pakistan]: Pakistan Tehreek-e-Insaf (PTI) chairman Imran Khan has won the NA-95 Mianwali constituency in Punjab, defeating Pakistan Muslim League-Nawaz (PML-N) candidate Abdullah Khan by nearly 80,000 votes, ARY News reported citing unofficial results.
Imran won 1,27,530 votes in the PML-N stronghold, while Abdullah settled in at less than 50,000 votes.
Imran is also leading in the NA-53 Islamabad seat and has got 21,955 votes, way ahead of former Pakistan Prime Minister and PML-N's Shahid Khaqan Abbasi, who has obtained 9,847 votes so far.
The PTI chief is also leading by a whisker margin in NA-131 Lahore constituency, as per unofficial results.
The cricketer-turned-politician is also having a good lead in the Bannu National Assembly seat in Khyber Pakhtunkhwa beating the Muttahida Majlis-e-Amal (MMA) candidate.
Pakistan People's Party (PPP) chairman Bilawal Bhutto is leading in the Larkana-I seat with 2,717 votes, compared to MMA's Rashid Mehmood Soomro, who has got 459 votes so far.
Bilawal is also sailing through in Karachi South constituency, having obtained 1,755 votes so far, compared to PTI's Abdul Shakoor Shad, who has got 1,144 votes.
However, the Bhutto scion is trailing in the NA-8 Malakand seat.
Shehbaz Sharif, who is the president of the governing party PML-N and brother of jailed, ousted Prime Minister Nawaz Sharif, is trailing in NA-249 seat in Sindh. The PTI's Faisal Vawda is leading in the constituency.
Shehbaz is also trailing in the NA-192 Dera Ghazi Khan-IV constituency, having got 10,324 votes so far. PTI candidate Muhammed Khan Leghari is leading with 17,049 votes.
The PML-N President is trailing in the NA-3 Swat-II seat (2,800 votes) and PTI candidate Saleem Rehman is leading with 14,813 votes so far.
The PTI is set to emerge as the single largest party with Imran Khan likely to be the new prime minister of Pakistan.
According to ARY news, citing unofficial results, the PTI is leading at 120 seats, while PML-N and PPP are closing in at the second and third positions respectively.
Other parties are leading in 20 constituencies so far, while independent candidates are also leading in 20 seats.
Various political parties and journalists have alleged the elections to be rigged in favour of Imran Khan.
Earlier, Bilawal took to Twitter to express concerns about the malpractices.
"It's now past midnight & I haven't received official results from any constituency I am contesting my myself. My candidates complaining polling agents have been thrown out of polling stations across the country. Inexcusable & outrageous," he wrote on the micro-blogging site.
Pakistan went to polls on Wednesday and the counting of votes began soon thereafter in the evening.