Amal Clooney calls on Myanmar's Aung Suu Kyi to pardon Reuters reporters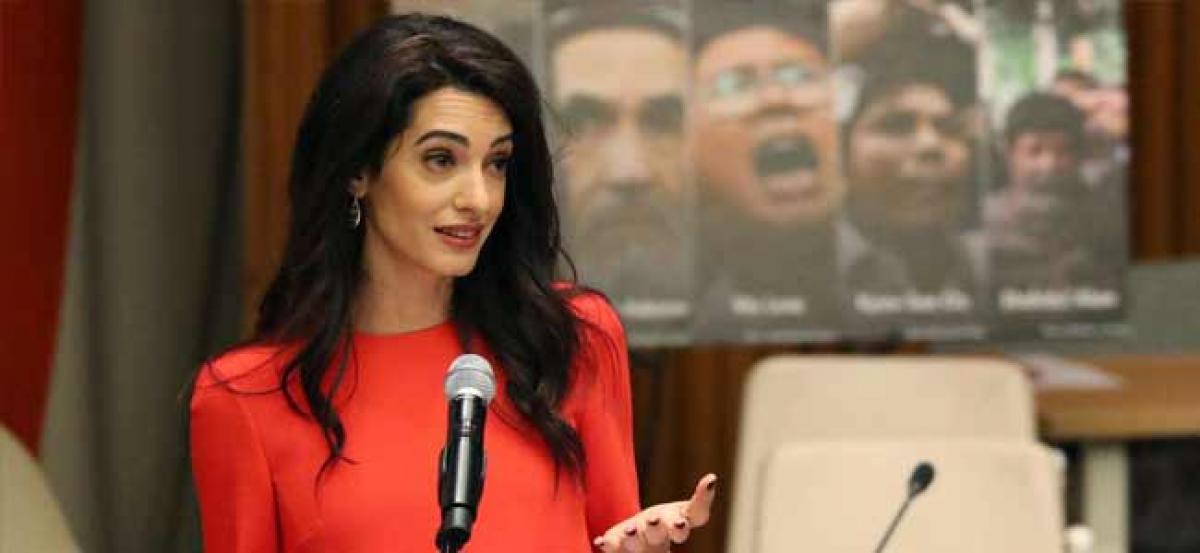 Highlights
The families of two Reuters reporters imprisoned in Myanmar have asked for a pardon, human rights lawyer Amal Clooney told a press freedom event at the United Nations on Friday as she pressed the countrys civilian leader Aung San Suu Kyi to agree
The families of two Reuters reporters imprisoned in Myanmar have asked for a pardon, human rights lawyer Amal Clooney told a press freedom event at the United Nations on Friday as she pressed the country's civilian leader Aung San Suu Kyi to agree.
Clooney is a member of the legal team representing Reuters journalists Wa Lone, 32, and Kyaw Soe Oo, 28, who were convicted on Sept. 3 under the colonial-era Official Secrets Act and sentenced to seven years in prison.
She said the reporters' wives wrote "a really heartfelt letter" to the government about a week ago pleading for a pardon, not because their husbands had done anything wrong, but because it would allow them to be released from prison.
Clooney said Myanmar's President Win Myint would make the decision to issue a pardon in consultation with Suu Kyi.
In a message to Suu Kyi, Clooney told Reuters: "You fought for so many years to be freed from the same prison where they now sit and now you have the power to actually remedy this injustice today if you wanted to."
The Myanmar mission to the United Nations did not immediately respond to a request for comment. Myanmar government spokesman Zaw Htay has said the court was independent and followed due process in the case.
The reporters pleaded not guilty and have been detained since December. Kyaw Soe Oo has a three-year-old daughter. Last month, Wa Lone's wife gave birth to their first child, a girl, whom Clooney said Wa Lone has not yet met.
The reporters had been working on a Reuters investigation into the killing of 10 Rohingya Muslim men and boys by security forces and local Buddhists in western Myanmar's Rakhine state during an army crackdown that began in August last year. The operation sent nearly 700,000 people fleeing to Bangladesh.
A UN mandated fact-finding mission said Myanmar's military carried out mass killings and gang rapes of Muslim Rohingya with "genocidal intent" and called for top generals to be prosecuted. Myanmar rejected the findings.
Suu Kyi said at a forum in Vietnam this month that the case had nothing to do with freedom of expression. She said the reporters had been sentenced for handling official secrets and "were not jailed because they were journalists."
UN Secretary-General Antonio Guterres earlier this month called on the Myanmar government to pardon and release the Reuters journalists as soon as possible.
"This case is about much more than two innocent men," Clooney told Reuters after an event hosted by the Committee to Protect Journalists (CPJ) on the sidelines of the annual UN General Assembly on Friday.
"If you care about press freedom you care about this case ... Without a free press you cannot have democracy because you don't know how to judge what your government's doing," she said.
The CPJ event also focused on the cases of imprisoned journalists in Egypt, Kyrgyzstan and Bangladesh. Representatives for the United States, Britain, France, Germany, Australia, Lebanon and other countries attended.
The CPJ said a record 262 journalists were jailed worldwide in 2017, with Turkey, China, and Egypt responsible for imprisoning 134 of those journalists.