Trump-Kim summit: N.Korean leader talks up denuclearisation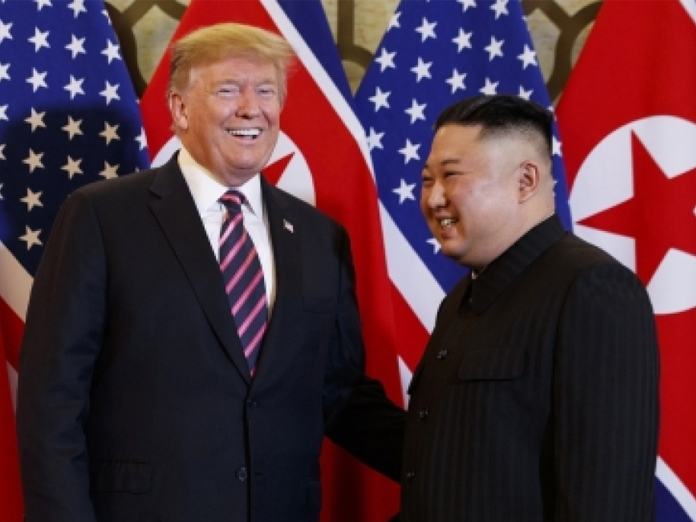 Highlights
North Korean leader Kim Jongun on Thursday said he would not be at a summit with US President Donald Trump if he was not ready to denuclearise
Hanoi:North Korean leader Kim Jong-un on Thursday said he would not be at a summit with US President Donald Trump if he was not ready to denuclearise.

The second summit between the two leaders in Hanoi, Vietnam, comes eight months after their first meeting in Singapore. They are believed to be discussing a roadmap for removing nuclear weapons from the Korean Peninsula and could also announce a formal treaty ending the Korean War.

Trump tried to limit expectations, saying there was "no rush" for a deal, the BBC reported.

But after Kim told a reporter that if he was not ready to denuclearise he "wouldn't be here", the US leader responded: "That might be the best answer you've ever heard."

Washington had previously said North Korea had to unilaterally give up its nuclear weapons before there could be any sanctions relief, but that condition is known to be a sticking point for the North Koreans.

Speaking ahead of their talks, Trump appeared to again address scepticism about the success and progress of their last summit, saying he wanted to get the "right deal".

"I've been saying very much from the beginning that speed is not that important to me. I very much appreciate no testing of nuclear rockets, missiles, any of it," Trump said, adding that he had "great respect" for Kim.

Meanwhile, answering his first question from a foreign reporter, Kim said: "It's early to tell, but from my instincts, I do have a feeling that good results will emerge."

The leaders were joined by their advisors. From the US side, Secretary of State Mike Pompeo and White House Chief of Staff Mick Mulvaney were present.

Kim was accompanied by Foreign Minister Ri Yong-ho and the regime's senior official Kim Yong Chol.

The North Korean leader said they would "have a very interesting dialogue" and hoped the Hanoi summit delivers "an outcome welcome by everyone". He also alluded to the slow progress of negotiations, saying "it's been a period that required a lot of patience and effort".

Kim said the "outside world" had "misunderstood" the US-North Korean relationship in the period after the Singapore summit and added they shared a "very interesting conversation" upon meeting on Wednesday.