Rich tributes paid to martyrs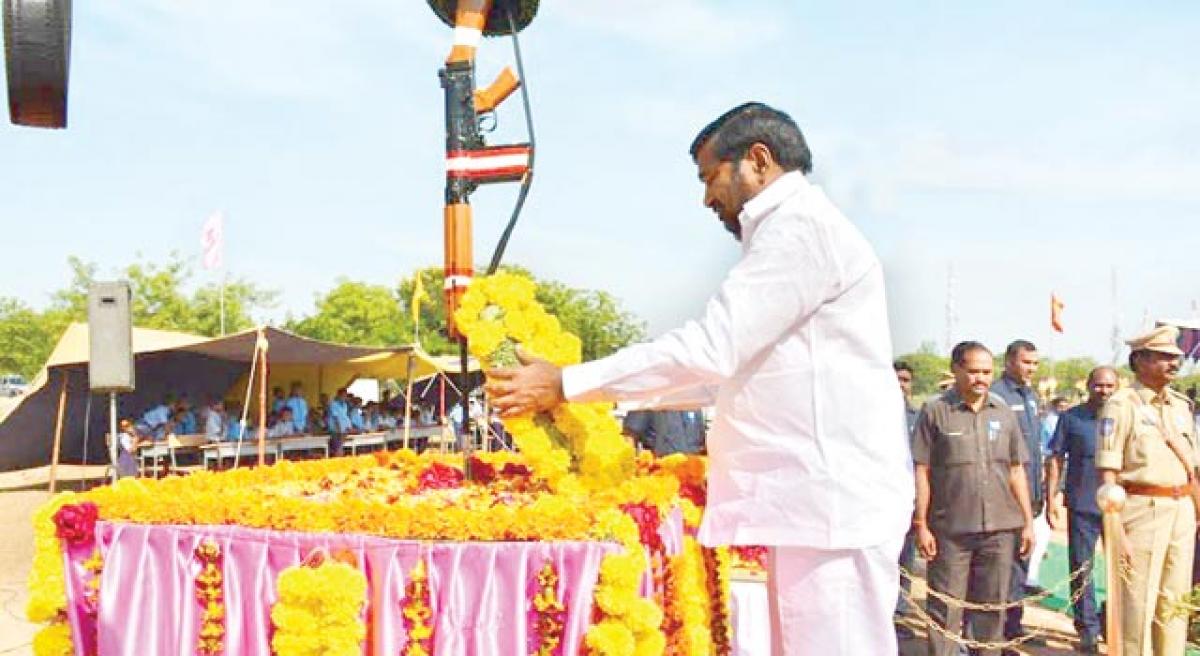 Highlights
Speaking on the occasion, Jagadish Reddy felt that effective policing was must for maintenance of law and order and for ensuring good administration by the government.  Stating that there was a change in the attitude of the people towards the police due to friendly policing initiative of the State government, Reddy claimed that the fear in the minds of public towards police was removed and also br
Nalgonda: Rich tributes were paid to policemen who laid their lives in the line of duty during the ongoing Police Martyrs Commemoration Day observed at Nalgonda, Suryapet and Yadadri district headquarters on Friday. The Minister for Power and SC Development G Jagadish Reddy paid floral tributes at Police Martyrs Memorial in Nalgonda and Suryapet. In Suryapet, the Minister unveiled the Martyrs Memorial Pillar.
Speaking on the occasion, Jagadish Reddy felt that effective policing was must for maintenance of law and order and for ensuring good administration by the government. Stating that there was a change in the attitude of the people towards the police due to friendly policing initiative of the State government, Reddy claimed that the fear in the minds of public towards police was removed and also brought a feeling that the police were also part of people's welfare.
Stating that the State government was also giving top priority to the welfare police, the Minister reminded that the ex gratia to the families of the policemen, who died while discharging duties, was enhanced in multiples by the State government. He informed that the government has decided to extend free bus pass facility to policemen and their family members from this Police Martyrs Commemoration Day.
Suryapet SP Parimala said policemen should work with dedication towards maintenance of law and order. Sincerity and dedication would bring the police department closer to the people. Underlining the need to shun harsh behavior and corruption, she felt that these two things were bringing bad repute to the police even through they were sacrificing their lives for the society. "The policemen should be impartial in carrying out their duties," she advised.
Nalgonda District Collector Gaurav Uppal, Suryapet Collector Surendra Mohan, Additional SP Ganga Ram and others attended the programme.
The Minister later distributed the prizes to the students who won drawing and essay writing competitions that were conducted in connection with the event Jagadish Reddy has also participated in the programme observed in 12th Battalion of APSP at Anneparthy of Nalgonda district. Nalgonda MP Gutha Sukender Reddy, MLAs Gadari Kishore and N Bhasker Rao, Uttam Padmavathi, MLC Poola Ravinder also participated in the programme.
In Yadadri Bhonagir district, the day was celebrated in a grand way at District police office located at Hanumapuram in the district headquarters. District Collector Anita Ramachandran, DCP Yadagiri, public representatives, leaders of various parties and police staff paid tributes to martyrs and recalled their services.
Collector and other dignitaries released a song CD prepared by Telagana Samskruthika Vedika in memory of police martyrs who scarified their lives in Suryapet Hi-Tech bus stand incident last year while arresting SIMI extremists. Apart from district headquarters of Nalgonda, Suryapet and Yadadri, rallies and meetings were organised in all police divisional headquarters of three districts in remembrance of police martyrs.