Banks choke as hoi polloi throng to exchange notes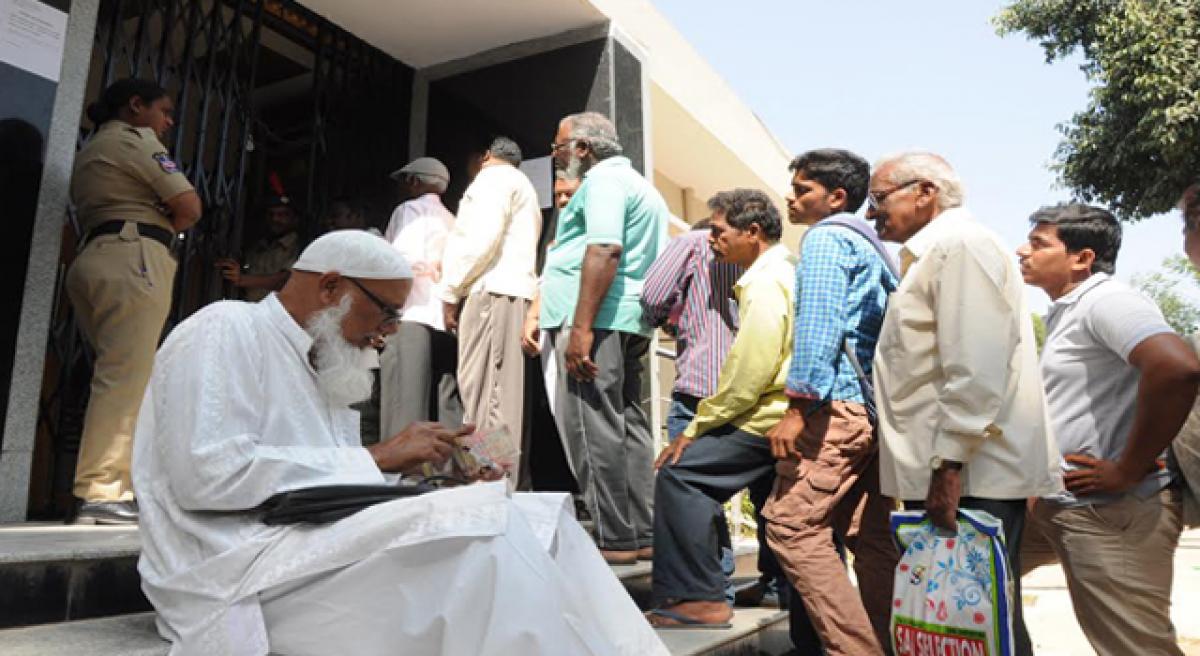 Highlights
As no proper arrangements were made at the banks, people were forced to wait in long queues braving the Sun. The customers were allowed inside the banks in small groups to avoid crowd at the counters.  
​Nalgonda/Sathupalli: In not a surprising sight, a large number of people, standing in serpentine queues, were seen at many of the banks in Nalgonda much before the opening time to exchange the banned 500 and 1,000 rupee notes.
As no proper arrangements were made at the banks, people were forced to wait in long queues braving the Sun. The customers were allowed inside the banks in small groups to avoid crowd at the counters.
As a precautionary measure, the district police deployed a constable each at branches of the nationalised banks particularly State Bank of India and State Bank of Hyderabad to manage the rush. As majority of people chose SBI and SBH branches to exchange old currency notes, hectic scenes were appeared at the branches of these banks.
SBI and SBH main branch in Nalgonda have witnessed a huge number of people, who arrived to exchange old notes and deposit in their accounts. As no separate counters were setup for old-aged persons and women, they faced severe inconvenience by standing in the queue lines for long hours.
As no new Rs 500 and Rs 1,000 currency notes reached their branches, SBI and SBH branches have extended Rs 100 notes for exchange of huge denominations of old currency. But, private banks HDFC and ICICI have extended new currency notes to the people who came for exchange of old currency notes.
The services of NCC cadets were also utilised to manage the rush. Though separate counters were set up inside some of the banks for exchange of old currency notes and deposit them in the bank accounts, people were forced to wait in a single queue line.
P Suresh Kumar, a teacher of a private school, who arrived at SBH main branch to exchange the notes, said he had to wait for more than three hours to get the new notes. He said he was stood in the queue outside the bank for almost one hour.
Mangamma, an old woman, felt that special counters set up for old persons could have helped them better and saved then from standing in queues for hours together.
Meanwhile, the Superintendent of Police N Prakash Reddy visited SBH main branch at Clock Tower Centre and Head Post Office and examined the arrangements.
He extended some suggestions to the security personnel and bank managers to manage the crowds. Speaking to the media later, Prakash Reddy said the new currency notes of Rs 500 and Rs 2,000 have not reached the SBH and SBI branches in Nalgonda and expecting to arrive by evening of Thursday. Police personnel were deputed at 112 branches of different banks in the district.
He asked people to follow queue system at branches and wait for their turn to exchange the old currency notes. As the banks started functioning, the petrol bunks would not face problems of having "change". The collection of toll tax was stopped at three toll plazas in the district and it would be implemented until Friday night, he added.

Caption: People are in long queue and waiting for their choice to exchange the currency at SBH Nalgonda on Thursday Meanwhile in Sathupalli also similar scenes were witnessed. People in serpentine queues were seen waiting at various banks right since morning on Wednesday as banks reopened after the Centre announced demonitisation of 500 and 1,000 rupee currency notes from the midnight of Tuesday.
Officials of various banks summoned the police for ensuring security in view of the huge crowd waiting for exchanging cash. The bank officials assured people that things would fall in place and improve after ATMs were reopened.
Officials told The Hans India that for the customers would not have any problem in making deposits and drawing money in exchange for surrendering the banned notes up to a limit of Rs 4,000. A bank manager said any amount could be deposited in a person's account as banks would work on Saturday and Sunday also.