This doctor couple turns saviour of girl children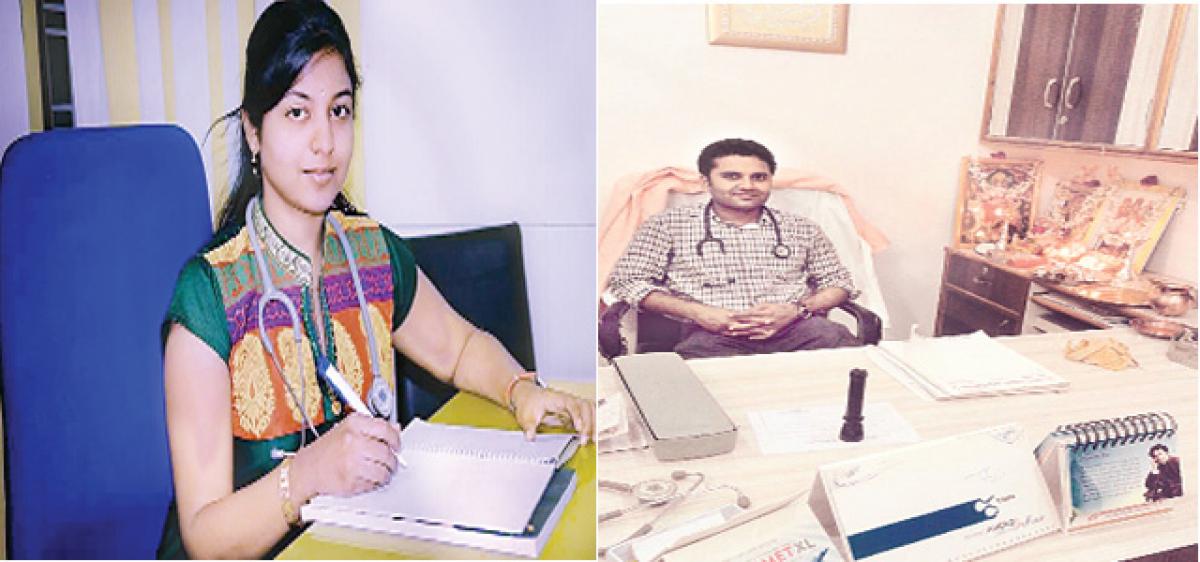 Highlights
Nirmal: When female foeticides and infanticides are becoming the order of the day, a doctor couple, inspired from Centre's Beti Bachao, Beti Padhao initiative, has decided to do their bit towards protecting the girl children by carrying out free surgeries and providing
Nirmal: When female foeticides and infanticides are becoming the order of the day, a doctor couple, inspired from Centre's Beti Bachao, Beti Padhao initiative, has decided to do their bit towards protecting the girl children by carrying out free surgeries and providing medicines to women who are blessed with a baby girl.
The couple, Dr Rajnikanth and his wife Dr Apoorva, who have been running a private hospital for the last many years in Bhainsa, decided to conduct free surgeries and provide medicines to women who are blessed with a girl.
In this regard, on the auspicious Doctors' Day on July 1, 2016, Dr Rajnikanth started the initiative. Since then, the response has been outstanding with 48 surgeries being successfully completed.
Post surgery, the doctors also offer free medicines and assistance to mothers' who deliver girl child.
Getting to know about the initiative taken up by the doctor couple, people from Nizamabad, Armoor, Bhokar and Nanded have been visiting the hospital for deliveries and taking the benefit of services rendered by Dr Rajnikanth.
Talking to The Hans India, Dr Rajnikanth said, "It's my role as a doctor to give the best service to my patients, but it's the human in me asked me to play my role in saving the girl child.
Specially, in a country like India where sex determination is rampant and many infants die due to various health issues, I discussed the idea with my wife and she gave a nod of acceptance to the same.
We are happy that people have been lauding our efforts and it is their moral stand that gives us immense energy to move ahead with such divine service to humanity."
Dr Apoorva said, "I really appreciate and feel proud to be part of such a noble cause initiated by us. We all are blessed with one life and that should be utilised well to give our best to the humanity."
Anasuya, a patient who gave birth to a baby girl said, "We were moved when we heard about the noble initiative taken up by Dr Rajnikanth.
I really feel proud that I am a part of this historic initiative and pray the almighty to give Dr Rajnikanth and his wife a happy and healthy life."