Malnutrition claims 10 babies at Shishu Vihar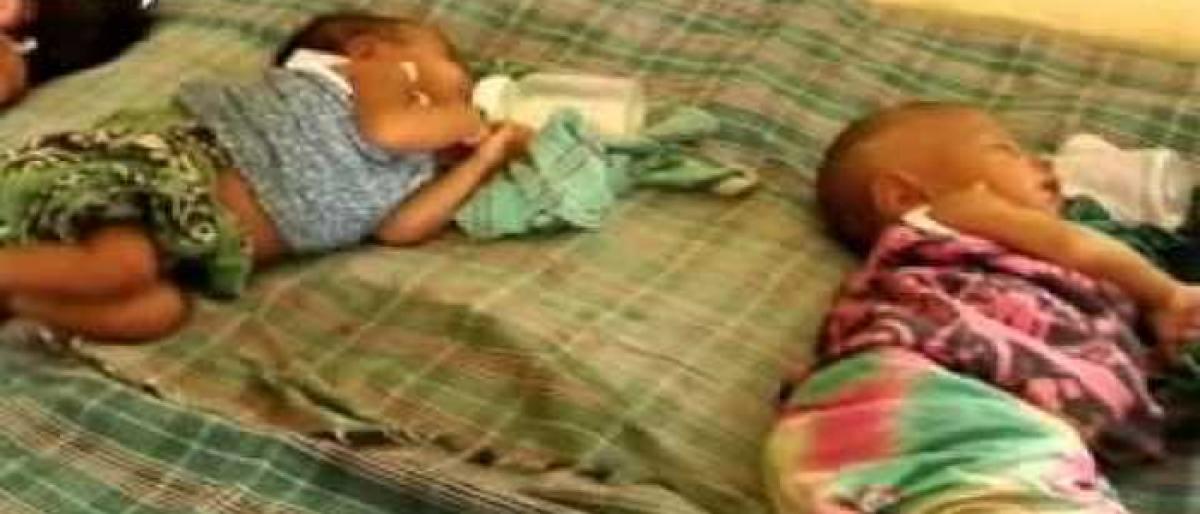 Highlights
Severe malnutrition had claimed at least 10 baby girls in Shisu Vihar in the last three months. It is pathetic to note that in October itself seven deaths occurred. Though hundreds of childless couples have been waiting for adopting babies for years, the government, which could have expedited their applications to give these orphaned children in adoption, has been dilly-dallying on the same leadin
Nalgonda: Severe malnutrition had claimed at least 10 baby girls in Shisu Vihar in the last three months. It is pathetic to note that in October itself seven deaths occurred. Though hundreds of childless couples have been waiting for adopting babies for years, the government, which could have expedited their applications to give these orphaned children in adoption, has been dilly-dallying on the same leading to their deaths. It may be noted that parents giving birth to girl children for the third or fourth time in anticipation of a baby boy often desert the newborn near bushes or dustbins. Such unwanted babies are brought to Shishu Vihar for nourishment.
At present the Shishu Vihar has 41 babies, where seven babies are below six months. They have been receiving treatment at the nutritional rehabilitation centre at the district headquarters government hospital. As the condition of the four babies turned critical, they have been referred to Niloufer Hospital, Hyderabad.
In fact, facilities at Shishu Vihar here are enough to take care of only 20 babies. But as the strength rose to 41, the caretakers are unable to handle them and thereby affecting the hygiene, and also health of the babies.
Further, there is no in-house doctor at the Shishu Vihar. Instead of extending nutritional diet depending on the baby's requirement, the same diet is being extended to all babies affecting their health. Some of them died and some others have been undergoing rehabilitation at government hospital in Hyderabad and Nalgonda.
In 2005, the Shishu Vihar was set up here. Another one was set up in Devarakonda in 2010. Over a period of time, the facility at Devarakonda has been shifted to Nalgonda. In all, 500 have been admitted to the Shishu Vihars. Of them, 200 have been given in adoption. The death rate of the babies is rather slow till recently with the Shishu Vihar recording a death or two a month. Never in the past has it witnessed death of 10 babies in three months.
Meanwhile, the death of the babies is attributed to pneumonia, respiratory diseases and dehydration. Alleged negligence and increased strength in the Shishu Vihar are also stated to be the reasons for the death.
It is also alleged that use of milk powder of certain brand has proved fatal for the babies. The children fed with the milk powder developed infections and died. With the change of the milk powder, the children have been recovering.
Responding to The Hans India report, District Revenue Officer Kheemya Naik, Integrated Child Development Scheme Project Director Pushpalata and Woman and Child Welfare Officer Saranya Reddy visited the Shishu Vihar and sought a report on the deaths for future course of action.