Ill-euipped soil testing labs leave farmers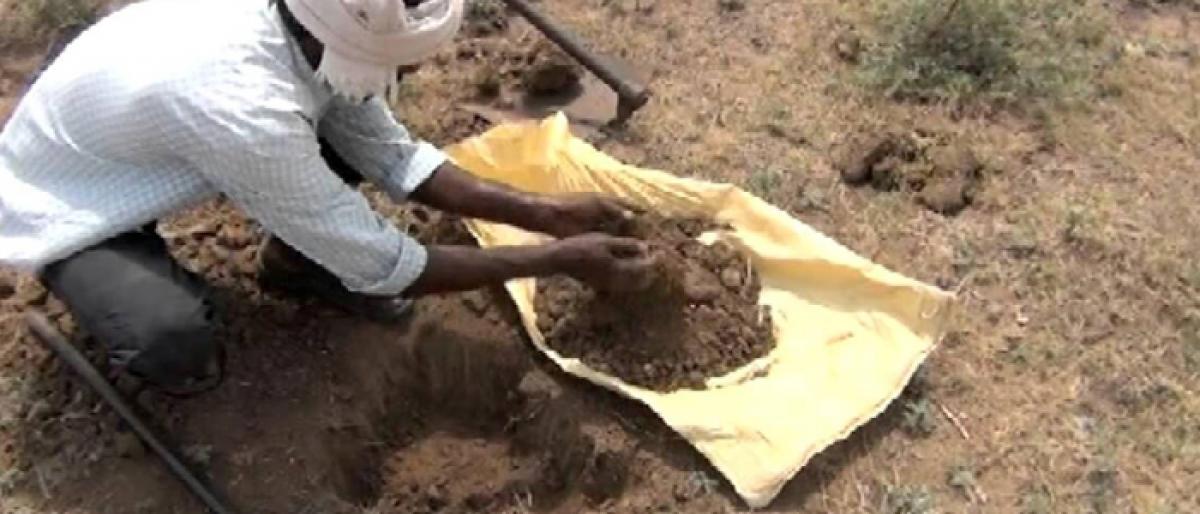 Highlights
Farmers are facing problems with the lack of adequate laboratory equipment and infrastructure facilities in the existing soil testing laboratories across the district. At present, there is only one major soil testing lab in Jadcherla
Mahbubnagar: Farmers are facing problems with the lack of adequate laboratory equipment and infrastructure facilities in the existing soil testing laboratories across the district. At present, there is only one major soil testing lab in Jadcherla and recently the government had set up three sub-soil testing labs in Dhanwada, Kondapur and Gunmukla mandals in the district. Except in Jadcherla soil testing laboratory, all the remaining labs are ill-equipped and do not have needed infrastructure to test the soil. As a result, the farmers are unable to choose the right kind of crop as per the soil and thus making them incur loss as their crops are failing to yield the intended results.
There is a huge demand for soil testing in the district. However, the only one major Jadcherla soil testing laboratory is not able to meet the growing demands of the farmers. "Usually the farmers send their samples to the labs and expect results in two-three days. However, the officials are unable to provide the results even after 15 to 20 days and sometimes take months together for the final result. Because of this, the farmers are losing a lot," said Amgoth Venkatesh, a farmer from Shankarayapally village.
Last year, the government had stressed on compulsory soil testing before the farmers start sowing the seeds and created awareness through various programmes. These have increased the demand of soil testing. But the existing soil testing laboratories are unable to meet farmers demand on time.
Keeping that in mind, the government had set up another three mini soil testing centres in the district at the cluster level, but the authorities concerned have forgotten to equip these centres with requisite amenities. This has now turned out to be a curse for the beneficiaries.
The district has about 118 clusters of which, 116 clusters are able to access the mini soil testing centres. The government has spent Rs 1 lakh on each centre to provide it with necessary equipment and spent a total of Rs 1.16 crore on all these centres. But, the district authorities could not provide basic infrastructure for conducting tests and storing soil testing equipment.
Mainly, the issues being faced by the soil testing laboratories are lack of proper building infrastructure. For instance, the authorises have set up the Kondapur cluster in a rented building which also houses the village panchayat office. In Bhanwada, the centre was set up in a room allocated by the single window chairman and the room does not have an almirah for keeping the equipments.
Of the four cluster centres allocated to Koilkonda mandal, only one is working at Garlapadu village. The mini soil testing centre set up at Kotlabad, Koilkonda and Tirmalapally have already become defunct.
However, Agriculture Officer Sucharitha has expressed hope that things would be streamlined soon and by next season, they would be able to meet the farmers demand on time.