Govt blatantly neglecting people's issues: CPI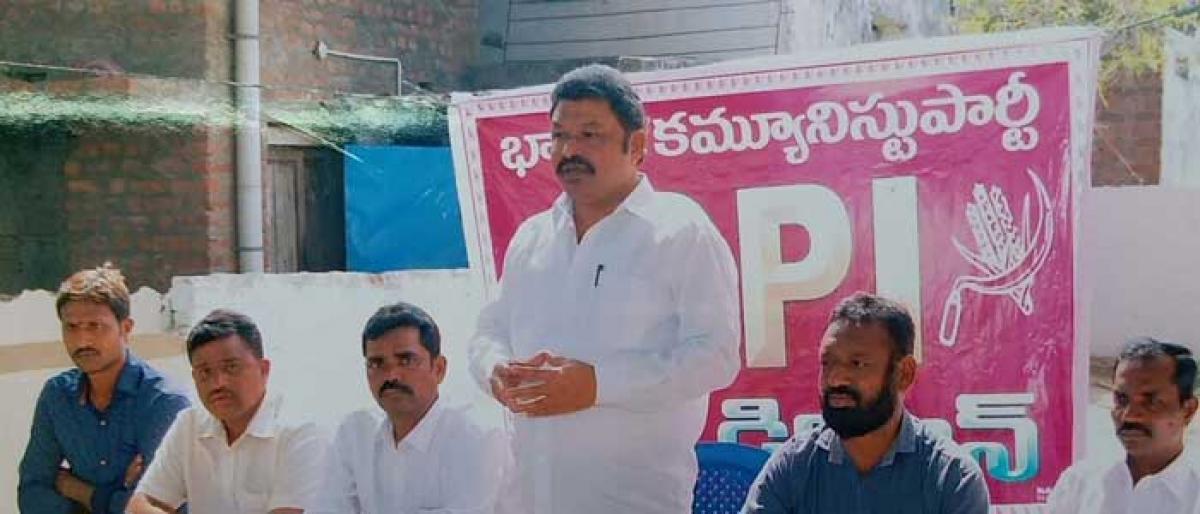 Highlights
City secretary of Communist Party of India (CPI) S K Jani Miya alleged that the leaders of the ruling party were neglecting people and their problems. Speaking at a meeting held with the representatives of 31st Division of CPI party under the leadership of A K Chana here in Khammam on Friday, Jani Miya said without solving the problems of people, the leaders were cutting the time with hollow promi
Khammam: City secretary of Communist Party of India (CPI) S K Jani Miya alleged that the leaders of the ruling party were neglecting people and their problems. Speaking at a meeting held with the representatives of 31st Division of CPI party under the leadership of A K Chana here in Khammam on Friday, Jani Miya said without solving the problems of people, the leaders were cutting the time with hollow promises and sugar-coated words.
All the welfare schemes introduced by the government are only meant for giving wide publicity. Not a single scheme is implemented with commitment," he alleged, adding that the government had failed in addressing the increasing needs of Khammam city which has been expanding enormously.
"The government had utterly failed in providing basic facilities in the colonies where middle class and poor live," he criticised. The CPI leader further demanded the government to extend the National Employment Guarantee scheme to those living in cities and towns too.
"The CPI is always committed for the welfare of downtrodden and had taken several movements in support of peoples' needs. The party's district level conference will be held from February 17 to 19," he informed. Party leaders Mohammad Salaam, Yanali Samabashiva Reddy, S K Saida and others were present.