Child labour menace goes unabated in Palamuru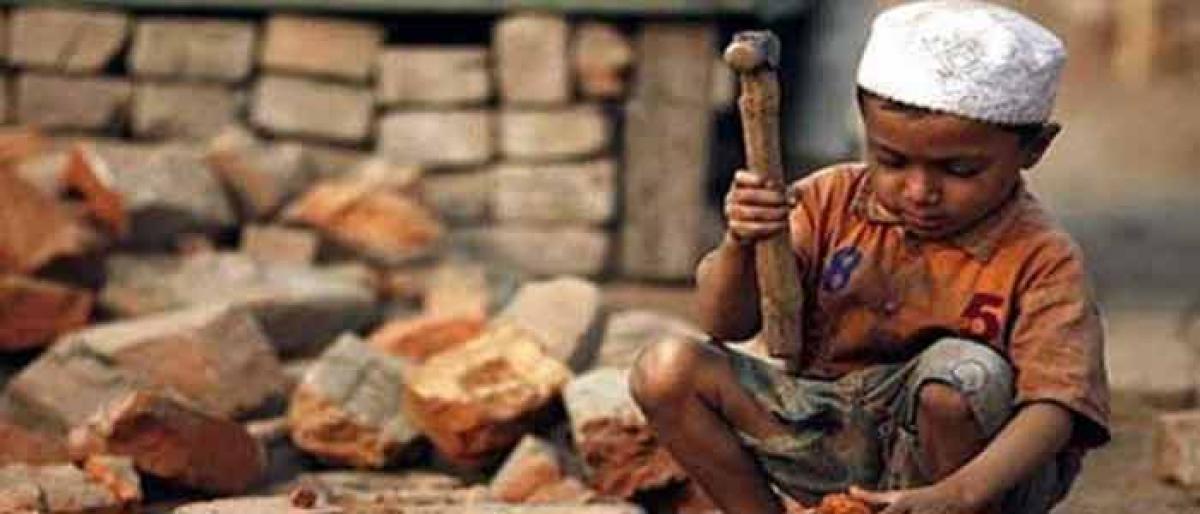 Highlights
Despite conducting regular inspections and various initiatives taken up by the Labour Department, the menace of child labour is continuously persisting in Mahbubnagar district. According to available statistics, the mandals of Jadcherla, Devarkadra, followed by Makthal, Narayanpet, Balanagar
Mahbubnagar: Despite conducting regular inspections and various initiatives taken up by the Labour Department, the menace of child labour is continuously persisting in Mahbubnagar district. According to available statistics, the mandals of Jadcherla, Devarkadra, followed by Makthal, Narayanpet, Balanagar and Nawabpet have been increasingly witnessing the child labourers who are mostly found working in Hotels, retail grocery shops, brick lings, and at small and bigger cloth showrooms in the district.
Though the District Administration had conducted raids on some of the small shops, hotels and toy making temporary sheds and rescued various child labourers and even shifted them to State homes, the lack of proper follow up to see that these rescued children are sent to residential schools by the department concerned has limited the child labour eradication programme to only rescuing them at the first place. Because of this incomplete drive the children who are rescued in the first place are again recalled by the parents and guardians by giving false undertaking and after release from State homes they continue to work as child labour and there is no end for this menace.
"Last year we have rescued many small children below 14 years from toy making centres and lodged them at the State homes for a week. However, the parents and the guardians of these children get them release by giving false undertaking of sending them to schools. But they don't send them to schools and continue to employ them as labourer. Because of this the menace of child labour in the district is not ending," observed an official from the labour department who did not want to be mentioned.
However, taking a serious note of child labour existence in Mahbubnagar Krishna Aditya, district in charge Joint Collector conducted a meeting of Task Force committee members in the district and asked them to come out with a plan to work in coordination with all departments in the district to eradicate the child labour menace in the district. "We have issued strict warning notices to all the shop keepers, industries, owners of brick lings to not to employ child below 14 years as labour in their establishments. If anyone found violating the norms set by the government, they will have to face stringent legal action," said Krishna Aditya.
At present the officials have identified maximum number of child labourers in Jadcherla, Devarkadra mandals in the district. It is also found that people from other States like Rajasthan, Bihar and Orrisa have brought their children along with them and putting them at work.
The Special Task Force committee members during their raids during the past three years have reused around 300 child labourers and all of them have been admitted in 34 National Child labour Project (NCLP) centres in the district.
"Over all we have identified more than 3,680 child labourers in Mahbubnagar district and all these children have been admitted into child labour bridge schools and were provided special training and later have been admitted in to various schools and hostels run by the district education department," informed the Joint Collector.
For eradication the child labour from the root, the district administration wants all the departments' the labour, factories and industries and the education department to work in coordination and ensure all those children rescued from Hybrid Cotton Seed farms, brick links hotels, shops etc be admitted in special bridge schools or government run residential schools.