Satya Lakshmi selected for Women's Day Award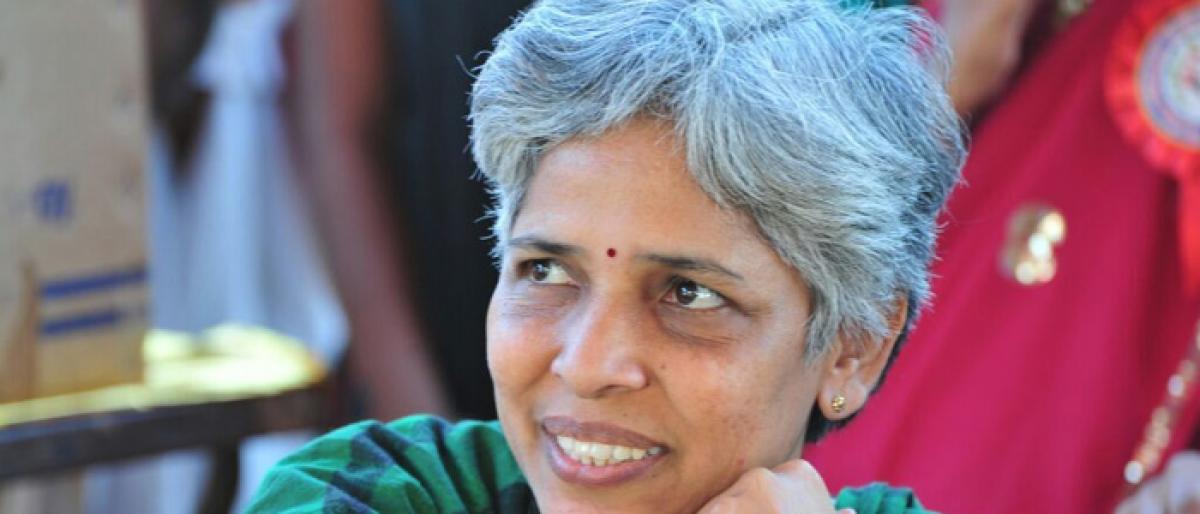 Highlights
Daughter of the soil Dr Satya Lakshmi has been selected for State government International Women's Day award in the field of health. She will be given the award on International Women's Day award distribution function, to be held at Lalitha kala Toranam in Hyderabad  
Nalgonda: Daughter of the soil Dr Satya Lakshmi has been selected for State government International Women's Day award in the field of health. She will be given the award on International Women's Day award distribution function, to be held at Lalitha kala Toranam in Hyderabad
Dr Satya Laxmi is a native of Nalgonda andshe completed her graduation in Naturopathy in 1987 and introduced the naturopathy treatment to the district people by establishing Nature Cure Centre in Nalgonda in 1988 and continued it till she moved to Hyderabad in 1996.
Speaking to The Hans India, DrSatyalaxmi saidshe hadderived impression from feminist Volga during her stay in Nalgonda, she had started a women organisation "SABALA" with like-minded women and created awareness among the women on laws and rights by conducting weekend meetings and discussions.
On invitation, she joined as a doctor in RedCross Naturopathy Hospital at Banjarahills in Hyderabad in1996 . Working along with other doctors, she successfully transformed the Naturopathy Hospital into self- sufficiency in a span of 10 years and got appreciations from all quarters
After completion of MPhil,she joined as a research official in Yoga Adyana Parishad at Ameerpet and later she was deputed as director for Vemana Yoga Adyana Parishad in Hyderabad. From 2015 onwards, she is director of National institute of Naturopathy in Pune .
During the Telangana agitation, she worked along with OU professor Rama Melkote Reavathi, and intellectuals like Sunitha, Sajaya , Gogu Shymala Achuthaand others under the banner of Telangana forum for Hyderabad and educated the college youth by distributing books impact on backwardness of Telangana region due to water, lack of employment and deprivation of people by the rulers of the United AP.
They also published a book witha documented proof of Potti Sriramulu opinion of no objection of having two separate Telugu States in the interest of people. After formation of Telangana, in 2014, along with Subhadra , Malleswari, Aunty, Vani , she took initiative and launched Telangana Women Employees Association to unite them and fight for their rights.
As a representatives of TWEA, along with women employees, both Dr Satya Laxmi and Subadra met Chief Minister KChandrashekar Rao and after discussing women problems with him , on his direction , the duo met the District Collectors and paved the way forthe women employees to celebrate Batukamma at the Collecotratesin the evenings during the nine days of festival She expressed her pleasure on announcement of her name by State government for women award on the eve of InternationalWomen'sDay and thanked the Chief Minister for selecting her name for the award.