Galla Jayadev initiates discussion on no trust-motion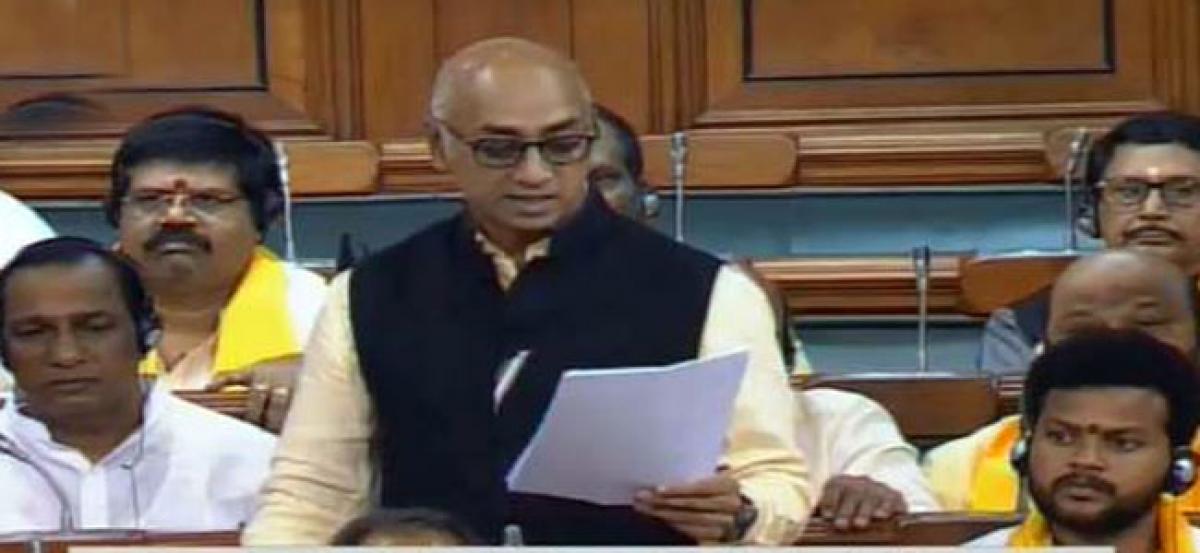 Highlights
Telugu Desam member Galla Jayadev washed the dirty linen in Lok Sabha against the BJP on Friday while initiating discussion on noconfidence motion, calling the BJP a betrayer of the trust of the people of AP
TRS creates trouble, taking exception to his comment that division of the state was unscientific BJD stages walk out from Lok Sabha.
New Delhi: Telugu Desam member Galla Jayadev washed the dirty linen in Lok Sabha against the BJP on Friday while initiating discussion on no-confidence motion, calling the BJP a betrayer of the trust of the people of AP.
Arguing that after division, AP became the new state with no infrastructure and with one too many challenges on all fronts while Telangana had everything already with it, the Guntur parliamentarian came down heavily on the centre for abdicating its responsibility of going to the rescue of the reorganised state, badly bruised in the process of bifurcation.
Underscoring that the BJP had lost the trust of the people, Jayadev referred to Bharat Ane Nenu, a Mahesh Babu starrer, to drive home the point that a politician could forsake anything but not trust of the people. Interestingly, Jayadev Galla is Mahesh Babu's brother-in law.
"One could build trust of people only when one keeps promises," he said, accusing Prime Minister Modi and BJP president Amit Shah for the deplorable state of affairs in Andhra Pradesh at the moment.
As soon as Vijayawada MP Kesineni Nani moved the motion, Jayadev initiated the discussion, even as the BJD staged a walk out since the party believed that the motion has nothing to do with the problems of Odisha.
Jayadev pointed out how AP became the loser in the game of the division of the state which was done irrationally, without keeping in mind the sentiment of the people which was against bifurcation.
The TRS members created trouble when Jayadev argued that assets went to Telangana and liabilities were transferred to AP and that the division was most unscientific and irrational. Undaunted Jaya Dev continued his address. TRS has taken the stand of not supporting the no-confidence motion but decided to raise Telanagna issues if an opportunity crops up.