Imran Khan takes oath as 22nd Pakistan PM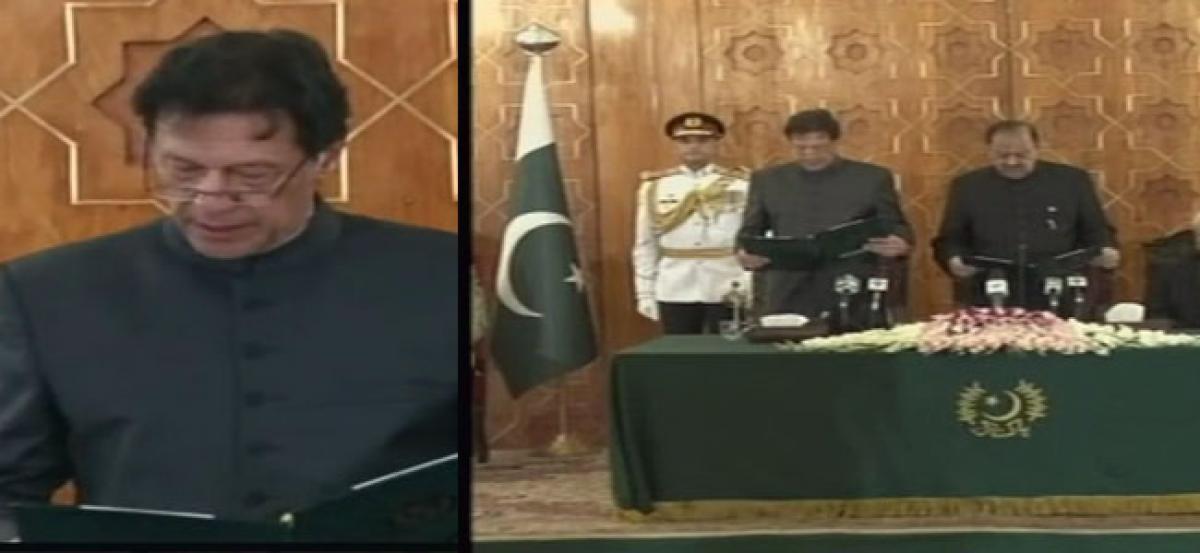 Highlights
Imran Khan, Pakistans cricket legend, has taken oath as the countrys 22nd prime minister today, a day after he won the backing from the newlyelected Parliament
Imran Khan, Pakistan's cricket legend, has taken oath as the country's 22nd prime minister today, a day after he won the backing from the newly-elected Parliament.
Khan, 65, who won a simple majority from lawmakers yesterday in a confidence vote will be administered oath by President Mamnoon Hussain. He will be sworn-in three weeks after the general elections took place on July 25.He outvoted opposition and PML-N prime ministerial candidate Shahbaz Sharif in the PM's election. Yesterday, in his first address to Parliament, Khan vowed to act against those who looted Pakistan."I promise my nation today that we will bring the tabdeeli (change) that this nation was starving for," said Khan.
Islamabad: #ImranKhan takes oath as the Prime Minister of #Pakistan pic.twitter.com/nhzRqpJQ6I

— ANI (@ANI) August 18, 2018
"We have to hold strict accountability in this country; the people who looted this country, I promise that I will work against them," he vowed. The Oxford-educated Pasthun, who launched Tehreek-e-Insaf, which means the movement for justice, in 1996, said that he reached this place after struggling for 22 years.
#ImranKhan's wife Bushra Maneka at Khan's oath-taking ceremony in Islamabad #Pakistan pic.twitter.com/XleLVg9Sw7

— ANI (@ANI) August 18, 2018
Former Indian cricket star Navjot Singh Sidhu is attending the oath taking ceremony. Khan, who famously captained the national cricket team to World Cup glory in 1992, has also invited some of his former teammates to witness his formal ascension to the top ministerial job in the country. The PTI emerged as the single largest party with 116 seats in July 25 elections. Its number increased to 125 after nine independent members joined it and final tally reached 158 after it was allotted 28 out of 60 seats reserved for women and five out of 10 seats reserved for minorities.
Khan's government will be the third consecutive democratic government in Pakistan since 2008 when military ruler Gen Pervez Musharraf announced elections after serving as president from 2001 to 2008 following a bloodless coup in 1999. The Pakistan Peoples Party formed the government in 2008, followed by the Pakistan Muslim League-Nawaz led by jailed former prime minister Nawaz Sharif in 2013. Pakistan's powerful military has ruled the country through various coups for nearly half of the country's history since independence in 1947.