KCR is a farmer in his thoughts visionary in his acts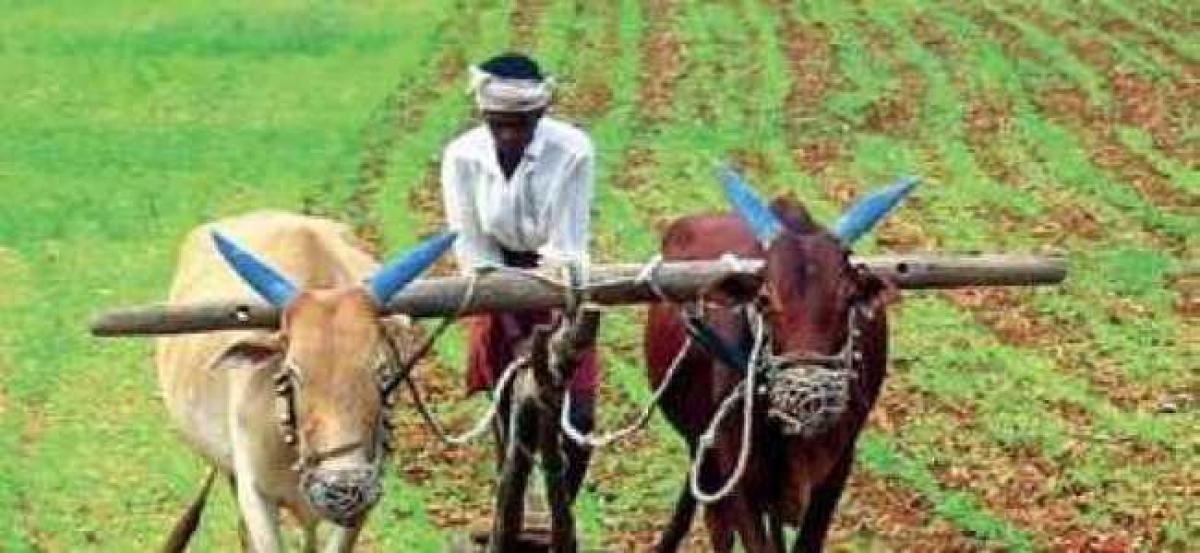 Highlights
For the families of those farmers who have committed suicides, the ex gratia has been enhanced from Rs 1,50,000 to Rs 6,00,000
​Loan waiver for farmers: Across the state pertaining to 35.29 lakh farmers loans to the extent of Rs 16,124.37 crores have been waived off.
Rythu Bandhu-Rs 8000 Per acre: At the rate of Rs.4,000 per acre for two crops in a year Rs.8000 is being given as investment support to farmers by Telangana government. Towards extending investment support to 58 lakh farmers government has earmarked Rs 12000 crores in the budget.
Rythu Bheema: All farmers between the age groups of 18-60 government is providing free insurance scheme. For each farmer annually Rs. 2,271 premium is being paid by the government. Within 10 days of the demise of a farmer Rs. 5 lakh insurance premium will be given to the deceased family.
24-hour free power: Across the state for 24 lakh pump sets for 24 hours uninterrupted power supply is being provided at free of cost.
Input subsidy for farmers: From 2009 outstanding dues of input subsidy has been borne by Telangana government. After formation of the state in four years 37, 45, 102 farmers were given Rs.1325 crore input subsidy.
Appointment of AEOs: for every 5000 acres at one AEO across the state 2162 AEOs were appointed by the government.
Establishment of Farmer coordination committees: to make a strong group of farmer's government at village, Mandal, district and state level farmers coordination committees were constituted.
Rythu platforms: For mutual discussions of farmers for every 5000 acres, agriculture cluster one agriculture platform is supposed to be established.
Rectification and purification of Land records: Across the state in rural areas land, land records were rectified. 94% clarity has been achieved in terms of land genuine land owners. Based on the details issue of new pass books and distribution of investment support sum has been made easy. Those cases under dispute will be resolved in second stage of purification.
Dharani Website: For digitalization of land records and on line management in a proper manner Telangana government has introduced Dharani website. Every acre of land details in the state will be recorded in the website with time to time changes based on purchase and sale. On par with core banking the website will be maintained.
Pattas for Sadabainamas: Purchase of land through Sadabainamas are provided with legal protection and free registration is made.
Timely supply of seeds and pesticides: Farmers were provided with supply of seeds and pesticides on time without wasting time and creating artificial dearth.
PD act on pilferage: in supply of spurious seeds, pesticides and fertilizers the culprits have to face PD act as per government decision.
Mechanisation in agriculture: in order to promote mechanization in agriculture for SC/STs at 95% subsidy, for other at 50% subsidy required machinery is being given.
Tractors on subsidized price: at 50 to 90 percent subsidy tractors are being given to farmers. Transport tax has also been exempted on tractors for farmers. In four year nearly 14000 tractors were supplied. Toll tax, commercial tax, temporary registration, commercial registration tax and GST have been exempted..
Rythu Bazars: To see that farmers get a minimum support price and consumers get a cheaper price government has set up 59 Rythu bazaars.
Supply of cattle on subsidized prize-Rs.4 incentive for milk societies: for 2.13 lakh farmers pertaining to milk societies it is supposed to distribute cattle at subsidized prize. For each unit Rs 80,000 has been allocated. Towards transport additionally Rs 5,000 is also given. For SC/STs 75% subsidy and other 50% subsidy is given. For dairy farmers per litre Rs.4 incentive is being given.
Mobile veterinary hospitals for the first time in the country: For every village constituency across the state 100 mobile vet hospitals are being introduced. A toll free number 1962 has been provided for the purpose.
Micro Irrigation: With less water utilization Micro irrigation is being promoted in the state. With this for SC/ST farmers 100% subsidy, backward sections small and medium farmers 90% concession and other 80% concession is given.
Poly house, Green House subsidy: With 75 % subsidy Poly House. Green House cultivation is promoted by the government. For SC/STs 90 % subsidy is being accorded.
Construction of Godowns- linkage of cold storages: At the time of formation of Telangana state 4.17 lakh metric tonnes capacity of 176 godowns were available. Newly the government has taken up 18.30 lakh metric tonnes capacity of 364 godowns construction. At present across the state 22.47 lakh metric tonnes capacity of 540 godowns are made available. Across the state cold storage linkage need is felt by the government.
Specialized markets: At Nalgonda district in Gandamvari gudemwith 1.50 crores oranges market, at Nakrekal with 3.07 crores fresh lime market, at PA Palli mandal Konamekalvari gudem with 60.30 lakhs donda market is proposed. Mango market is proposed at kollapur.
Reservations in market committees: Nowhere in the country except in Telangana agriculture market committee chairman posts were filled through reservations. With the result, 25 SCs, 10 STs, 50 BCs have become chairmen of Market Committees. For women with 33% reservation, 60 women have become chairpersons.
6 lakhs ex-gratia for farmers committed suicide: For the families of those farmers who have committed suicides, the ex gratia has been enhanced from Rs 1,50,000 to Rs 6,00,000.
Water cess exempted: Outstanding water cess dues have been exempted and tax system has been abolished.