Kondagattu Mishap: CM KCR expresses grief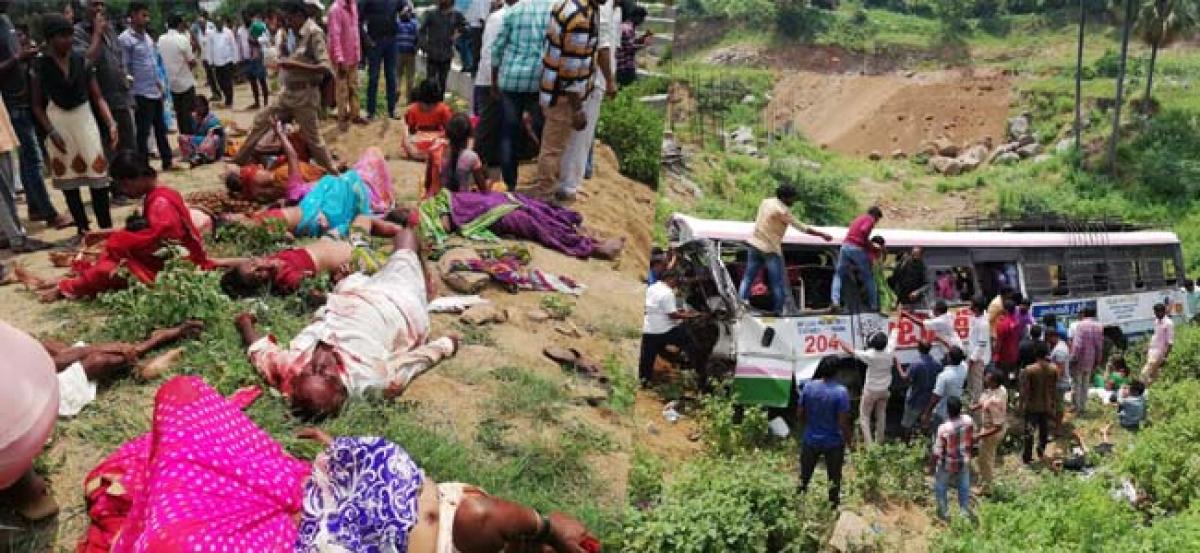 Highlights
At least 45 people, many of whom were pilgrims, were killed after a state transport bus tumbled down a gorge near Kondaagattu area of Telanganas Jagitial district
Kondaagattu (Telangana): As many as 45 passengers died and some 20 persons suffered critical and life-threatening injuries when the RTC bus they were travelling in lost control and plunged into a gorge near Kondagattu. The incident occurred on the last turning of the Ghat Road from the Kondagattu temple and all the victims were pilgrims, who had a darshan of the Lord Hanuman. The bus driver lost control as the brakes failed while negotiating the last curve on the ghat road.
The bystanders and passengers, who watched the bus plunge into a valley, rushed to help the injured. However, the bus overturned three of four times. Most of the deaths were due to the impact of the falling down and also due to the asphyxiation. Pulling out the bodies was a huge problem as the bus was badly mangled. Among the dead are six children and a large number of women.
The locals have rushed the bodies and the injured to the nearest hospitals in both Karimnagar and Jagityal. The condition of several of the injured is stated to be serious. Chief Minister KCR expressed shock and grief at the mishap. Finance Minister Etela Rajender directed the officials to launch massive relief and rescue operations. Transport minister Maheder Reddy said that this was the first such ghastly mishap on Kondagattu Ghat Road.