Congress, TDP, CPI form 'Mahakutami' to defeat TRS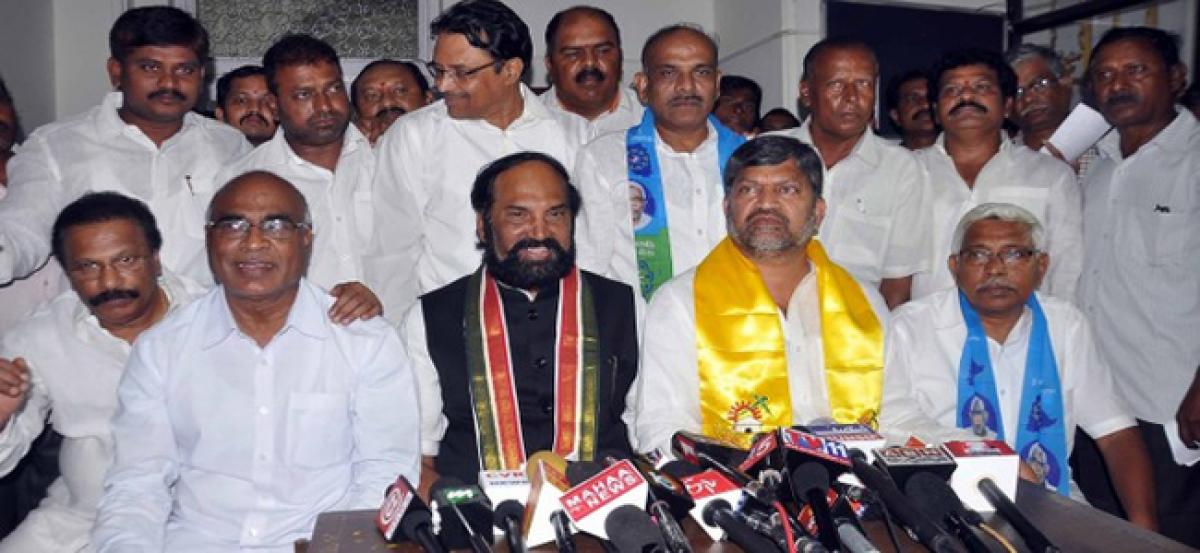 Highlights
To defeat TRS party in the ensuing elections, the TCongress party on Tuesday has entered into an alliance with TTDP and CPI forming a Maha Kutami However, there is no confirmation about the Kondandaram led TJS party to join the alliance
To defeat TRS party in the ensuing elections, the T-Congress party on Tuesday has entered into an alliance with TTDP and CPI forming a 'Maha Kutami'. However, there is no confirmation about the Kondandaram led TJS party to join the alliance.
The leaders of three parties met the governor ESL Narasimhan to present a memorandum and also asked to impose presidential rule in the state.
Besides, the TDP president of Telangana L Ramana, CPI state secretary Chada Venkat Reddy, Telangana Congress working president Mallu Bhatti Vikramarka and TPCC president Uttam Kumar Reddy and other leaders held discussions at Park Hyatt.
After the meeting, the leaders called on a press conference, saying that they have united to defeat the TRS in the upcoming elections. "KCR has forgotten his responsibility in fulfilling promises and is going for early polls only to cover up his mistakes," said Ramana.
"The chief minister has not sought any suggestions from the opposition parties on his move of dissolving the assembly," said TPCC chief Uttam Kumar.
The leaders are also planning to hold another meeting later this week to discuss the seat-sharing among the three parties, according to sources.