Congress gave Telangana like British gave Independence to India: KTR to Uttam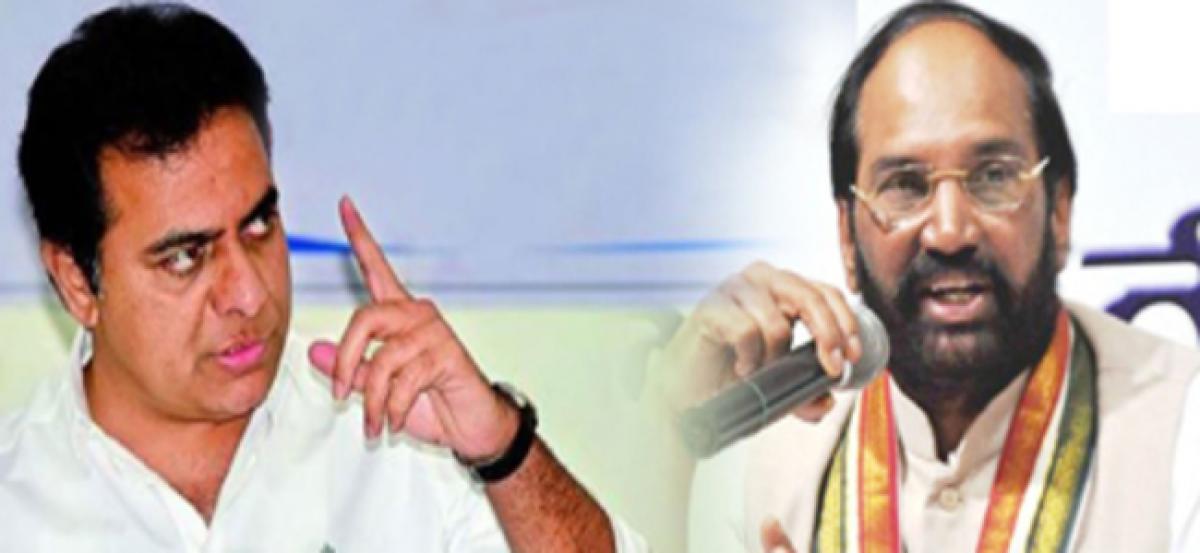 Highlights
TPCC chief Uttam Kumar again targetted care taker IT minister KT Rama Rao on Twitter after his dishwasher jibe a few weeks ago
TPCC chief Uttam Kumar again targetted care taker IT minister KT Rama Rao on Twitter after his 'dishwasher' jibe a few weeks ago.
He took to micro-blogging site Twitter saying, "Unlike KTR, who received everything on a platter due to his father and caretaker Chief Minister K Chandrasekhar Rao, I am a first-generation politician who worked hard to reach where I am. To say that KCR had any role, isn't just blatantly false, but also childish. You and your family have positions today because Congress gave Telangana."
KTR also took potshots at the Congress chief in a tweet, "You mean like how Rahul Gandhi received everything on a platter? I worked in the Telangana agitation for 8 years before I became a Minister. What cause did you ever fight for? To say Congress 'gave' Telangana is akin to saying the feudal Britishers 'gave' Independence to India."
However, Uttam who did not leave there, he again hit back at KTR's tweet saying, "I'm a soldier who flew frontline fighter aircraft on China & Pakistan borders to protect India's territorial integrity & ensure safety of our citizens; & now I am fighting for protecting democratic principles & freeing Telangana from a feudal, corrupt, arrogant dictatorial regime."
The war of words between Uttam and KTR is not the first time. Earlier the two slammed at each other a few weeks ago.