Harish wants answers to 12 questions by Uttam on alliance with TDP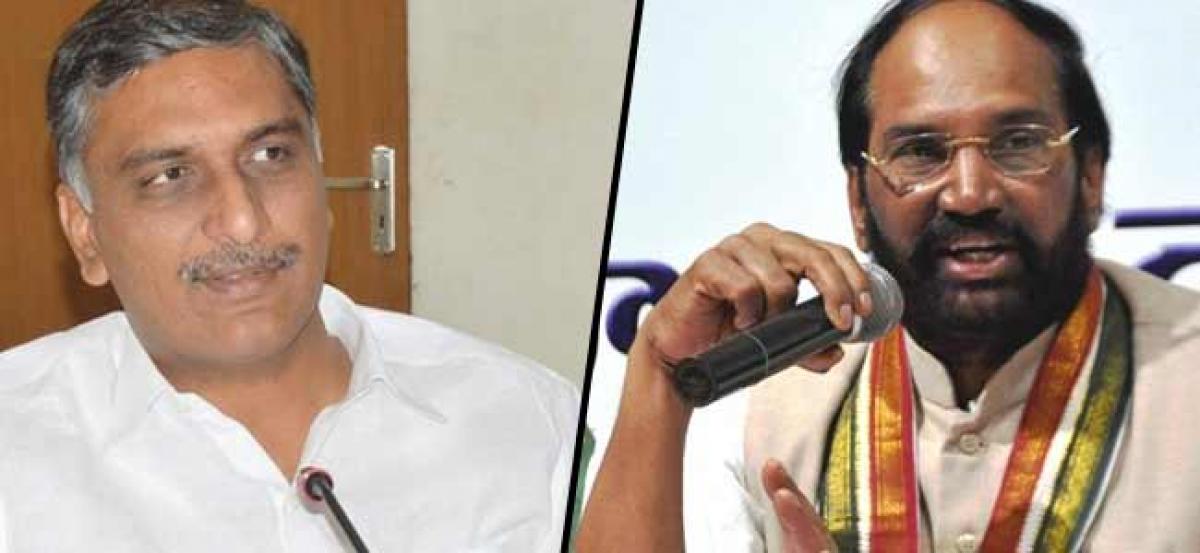 Highlights
Irrigation Minister T Harish Rao on Tuesday wrote an open letter with 12 questions to the Telangana Pradesh Congress Committee Chief N Uttam Kumar Reddy and wanted him to clear the doubts on the fears of the people arising out of alliance with Telugu Desam party
Hyderabad: Irrigation Minister T Harish Rao on Tuesday wrote an open letter with 12 questions to the Telangana Pradesh Congress Committee Chief N Uttam Kumar Reddy and wanted him to clear the doubts on the fears of the people arising out of alliance with Telugu Desam party.
Addressing a press conference here at the TRSLP office Harish Rao said that the TPCC Chief should answer his questions and clear the doubts of the people of Telangana. The Irrigation Minister asked the Congress chief whether their alliance with Telugu Desam was an alliance of conditions or shameless tie up. "Earlier, TRS had entered into alliance with TDP based on conditions. We left the post, Chandrababu Naidu played with the sentiments of people of Telangana. Even after Telangana is formed he is adopting negative attitude towards the state," said Harish Rao.
The minister posed several questions to the TPCC Chief. He asked whether the TDP has announced a decision that it had left this attitude and announced in its politburo. Did Chandrababu Naidu give any assurance that he had left his anti-Telangana attitude? Whether the TDP chief has assured to return the seven mandals back to Telangana? Did Chandrababu Naidu gave assurance that he would make changes in the design of Polavaram project? Chandrababu Naidu has written 30 letters to the Centre opposing Palamuru project, did he assure that he would withdraw the letter? Naidu has opposed Kaleshwaram and Sitarama project by writing letters to the Centre, did he assure of taking those letters back?
The minister said that the TRS was fighting for 45 TMC of water from Krishna waters and the same was opposed by Chandrababu Naidu. There is an argument on Krishna and Godavari River in Tribunal, whether Chandrababu Naidu has changed his stand, asked Harish Rao.
Harish Rao said that the people of Telangana will not welcome the alliance of Congress and TDP. Uttam Kumar Reddy should react and reply on these twelve questions, he demanded. Replying to a question, Roao said that there was no Telugu Desam in Telangana and hence Chandrababu Naidu was coming in the mask of Congress party and that is why this open letter was aimed at the TPCC Chief.