Traffic restrictions for Saddula Bathukamma in Hyderabad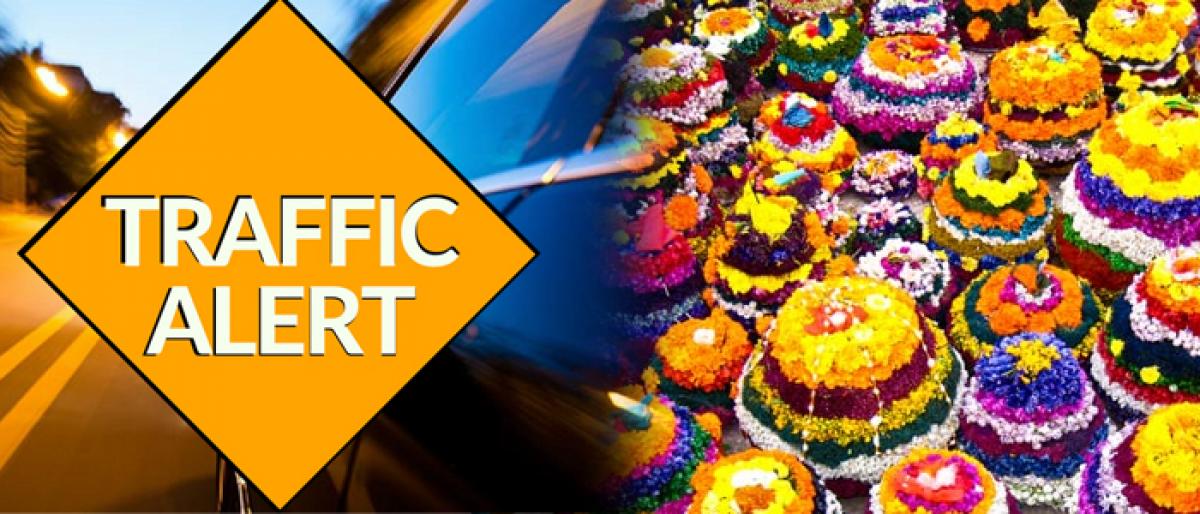 Highlights
The city has decked up for the celebrations of the state festival Saddula Bathukamma and the GHMC has made elaborate arrangements at the Tank Bund and other parts of the city providing mini ponds, cleaning the existing ponds and filling them with water
The city has been decked up for the celebrations of the state festival Saddula Bathukamma and the GHMC has made elaborate arrangements at the Tank Bund and other parts of the city providing mini ponds, cleaning the existing ponds and filling them with water.
Meanwhile, the city police also put an eye on the traffic coming towards Upper Tank Bund. They have imposed diversions on the traffic on Upper Tank Bund and NTR Marg between 4 pm to 11 pm.
The roads heading to tank bund from Telugu Thalli flyover and Karbala Maida will remain closed. While traffic coming from Secunderabad towards Upper Tank bund will be diverted at Karbala Maidan towards Bible House-Jabbar complex-Kavadiguda-Lower Tank Bund-Kattamaisamma and Telugu Thalli flyover.
Traffic from Kavadiguda to Children's park will be diverted at DBR Mills towards Kattamaisamma and Telugu Talli flyover.
Vehicles coming from Iqbal Minar to Upper Tank Bund will get diverted at old gate Secretariat towards Telugu Thalli. Traffic from Panjagutta and Raj Bhavan Road will be diverted at Indira Gandhi Statue near necklace road towards Prasad's Imax.
Traffic from Nallagutta junction will be diverted to Ranigunj and Necklace Road. Meanwhile, the vehicles coming from Himayathnagar has to take a diversion at GHMC Y junction to reach Ambedkar state and Tank Bund.
Traffic from Musheerbad heading to Upper Tank Bund will have to take a diversion at Kavadiguda Crossroads-Lower Tank Bund-Kattamaisamma.