Beat TRS in next polls to save democracy in TS: Uttam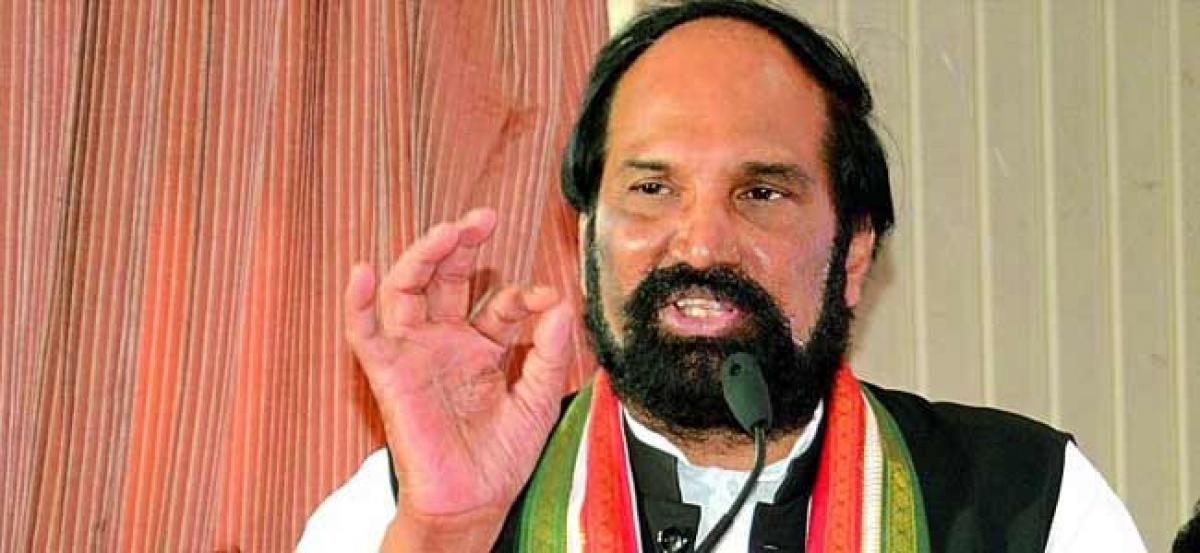 Highlights
Stating that the democracy was in danger in Telangana, Telangana Pradesh Congress Committee TPCC Capt N Uttam Kumar Reddy has appealed to the people to bring the Grand Alliance to power in next Assembly elections to save democracy and its institutions
Hyderabad : Stating that the democracy was in danger in Telangana, Telangana Pradesh Congress Committee (TPCC) Capt. N. Uttam Kumar Reddy has appealed to the people to bring the Grand Alliance to power in next Assembly elections to save democracy and its institutions.

Speaking on the occasion of launch of Telugu daily newspaper Praja Paksham on Monday, Uttam Kumar Reddy said that the Telangana was passing through a tough time in its history with caretaker Chief Minister K. Chandrashekhar Rao neutralising all democratic institutions in the State. He said several countries in Asia and Africa gained independence around 1947 along with India. But the countries like Pakistan, Nepal, Sri Lank or Bangladesh failed to practice democracy in the true spirit. Except India, no other country to able to ensure a free and fair democracy and therefore, they could not progress well. He said India remained a true democratic nation with a free press and independent judiciary till 2014. However, after coming to power Prime Minister Narender Modi and CM KCR completely changed the definition of democracy and used all means to suppress the fundamental rights like Freedom of Expression. They also neutralised almost all democratic institutions including legislature and executive, he said.

Uttam Kumar Reddy alleged that the KCR Government suppressed media and they were either lured with sops for not reporting the truth or intimidated of various consequences if they publish anything against the government. He said several media houses have been held hostage and they are forced to act as propaganda tools of ruling party. He reminded that while addressing a public meeting in Warangal, KCR had threatened to bury a news channel beneath 10 kilometre of land. TRS Government had also imposed a ban on two news channels. He said a majority of news papers and channels were still not free to report the truth.

The TPCC Chief praised senior journalist Srinivas Reddy for launching the newspaper Praja Paksha with an aim to do free and fair report. He hoped that the new publication would act as a true mouthpiece of common people.

Uttam Kumar Reddy enthralled the people to join the movement against KCR family which does not believe in democracy. "KCR retaining power would be the most unfortunate thing to happen with the people of Telangana. The democracy will cease to exist in Telangana if KCR takes oath as CM for second time," he said while appealing the people to elect the government of Grand Alliance in elections to be held on December 7.

The TPCC Chief said he has been a Member of Legislative Assembly for last 20 years. However, he said the last four-and-a-years has been worse in his political career wherein TRS has completely finished the significance and relevance of Assembly and Council. He alleged that KCR became the most corrupt ruler in the world in the last four years and his family openly looted the wealth of Telangana.

Reacting to the criticism by minister K. Tarakarama Rao on Rahul Gandhi, Uttam Kumar Reddy said KTR had no stature to speak anything about the Congress president. He said Rahul Gandhi has rightly pointed out that Pranahita Chevell project was redesigned as Kaleshwaram only to increase its cost from Rs. 38,000 crore to Rs. 1 lakh crore. He said it was easier to take water to other areas by gravity by constructing the barrage at Tummadi Hatti. However, the project was constructed Kaleshwaram to take the water through lifts. All this was done to increase the cost and take commission from contractors. He also alleged that the KCR family got 6% commission from the contractors of Mission Bhagiratha and Mission Kakatiya. He appealed the people to put an end to the corrupt regime of KCR and his family.

Praja Paksham Editor Srinivas Reddy, CPI National Secretary Sudhakar Reddy, TJS President Prof. Kodanda Ram, CPI Secretary Chada Venkat Reddy, ex-MP Aziz Pasha and other leaders were also present on the occasion.