Uttam prey in troll war in poll discord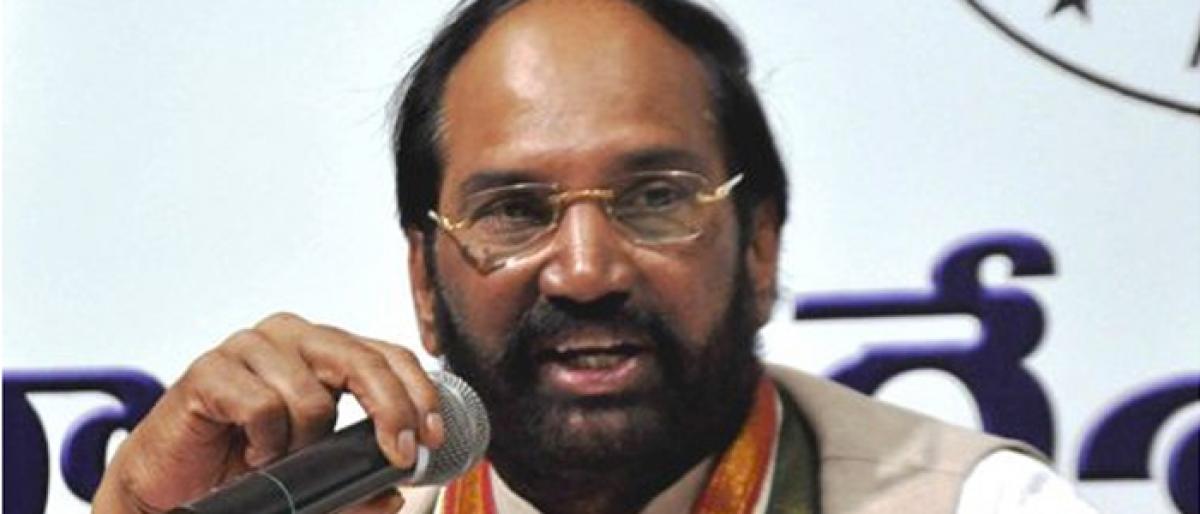 Highlights
A latest post described TPCC chief Uttam Kumar Reddy as gaja donga and that he as housing minister in the Congress government had perpetrate irregularities in building of houses under Indiramma scheme The TRS has stepped up its online campaign against the other partiesThe campaign also derided the TDP government in AP since the party is an ally of Congress in Telangana Calling the AP governme
HYDERABAD:A latest post described TPCC chief Uttam Kumar Reddy as 'gaja donga' and that he as housing minister in the Congress government had perpetrate irregularities in building of houses under Indiramma scheme. The TRS has stepped up its online campaign against the other parties.The campaign also derided the TDP government in AP since the party is an ally of Congress in Telangana. Calling the AP government a "Tungabhadra water thief", a post describes how an irrigation project at Nagaladinne in Kurnool will deprive 15 lakh acres in Telangana of cultivation water as level in Srisailam reservoir would go down.
One post makes fun of Congress leaders rushing to Delhi 'for every small decision'. Chief minister K Chandrasekhar Rao, ministers K T Rama Rao and T Harish Rao in their poll speeches say that it is Congress leaders in Delhi who declare what has to be done in Telangana. The post describes Congress leaders as 'ghulam' (slaves) of Delhi and depicts Uttam Kumar Reddy sitting atop an aircraft with the tail of the plane painted with the Congress symbol 'hand'. "Abbadalaku care of address Congress" says a post which describes Congress as a party which tells bask.
TRS has come up with a post showing 'Congress Dhanayagnam' scams. It displays Congress president Rahul Gandhi and Uttam Kumar Reddy and copies of two GOs. The scam, including to the post, is the cost heap allowed for Pranahita-Chevella project, though there had been no design difference.
Another post recalls memories of farmers having to wait at fertilizer shops endlessly, with the picture depicting farmers placing their footwear in a queue. Another blames Congress and TDP for not taking close check in providing water for cultivation for the people in Telangana.The TRS online campaign also projects the government's achievements.