Netizens bombard social media as Delhi chokes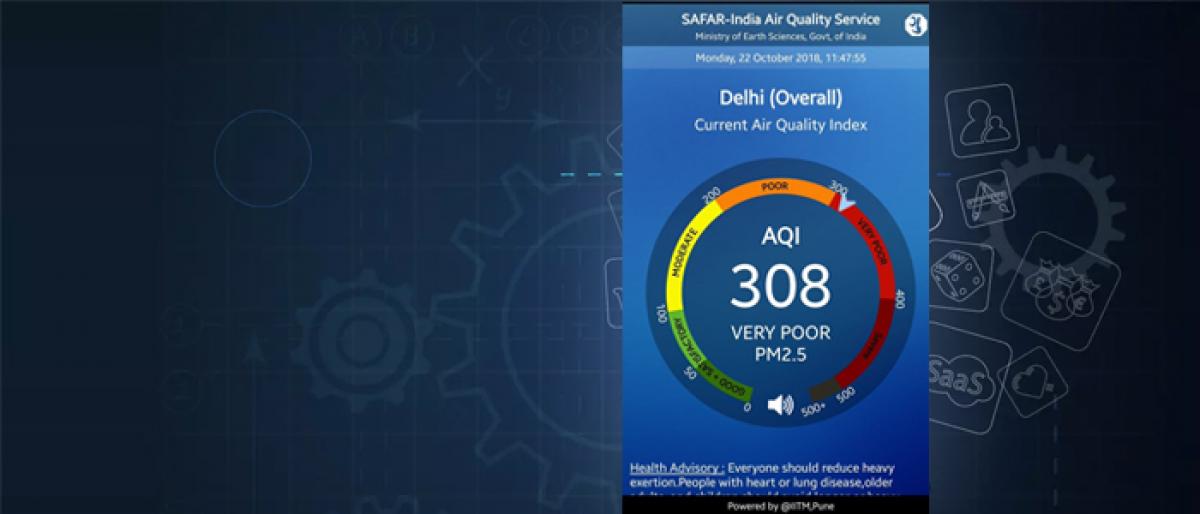 Highlights
Delhi continues to grapple with alarming levels of pollution as citizens expressed their anger and concern over the deteriorating air quality in the city which is one of the most polluted in the world
New Delhi: Delhi continues to grapple with alarming levels of pollution as citizens expressed their anger and concern over the deteriorating air quality in the city which is one of the most polluted in the world.
Delhi recorded its worst air quality of this season on Sunday as a thick haze engulfed the national capital which continued to grapple with deteriorating air quality.
The overall Air Quality Index of Delhi was recorded at 381 which falls in the very poor category, the highest of this season, and just points below severe pollution level, according to data by the Central Pollution Control Board.
On Twitter, #righttobreathe trended where Delhiites used the hashtag to express concern over the rising pollution. "One can escape the epidemic and water pollution.
But there is no escape from air pollution. Air is everywhere," a user Amul Atri said on Twitter.
People also posted pictures of haze and smog on Facebook and Instagram with the hash tag of #righttobreathe.
Health experts specialising in pulmonary disorders said they have started witnessing a surge in the number of patients experiencing breathing disorders.
"Mostly old or children have started coming with issue of breathing difficulties," said Imran Khan, a pulmonologist, adding every year this pattern is observed. The city residents also expressed their dismay at the poor air quality.
"We can't send children to play outside wearing masks so we have asked them to stay indoors," said Neetu Verma, a Mayur Vihar resident.
Another local said he doesn't find Delhi to be livable anymore. "Every year, the government promises to make the city green but what we see is a growing concrete jungle," said Ayush Sharma.
D Saha, an expert in environmental issues, said meteorological factors were the biggest cause of this increase in pollution. "If meteorological factors like wind speed and temperature come under control then pollution would automatically reduce," he said.
According to the World Health Organisation, Delhi and Varanasi are among the 14 Indian cities that figured in a list of 20 most polluted cities in the world in terms of PM2.5 levels in 2016.
The global health body is also coming out with a new report on air pollution and children's health Monday.
PM2.5 are particles in the air with a diameter of less than 2.5 micrometres and they include pollutants such as sulfate, nitrate and black carbon.
It poses greatest risk to human health as the fine particles can easily be inhaled into the respiratory tract.
With Diwali round the corner and the Supreme Court giving a window of two hours for bursting firecrackers, experts believe the air quality is going to further deteriorate in the first ten days of November.
Two pollution watchdogs CPCB and Centre-run System of Air Quality Forecasting and Research have both issued health advisories for the public which include measures like wearing masks, keeping windows shut and taking short walks instead of jogging to reduce exposure to toxic air.
The apex court on Tuesday ruled that people can burst crackers from 8 pm to 10 pm only on Diwali and permitted the sale and manufacture of low emission "green" firecrackers nationwide.
For Christmas and New Year, bursting of crackers was allowed for 11.45 pm - 12.45 am. Toxic air continues to plague the national capital due to localised factors like vehicular pollution and rampant construction activities and regional factors like stubble burning from Punjab and Haryana.
Stubble burning from Punjab and Haryana on Saturday caused 32 per cent of pollution in Delhi, according to a report by SAFAR.
The report which analysed the impact of pollutant PM2.5 showed that highest contribution since October 11 by stubble burning was seen on Friday at 36 per cent.
Environment Minister Harsh Vardhan Saturday had said the government would soon release guidelines to prosecute agencies which do not comply with the directives to check air pollution.
He had expressed concerns about the deteriorating air quality in the national capital.
The pollution reached alarming levels every year when the wind direction changes in winter and it starts flowing from areas of stubble burning in Delhi's neighbouring states.
An emergency action plan to tackle poor air quality in Delhi came into force on October 15.
Measures that will also cover surrounding parts of the National Capital Region include mechanised sweeping of roads and deployment of traffic police to ensure smooth passage of traffic in vulnerable areas.
The measures are part of the Graded Response Action Plan, which was put in place in 2017 on the directions of the Supreme Court after high pollution levels in the National Capital Region in the winter of 2016.