2,300 Cops, Women Personnel Above 50 Yrs: All Eyes on Sabarimala as Temple Re-opens Today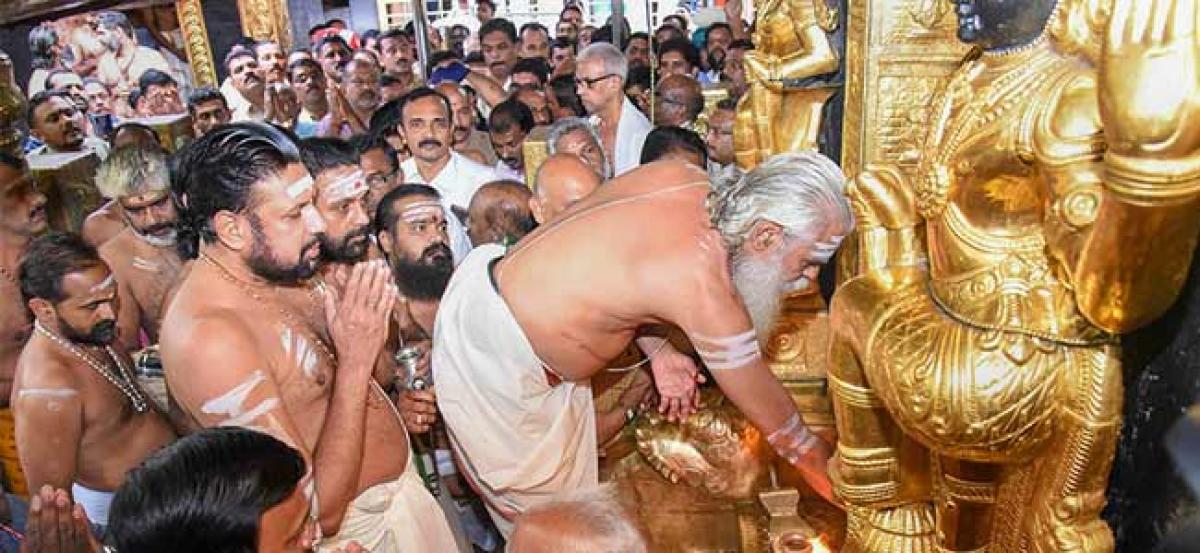 Highlights
As the Lord Ayyappa temple opens on Monday for a special puja, a thick security cover has been put in place by police and orders banning assembly of four or more people have been imposed in Sabarimala and nearby areas after violent protests were witnessed last month against the entry of women of menstrual age into the famed shrine
Sabarimala: As the Lord Ayyappa temple opens on Monday for a special puja, a thick security cover has been put in place by police and orders banning assembly of four or more people have been imposed in Sabarimala and nearby areas after violent protests were witnessed last month against the entry of women of menstrual age into the famed shrine.
Police said 2,300 personnel, including a 20-member commando team and 100 women, have been deployed to ensure smooth 'darshan' and security of devotees, a move that came in for criticism from the erstwhile royal family of Pandalam, the BJP and the Congress for such fortification.
If necessary, around 30 women police personnel in the rank of circle inspector and sub-inspector and above the age of 50 would be deployed at 'Sannidhanam' (temple complex) for security, they said.
Prohibitory orders under Section 144 of CrPc, banning assembly of four or more people, is in force at Pamba, Nilakkal, Elavungal, and Sannidhanam for 72 hours from midnight on Saturday.
This is the second time the hill temple will open for 'darshan' after the Supreme Court allowed entry of women of all age groups into it.
The temple had witnessed high drama last month following frenzied protests leading to around a dozen women in the age group of 10-50 being prevented from reaching it and police and the agitators fighting a pitched battle over the LDF government's decision to implement the court order.
The shrine will open at 5 pm on Monday for the "Sree Chitira Atta Thirunal" special puja slated for the next day, marking the birthday of last king of Travancore Chithira Thirunal Balarama Varma, and close at 10 pm on that day.
Tantri Kandararu Rajeevaru and chief priest Unnikrishnan Namboodiri will jointly open the temple doors and light the lamp at the 'Sreekovil' (sanctum sanctorum).
Dismissing reports that media was being restrained from going to Sabarimala, Kerala Director General of Police Loknath Behara said there was no bar on entry of journalists.
No restriction of any sort has been imposed on media persons, he said. "To ensure necessary protection to the media, we are not allowing them now. As soon as security arrangements are complete, media will be allowed in Sabarimala and nearby places."
During last month's pujas, media persons were attacked by a section of protesters and police had to face criticism.
The Pandalam royal family, closely associated with the Ayyappa shrine, said it was "pained" at the heavy security in and around Sabarimala.
"Saddened that devotees will have to offer prayers at the shrine amid thick police cover," it said.
Protesting the apex court verdict, a 'prayer yagna' will be held, the family said.
Meanwhile, the Sabarimala Karma Samiti, a platform of right-wing outfits, including VHP, appealed to media houses not to depute women journalists in the menstrual age group to cover the developments in Sabarimala.
In its letter to editors, a copy of which was released to the media, it said even the entry of women journalists belonging to this age group as part of their job was also likely to aggravate the situation.
The samiti alleged that even though the Supreme Court has decided to hear the review and writ petitions on the issue on November 13, the state government was intentionally ignoring the "mass movement" against the judgment and was trying to "hastily" enforce it using police force.
"In such a situation, the devotees are left with no other choice but to continue with the peaceful agitation," it said.
Activist Rahul Easwar, president of Ayyappa Dharma Sena that is among the outfits spearheading the protests, in a video message said, "Like police, we are also fully prepared".
Easwar, belonging to the Thazhamon family of Sabarimala thantris, was arrested twice last month in connection with the protests in and and around Sabarimala against the government's decision to implement the court verdict and also for making certain remarks and is out on bail.
Kerala Pradesh Congress Committee president Mullapally Ramachandran said the situation in Sabarimala was "explosive" and accused the CPI(M)-led LDF government of failure to handle it.
Thousands of police personnel had been deployed in Sabarimala which was akin to "challenging and suppressing" the devotees, he alleged.
BJP leader M T Ramesh said if police tried to hinder devotees from visiting Sabarimala, it would lead to "serious repercussions".
The temple complex and nearby areas last month witnessed violent protests by Ayyappa devotees against the entry of young women.
At least 12 women had made a vain attempt to reach the shrine of Lord Ayyappa, a celibate, after the Supreme Court permitted women in the 10-50 age group to offer prayers there.
So far, 3,731 people have been arrested and 545 cases registered in connection with last month's violence.
BJP and various Hindu outfits are on a warpath against the Left-front government over its decision not to seek a review of the apex court verdict.