JD-S, Congress lead in Karnataka bypolls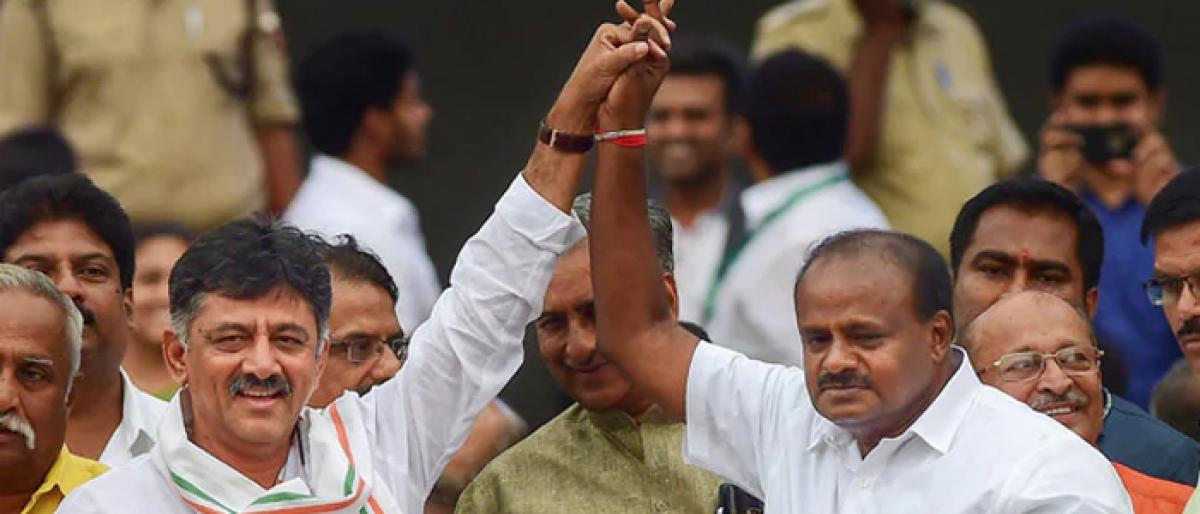 Highlights
Karnatakas ruling coalition Janata DalSecular JDS and Congress are leading in two seats each in the vote count for the three Lok Sabha and two assembly seats, a poll official said
Bengaluru: Karnataka's ruling coalition Janata Dal-Secular (JD-S) and Congress are leading in two seats each in the vote count for the three Lok Sabha and two assembly seats, a poll official said.

According to early trends at 9.45 a.m., the Bharatiya Janata Party was expected to hold on to its Shimoga seat but might lose the Bellary seat where its trailing by over one lakh votes.

The JD-S was leading over BJP in Ramanagara and Mandya, while the Congress was leading in Jamkhandi and Bellary, an Election Commission official told IANS here.

Counting of votes began at 8 a.m. in Bellary (reserved), Mandya and Shimoga Lok Sabha seats and Jamkhandi and Ramanagara assembly seats for the polling held on November 3.

Prior to the bypolls, the JD-S held Ramanagara and Mandya seats, while the Congress Jamakhandi and the BJP Bellary and Shimoga.

Congress candidate for Jamkhandi assembly seat Anand Siddu Nyamagouda was leading over BJP's Shrikant Kulkarni by a margin of 16,516 votes, as per leads from EC website after nearly two hours.

Chief Minister H.D. Kumaraswamy's wife Anitha Kumaraswamy of JD-S was leading in Ramanagara assembly segment over BJP's L.A. Chandrashekar by a comdfortable margin of 34,995 votes.

Chandrashekar had quit the BJP and re-joined the Congress just days ahead of the bypolls. His nomination, however, remained since he withdrew from the bye-election after the final date of withdrawal.

While, Congress' V.S. Ugrappa from Bellary Lok Sabha (reserved) seat was leading over BJP's J.Shantha by a margin of 1,00,723 votes.

From the Mandya Lok Sabha seat, L. Shivarame Gowda of the JD-S was leading over BJP's Siddaramaiah by a margin of 38,920 votes.

In Shimoga parliamentary seat, BJP's state unit president and former Chief Minister B.S. Yeddyurappa's son B.Y. Raghavendra was leading over JD-S nominee Madhu Bangarappa, the son of former Chief Minister S. Bangarappa, by a margin of 9,665 votes, the EC trends showed.

The vote counts were being conducted in the engineering and government colleges that have been taken up as counting centres.

Around 66 per cent of the 54.5 lakh electorate have voted in the five bypolls.