Uttam meets Gulf migrant workers in Dubai, promises help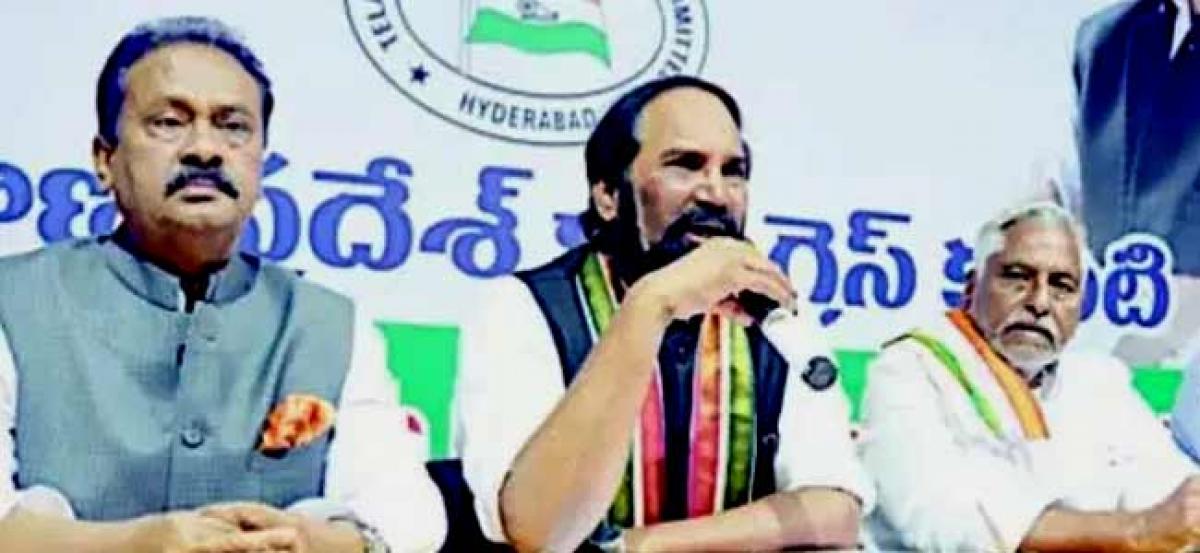 Highlights
Telangana Pradesh Congress Committee TPCC President Capt N Uttam Kumar Reddy has promised that the Congress party, if voted to power in next elections, would establish Gulf Facilitation Centres, to help nearly 10 lakh migrant workers of Telangana who are working different Gulf countries Those centres will provide assistance to Gulf immigrants in case of illhealth, death or any other problem
Hyderabad/Dubai: Telangana Pradesh Congress Committee (TPCC) President Capt. N. Uttam Kumar Reddy has promised that the Congress party, if voted to power in next elections, would establish Gulf Facilitation Centres, to help nearly 10 lakh migrant workers of Telangana who are working different Gulf countries. Those centres will provide assistance to Gulf immigrants in case of ill-health, death or any other problem.

Uttam Kumar Reddy, along with other senior leaders including AICC Telangana Incharge R.C. Khutia, AICC Secretary Madhu Yashki Goud, ex-MLA T. Jeevan Reddy, TPCC NRI Cell Convenor S.V. Reddy and others, visited the labour camps in Alqouz area of Dubai on Friday. He interacted with the Gulf migrant workers to get first hand information on the problems being faced by them and their expectations from the State Government.

Speaking on the occasion, Uttam Kumar Reddy assured that the next Congress Government would come up with a comprehensive NRI policy within 100 days of coming to power. He said Gulf Facilitation Centres would be established to provide required access and help to all the migrant workers at times of their need. He a special NRI cell would be established in all the District Collectorates of Telangana.

The TPCC Chief said that the TRS Government completely neglected the Gulf migrant workers who were forced to live in inhuman conditions. He said more than 900 Telangana immigrants in the Gulf countries died due to various reasons, primarily ill-health, during the last four-and-a-half years. But the TRS Government did nothing for their families.

He said many times the migrant workers from Telangana could not convey their grievances even at the Indian Embassies in Gulf countries as they could not speak English or Hindi and the officials did not understand Telugu language. Therefore, he said that the next Congress Government would take immediate measures to bridge this gap by appointing Telugu-speaking officials in the embassies. He also promised that a fund of Rs. 500 Crore would be set up to help the migrant workers. He promised that the Gulf migrant workers, who are forced to return home due to ill-health, would get a health insurance cover of Rs. 5 lakh. Further, he said an ex-gratia of Rs. 5 lakh would be paid to the families of those workers who die due to various diseases either in Gulf or after they return to their native place. He said steps would be taken to provide education and other facilities to the children of migrant workers.

Uttam Kumar Reddy also said that the Congress Government would put in its full efforts to establish Saudi and UAE consulates in Hyderabad. He said the next government would conduct a scientific study to ascertain the reasons leading to migration and would overcome those problems. He said the National Academy of Constructions (NAC) Centres would be strengthened by establishing a skill development centre in all the sub-divisions. He said ensuring the safety of all the Gulf immigrants would be top priority of Congress Government.

The TPCC Chief said a Gulf Workers Corporation would be established and legal aid would be provided to migrant labourers and NRIs who are lodged in Gulf jails. He said the names of Gulf migrant workers would be continued on ration cards and they would be eligible to get benefits under Aarogyasri Scheme. He said a new scheme would be introduced to ensure life, accidental and health insurances and pension to migrant workers. He said that the Congress Government would be committed to provide financial assistance for rehabilitation of workers when they return home.

Uttam Kumar Reddy said that the future of people of Telangana would be decided on December 7. Therefore, he appealed all the Gulf migrant workers to ask their relatives and friends back home to vote to support the Congress party and vote for in next elections.

Later in the evening, Uttam Kumar Reddy, R.C. Khuntia and other Congress leaders participated in the 'Deewali Dhoomdham' programme in Dubai which was attended by over 2,000 migrant workers.