Not to put pressure on officials for preparation of compensation lists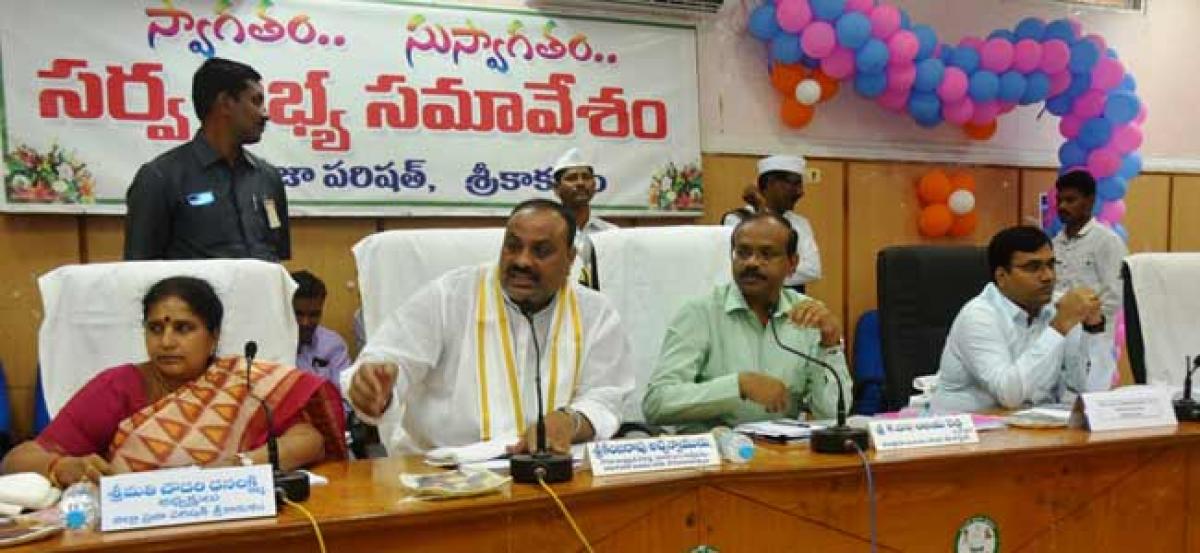 Highlights
Not to put any pressure on officials in preparation of compensation lists under Titli cyclone affected areas district collector, KDhanunjaya Reddy requested peoples representatives at Zilla Parishath General body meeting at Srikakulam on Saturday
-Collector requested peoples representatives in ZP meeting
Srikakulam: Not to put any pressure on officials in preparation of compensation lists under Titli cyclone affected areas district collector, K.Dhanunjaya Reddy requested people's representatives at Zilla Parishath General body meeting at Srikakulam on Saturday. After commencement of meeting Palasa MLA, GSS Sivaji expressed his willingness to say thanks to chief minister, N.Chandrababu Naidu for his quick response and quick restoration of normalcy by staying here for one week after hitting Titli cyclone.
On the occasion collector requested leaders not to put pressure on officials which may lead to confusion and delay in preparation of lists and in distribution of compensation amount. Collector also warned officials and cyclone victims not to resort corrupt practices to get compensation under Titli relief if it were proved fake we will recover from them by lodging criminal cases. On the occasion Palasa, Palakonda, Narasannapeta, Rajam MLAs appealed to collector to provide compensation amount to cyclone victims on quick pace.
For which minister for transport, K.Atchannaidu, ZP chairperson, Ch.DhanaLaxmi assured to preparation of accurate list of cyclone victims on quick pace. On the occasion members of the Zilla Parishath and MLAs rose the issue regarding supply of water from various irrigation projects and its modernization works. In a reply to that collector explained that they will not provide water to paddy crop during current rabi season and he appealed to farmers to cultivate irrigated dry (ID) crops like maize in rabi season. On the occasion minister explained that Rs 392 crore funds distributed so far under Titli compensation to 3.72 lakh victims so far.