Bandh in Vizag received mixed response after the left party leaders arrested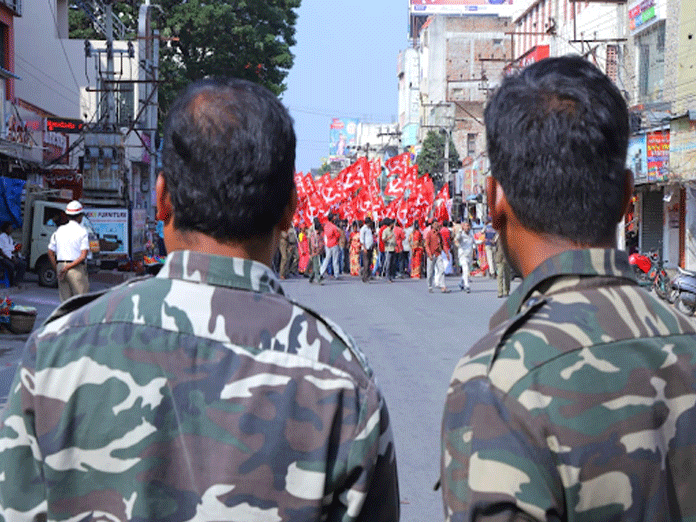 Highlights
The bandh in Vizag witnessed the arrests of CPI leaders at Maddilapalem junction after the Prathyeka Hoda Vibhajana Hamilaa Sadana Samithi PHVHSS gave a call to observe Bandh here on Friday in Visakhapatnam While some of the political parties and student associations supported them
ADVERTISEMENT
Visakhapatnam :The bandh in Vizag witnessed the arrests of CPI leaders at Maddilapalem junction after the Prathyeka Hoda Vibhajana Hamilaa Sadana Samithi (PHVHSS) gave a call to observe Bandh here on Friday in Visakhapatnam. While some of the political parties and student associations supported them.
CPI leaders along with students and other associates participated in the protest. The City police had beefed up the security at all prime junctions in the city to prevent untowardness incidents due to the bandh.
As in the morning the CPI leaders blocked the national highway roads near Maddilapalem junction hefty traffic jam interrupted the denizens life, immediately police took some of the district level CPI leaders were taken into custody.
During the arrest some of the CPI leaders demanded that at least in the central budget the centre should announce Special Railway zone and SCS to Andhrapradesh.

Meanwhile CPM activists reached to Jagadamba junction from GVMC Gandhi statue on bikes as a rally by carrying the efigy of Prime Minister Narendra Modi and they also raised slogans that center failed to fulfill the promises given during state bifurcation. They also demanded at least in the final budget, centre should implement all the promises done under state reorganization act.
Even the left parties protest showed impact on the denizens life at the early hours, but later the situations came into normalcy. The bandh received mixed response among the denizens here on Friday in Visakhapatnam.