Ex-Minister Killi Krupa Rani joins YSRCP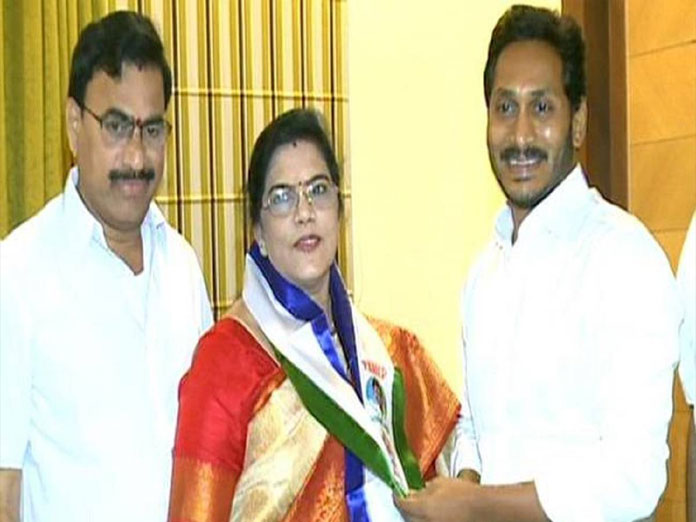 Highlights
Former Union Minister and senior Congress leader Killi Krupa Rani have joined YSR Congress party on Thursday She joined the party in the presence of YS Jagan Mohan Reddy at his Lotus Pond residence in Hyderabad
​Hyderabad: Former Union Minister and senior Congress leader Killi Krupa Rani have joined YSR Congress party on Thursday. She joined the party in the presence of YS Jagan Mohan Reddy at his Lotus Pond residence in Hyderabad.
YS Jagan has welcomed Killi into the party by facilitating her with YSRCP Shawl. After which she spoke to the media, where she said that YS Jagan is a committed leader. In the coming elections the people are ready to make him Chief Minister, Killi said.
For every issue in the state, YS Jagan has set agenda, to which Chandrababu is reacting, the one who set the agenda is the real leader, she said.
The special status slogan is still alive means, that's because of YS Jagan Mohan Reddy. Chandrababu behaves like a cat on the wall. She said if Naidu would have a commitment on special status, why he has not joined UPA?
Though he was with NDA for four years, he could not get the special status for the state. Chandrababu is trying to influence the voter with money..in that way he is releasing new schemes in order to get votes.
People should think practically and then vote. The democratic values were completely destroyed by CM Naidu. With TDP Operation Akarsh he took some of the YSRCP MLA's. The people of the state are ready to teach a lesson to Chandrababu in the coming elections, Killi Krupa Rani said.
Subscribed Failed...
Subscribed Successfully...