KTR says Congress has ditched Prof Kodandaram. Do you agree?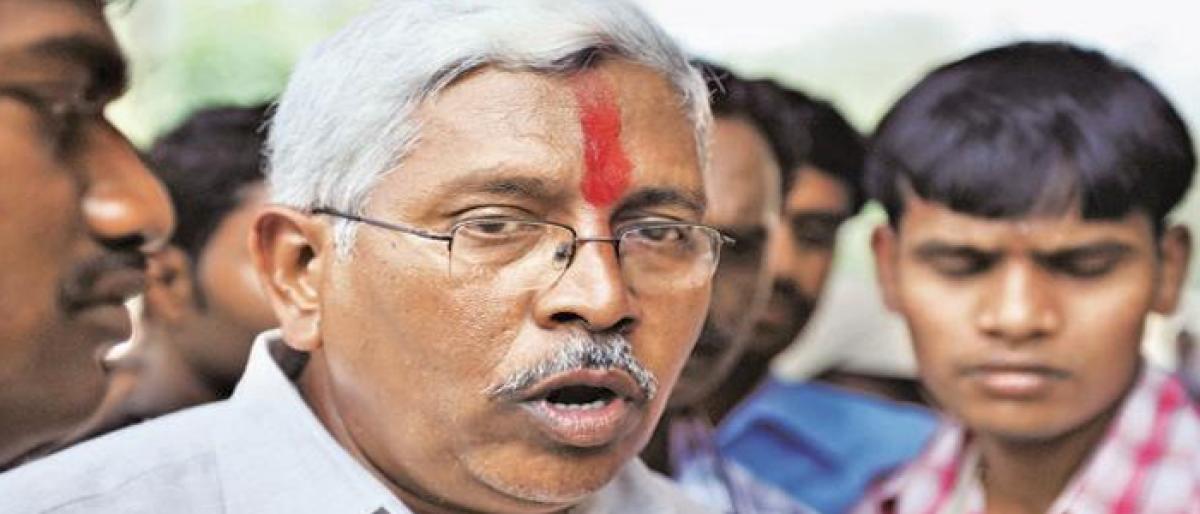 Highlights
Prof Kodandaram, one of the key leaders of the separate Statehood movement, had taken the political plunge by floating the Telangana Jana Samithi,...
Prof Kodandaram, one of the key leaders of the separate Statehood movement, had taken the political plunge by floating the Telangana Jana Samithi, with the sole aim to throw the Telangana Rashtra Samithi out of power. However, due to lack of strength at the grassroots and being a new entrant in the State politics, he joined the Mahakutami.
Though the TJS was keen on fielding its chief from Jangaon, the seat went to Congress leaving many doubting the equation between the TJS and the Congress, a major player in the Kutami. However, KTR making mockery of TJS and Prof Kodandaram has not went down well with many. While several opine that Congress has ditched the professor akin to TRS in 2014 elections, others feel that Kodandaram gave in the seat voluntarily to see to it that TRS bites the dust in the upcoming polls. The Hans India readers are divided over KTR's statement.
---
I completely agree with KTR's statement that Congress has ditched TJS chief Prof M Kodandaram. Everyone knows that internal disputes have been going on for a while in Mahakutami regarding the allocation of seats. The Congress has been using him in all possible ways. Further, Kodandaram also did not raise his strong voice against Mahakutami being one of its members. So, this made him to silently bow to the Congress. - Ponnam Sambamurthy, Private employee, Kothapally, Karimnagar
---
I do agree with KTR's statement with regard to Professor Kodandaram. Assembly needs intellectuals like professor Kodandaram while taking policy decisions and to provide good governance. I request the Congress to at least promote him to Legislative Council to mete out justice to him. - Jagadish, student, Nalgonda
---
I don't agree with KTR's statement. Because, the Congress party has been giving importance to Prof Kodandaram and allocated the seat to Ponnala Lakshmaiah only when the professor made his unwillingness to contest the seat. Prof Kodandaram has also been appointed as the chairman of Kutami and there is no true to KTR's statement. - Ch Ramesh, Kothagudem
---
I agree with KTR's statement that Congress has ditched Kodandaram as the grand old party has failed to give fair share of seats to Telangana Jana Samithi to contest. In my view, Prof Kodandaram, being the president of the party, should have contested from Jangaon instead of sacrificing it for Congress candidate Ponnala Lakshmaiah. - Lavanga Sangeetha, Private employee, Karimnagar
---
I disagree with the TRS leader's statement. The leaders of Congress, TJS, TDP, and CPI are unitedly working for the defeat of Telangana Rashtra Samithi, and Congress is utilising the services of Kodandaram. If Mahakutami comes to power, Kodandaram will have a major say in policy decisions of the new government. - V Kishan, Private employee, Adilabad
---
I totally agree with TRS leader KT Rama Rao's statement that Congress has ditched Professor M Kodandaram. But I want to clarify to the TRS leader that, it was not only Congress that ditched the professor, but also his father and TRS chief K Chandrashekar Rao who did the same. The TRS president utilised the services of Kodandaram during the separate Statehood movement. However, he ditched the professor later stating that he was an agent of Congress, and even ordered the police to arrest him. KTR has to clarify to people of Telangana before pointing fingers at opposition parties. - N Sambashiva Goud, Private employee, Tilak Nagar
---
I agree with KTR's statement. It's not new for the Congress to ditch its allies as it has been doing ever since independence. After miserably let down by the TRS, Prof Kodandaram should have learnt a lesson or two before sharing the political platform with Congress and TDP. Had he gone with his own agenda, he could have won people's mandate. TJS miserably failed in creating teams at booth-level across the State. If the professor is really fighting for people, then money power doesn't matter in the elections since the voter knows whom to choose and whom to discard. - R Raju, private employee, Amberpet
---
I agree with KTR's comments. Because, as part of Mahakutami, the Jangaon seat was expected to go to TJS chief Prof Kodandaram. However, with Congress party leaders playing an internal game, the seat went to Ponnala Lakshmaiah. I feel being the party chief of TJS, Prof Kodandaram should have contested. But we do not know what has transpired between TJS and Congress during the last round of talks on seat sharing, and the seat was awarded to Congress. So, in a way, the Congress ditched Kodandaram. - M Ravi Kumar, Mahbubnagar
---
I don't agree with KTR's statement. There must be some understanding between TJS and Congress over the Jangaon seat. Had Kodandaram wanted to contest, he would have done that irrespective of Mahakutami. Therefore, Prof Kodandaram is free to do what he likes, and it does not mean that due to Congress pressure Kodandaram had sacrificed the seat. So, I don't agree with KTR. - K Rameshwari, homemaker, Jadcherla, Mahbubnagar
---
The Congress party has been keeping Prof Kodandaram on pedestal ever since they joined hands to fight the Telangana Rashtra Samithi. The Congress chief, Rahul Gandhi, even met the professor many a times and discussed Kutami and seat sharing. If the Congress party has ditched the Prof Kodandaram, as stated by KTR, then why would Rahul Gandhi meet him in Delhi? As per the wish of Kodandaram, he was appointed as the convenor of the Kutami, and his services would be utilised to throw the TRS out of power. - P Praveen, Kothagudem
---
I agree with KTR's statement. Telangana Jana Samiti president Kodandaram has joined hands with Congress, TDP and CPI with the sole of defeating TRS in the upcoming Assembly elections. However, the Congress has reduced the image of Kodandaram by not giving him an opportunity to contest polls. Congress government will never do anything in the interests of Telangana people. Kodandaram should not have trusted the grand old party. - M Veera Swami, driver, Adilabad
---
Professor Kodandaram played a key role in Telangana agitation. Congress attitude towards him during allocation of seats to TJS and creating a situation to forego Jangaon seat voluntarily are really shameful. As per my observation, the Congress wants to cash in on his image for the upcoming election, but least bothered about his political aspirations and TJS future. - K Sathaiah, mechanic, Nalgonda
---
Subscribed Failed...
Subscribed Successfully...