Sushma on two-day visit to Maldives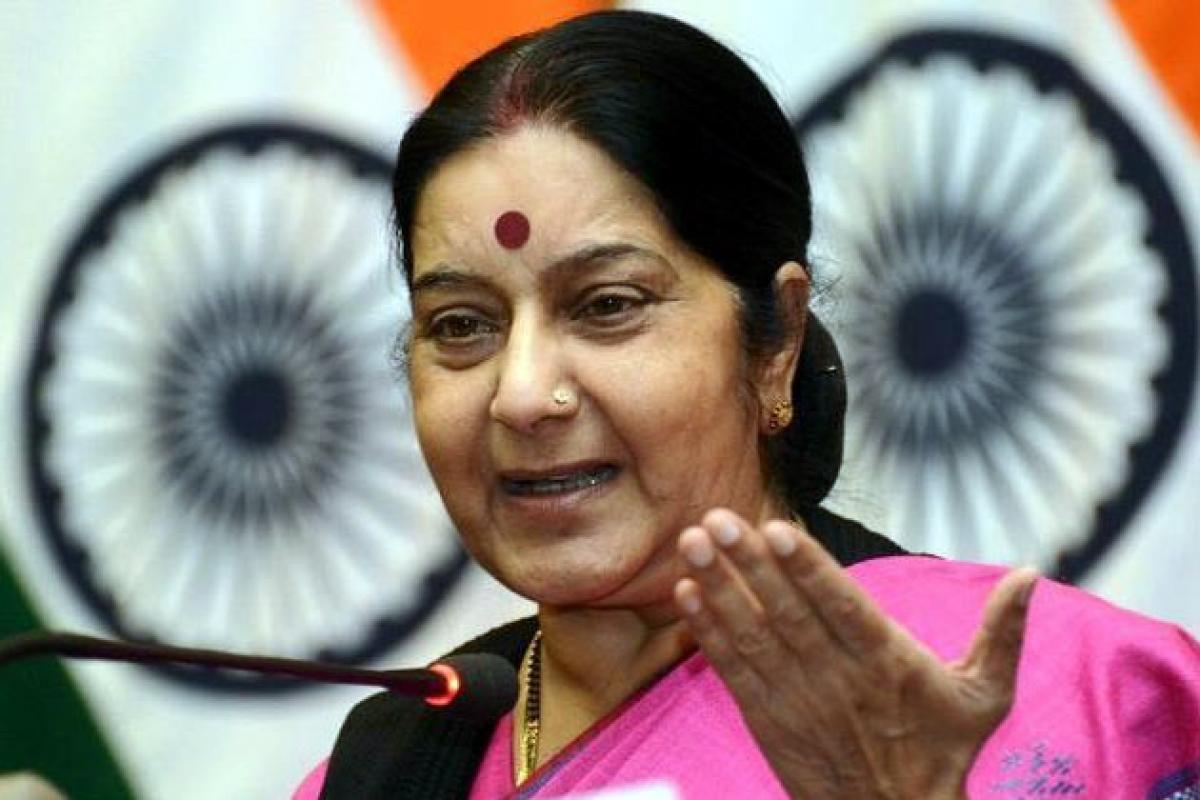 Highlights
Sushma On Two-Day Visit To Maldives. External Affairs Minister Sushma Swaraj on Saturday arrived in the Maldives on a two-day visit to attend a Joint Commission Meeting with her counterpart.
Male/New Delhi: External Affairs Minister Sushma Swaraj on Saturday arrived in the Maldives on a two-day visit to attend a Joint Commission Meeting with her counterpart.

Sushma Swaraj, who was accompanied by Foreign Secretary S. Jaishankar, was received at the Ibrahim Nasir International Airport in Male by her Maldivian counterpart Dunya Maumoon.
"Memorable Maldives! EAM @SushmaSwaraj is received by FM Dunya Maumoon at Ibrahim Nasir International Airport, Male," external affairs ministry spokesperson Vikas Swarup tweeted.

Sushma Swaraj's visit to the Maldives comes amid rising international calls demanding the release of jailed former president Mohamed Nasheed.

On Thursday, India's external affairs ministry had said Sushma Swaraj will discuss defence and security ties apart from cooperation in a range of areas including energy.

On the jailing of Nasheed, the ministry spokesperson said: "We hope that the outcome will be seen by everybody as fair. The outcome must be seen to be fair."

Former Maldivian vice president Mohamed Jameel Ahmed tweeted on Saturday: "I call upon Prez Yameen to release Prez Nasheed & all other political prisoners & obey international legal obligations."

"Prez Yameen must allow democracy to function in the Maldives, stop arrest & detention of politicians," he posted.

Amnesty India tweeted: "During #Maldives visit, @SushmaSwaraj should call for immediate release of former Pres #Nasheed who was arrested after grossly unfair trial."

"#Maldives should heed recent call of UN Working Group on Arbitrary Detention to immediately release former President #Nasheed @SushmaSwaraj," the rights group said.

The Twitter handle of the Maldivian Democratic Party tweeted pictures of thousands of Maldivians rallying on the streets of Male to demand Nasheed's release.

"Thousands of Maldivians join international calls to free imprisoned ex-Pres Nasheed. Pray for his safety," the twitter handle posted.

Richard Branson, British billionaire and founder of the Virgin Group, has renewed calls for the release of Nasheed in the wake of a UN rights panel declaring his imprisonment arbitrary and illegal.

The UN Working Group on Arbitrary Detention (WGAD) has ruled that Nasheed's conviction on a terrorism charge in March was politically motivated and violated international law.

But the government last week called the judgment "flawed and premature" and said it "will not be made to act on the basis of a non-binding opinion".

Writing on the Virgin website, Branson noted that the government was refusing to abide by the UN judgment despite engaging in the process.

The Maldives on Thursday rejected the UN WGAD ruling on Nasheed's arrest.

Nasheed had filed a case claiming that his detention was unlawful. A five-member independent panel called for his immediate release.

But Foreign Minister Dunya Maumoon has said the government would only follow the country's constitution, domestic laws and verdicts issued by local courts.

The government would abide by any ruling issued by the Supreme Court in appeal of Nasheed's prison sentence, she said.

Nasheed has served six months of a 13-year sentence after a court found him guilty of terrorism for ordering the arrest of a senior judge when he was president three years ago.
#Maldives should heed recent call of UN Working Group on Arbitrary Detention to immediately release former President #Nasheed @SushmaSwaraj

— Amnesty India (@AIIndia) October 10, 2015
During #Maldives visit, @SushmaSwaraj should call for immediate release of former Pres #Nasheed who was arrested after grossly unfair trial

— Amnesty India (@AIIndia) October 10, 2015