Ashok Gehlot meets Lalu Prasad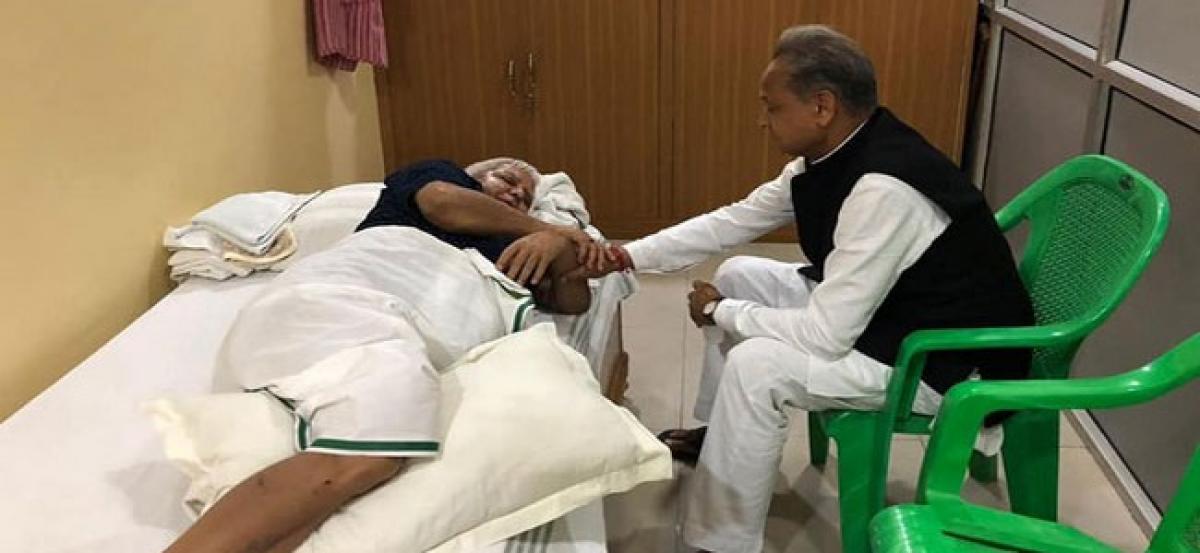 Highlights
Senior Congress leader Ashok Gehlot on Thursday visited ailing Rashtriya Janta Dal RJD leader Lalu Prasad at his residence in PatnaLalu, who was out of parole in May to attend his elder son Tej Prataps wedding, is on a sixweek bail on health grounds
(Bihar) : Senior Congress leader Ashok Gehlot on Thursday visited ailing Rashtriya Janta Dal (RJD) leader Lalu Prasad at his residence in Patna.Lalu, who was out of parole in May to attend his elder son Tej Pratap's wedding, is on a six-week bail on health grounds.
He is suffering from a heart condition, for which he was recently admitted to New Delhi's All India Institute of Medical Sciences.Following his meeting with Lalu Prasad, Gehlot tweeted a picture with him, saying: "Visited Sh Lalu Prasad Yadav ji at his residence in #Patna, #Bihar... I wish him a speedy recovery."
Gehlot is in Patna to attend 100th birth anniversary of former Bihar Chief Minister, Late Satyendra Narayan Sinha.
On Thursday, he also attended a meeting with Bihar Pradesh Congress Committee.Congress, RJD and Nitish Kumar-led Janata Dal (United) were part of the Grand Alliance during Bihar Assembly polls in 2015, in which RJD emerged as the single largest party with 80 seats, while JD-U got 71 and Congress 27.
Following Nitish Kumar snapping ties from the Grand Alliance, RJD and Congress are now working for a larger alliance at both the national level for 2019 general elections and the state elections in 2020.