J-K: Students dangerously cross Tawi river to reach school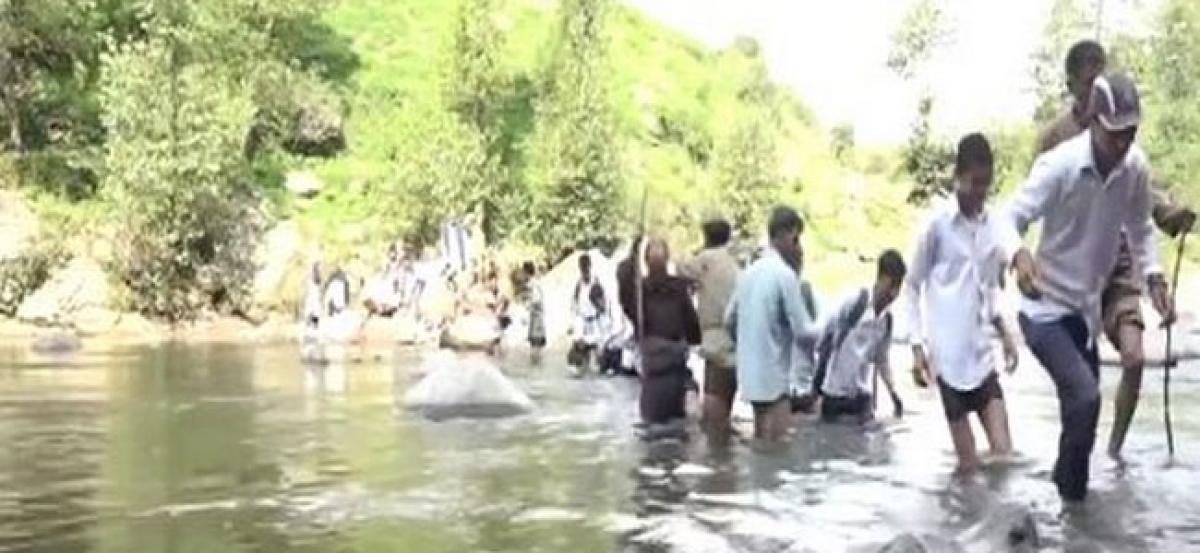 Highlights
Students of four villages risk their lives every day in Udhampur district in Jammu and Kashmir by crossing Tawi River to reach their respective schoolsThis comes after the footbridge at Kugaini near Jakhed, Dudu had washed away a month back due to the high waterlevels and force of the flow
Udhampur (Jammu and Kashmir) : Students of four villages risk their lives every day in Udhampur district in Jammu and Kashmir by crossing Tawi River to reach their respective schools.This comes after the footbridge at Kugaini near Jakhed, Dudu had washed away a month back due to the high water-levels and force of the flow.
It can be seen in the video that the students were forced to walk in knee-deep water, risking their lives, to reach their schools located in another village.Locals help these students by tying a rope from one corner to another in order to give them a support while crossing the stream.
Not only the students but the locals of these villages also cross the river in the same way to meet their needs. The villagers, in order to conduct their daily business, have no other means but to cross the river.Speaking to ANI, one of the students said, "We face lots of problems. At times we can't reach school on time. We request the government to build a bridge. Police deployed here help us to cross the river."
The students have appealed the Jammu and Kashmir Government to build the bridge so that it can be a help for the sufferers.
Interestingly, the former sarpanch of one of the villages Ishwar Dass revealed that the bridge which was swept by the increase in water level was built by the villagers and not the state government by contributing money.Dass said, "The bridge which was sept away due to high water level was made temporary by the contribution from villagers. We are seeking help from the government to build the bridge."