Citizens soul of nation, not imported vote banks: Jaitley raps Cong, TMC on NRC draft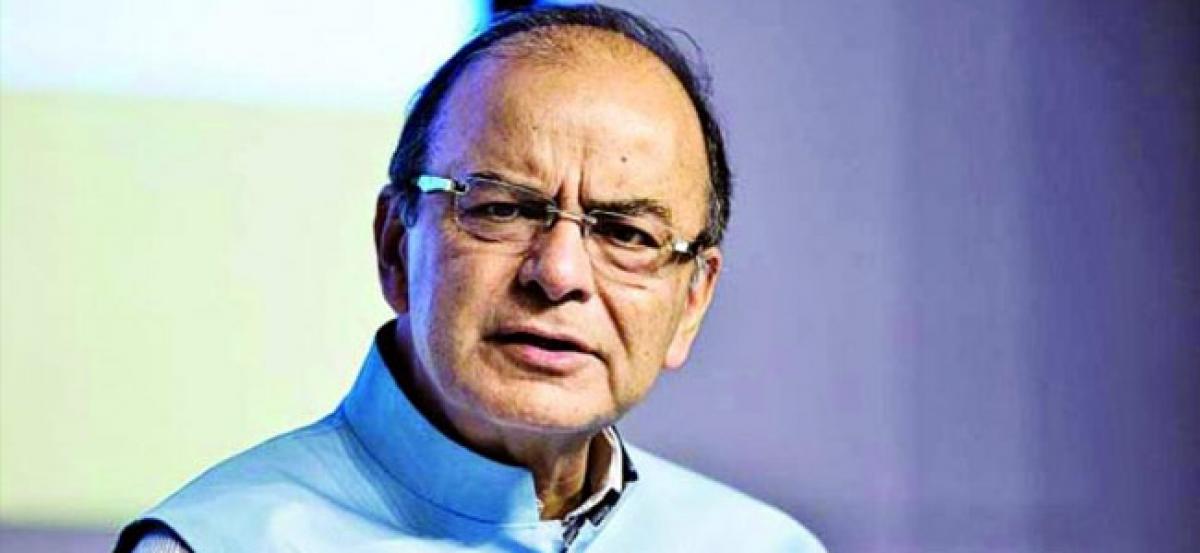 Highlights
Union Minister Arun Jaitley on Wednesday accused Congress President Rahul Gandhi and West Bengal Chief Minister Mamata Banerjee of playing with Indias sovereignty on the Assam NRC issue, saying citizens are the soul of the nation and not imported vote banks
New Delhi: Union Minister Arun Jaitley on Wednesday accused Congress President Rahul Gandhi and West Bengal Chief Minister Mamata Banerjee of playing with India's sovereignty on the Assam NRC issue, saying citizens are the soul of the nation and not "imported vote banks".
In a hard-hitting Facebook post, Jaitley accused Rahul Gandhi of taking a fringe position with regard to the National Register of Citizens (NRC) in Assam, which is contrarian to what was advocated by former Prime Ministers Indira Gandhi and Rajiv Gandhi.
The principal duty of any government, Jaitley said, is to defend its borders, prevent any trespass and make the life of the country's citizens safe and secure.
"It (Congress) is now compromising the sovereignty of India. Leaders like Rahul Gandhi and Mamata Banerjee must realise that India's sovereignty is not a play thing. "Sovereignty and citizenship are the soul of India. Imported vote banks are not," Jaitley wrote in a post titled 'National Register of Citizens – Sovereignty vs Vote Bank'.
Jaitley also accused the West Bengal chief minister of changing her position on the issue of Bangladeshi infiltration.
"Though Mrs Indira Gandhi and Mr Rajiv Gandhi took a particular position in 1972 and 1985 for the deletion and deportation of foreigners, Rahul Gandhi takes a contrarian position and his party turns turtle."
"Similarly, the BJP ally of 2005, Ms Mamata Banerjee, took a particular position. As a federal front leader, she now talks to the contrary. Can India's sovereignty be decided by such fickle minds and fragile hands?" Jaitley questioned.
Names of over 40 lakh people in Assam do not figure in the draft NRC, which is being prepared to identify illegal migrants in the state. The second draft of the NRC was published in Guwahati earlier this week.
Opposition Congress and TMC have stalled the functioning of the Rajya Sabha for two days over the issue.
"A desperate argument has been given that this is a human rights cause. A refugee on account of persecution may have a humanitarian consideration. Illegal migration does not have it. There is not fundamental right to any person to do so," Jaitley said. Territory and citizens are the two most important aspects of a sovereign state, he said.
"The principal duty of any Government is to defend the borders of the country, prevent any trespass and make the life of its citizens safe and secure. Independent India has faced a major challenge to protect its sovereignty in Jammu and Kashmir."
"At the time of Independence and partition of India, Assam was also a sore issue for Pakistan. They resented the fact that like Kashmir, Assam became a part of Independent India," Jaitley added.
Jaitley, who is also the leader of the Rajya Sabha, said "the Congress was the mainstream party on Indian politics. It has increasingly started taking fringe position. Siding with the 'Tukde Tukde' gang was one such illustration."
He said "historically, both Mrs Indira Gandhi and Mr Rajeev Gandhi, through the Congress Government that they headed, committed to this nation that post March 25, 1971, migrants would be detected, identified and deported".
Jaitley further said that some pre-1971 migrants may have come to India for reasons of persecution, but the same is not true of all post-1971 migrants who have illegally entered the country.
"There is a third category who are neither citizens nor refugees, who come for reasons of economic opportunities. These are illegal migrants. Their entry is silent invasion in the country to which they move," he said.