Rains savage Kerala, death toll mounts to 173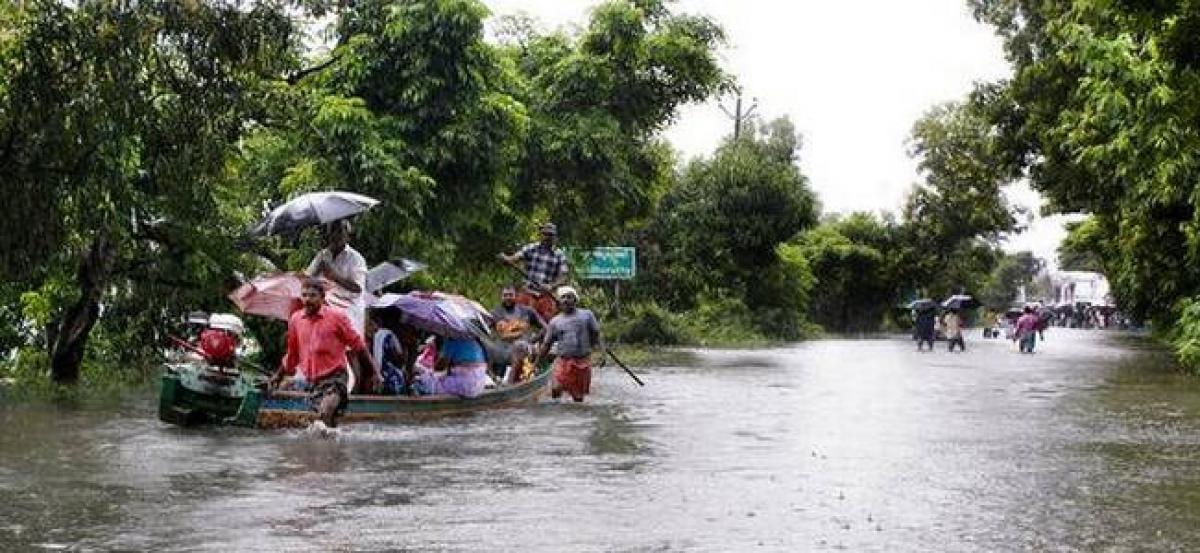 Highlights
As a murderous monsoon savaged Kerala claiming 106 lives on a single day yesterday, the state plunged deeper into misery today with hospitals facing shortage of oxygen and fuel stations running dry, officials said
Thiruvananthapuram: As a murderous monsoon savaged Kerala claiming 106 lives on a single day yesterday, the state plunged deeper into misery today with hospitals facing shortage of oxygen and fuel stations running dry, officials said.
The deadliest deluge in close to a century has claimed 173 lives since August 8, and dealt a body blow to the scenic state, wrecking its tourism industry, destroying standing crops in thousands of hectares and inflicting huge damage to infrastructure.
Personnel of the three services, besides the National Disaster Response Force (NDRF) resumed the gigantic task of evacuating people stranded on rooftops, highlands where hills came crashing down blocking roads and cutting them off the rest of the world, and those marooned in villages that have turned into islands.
Hundreds of people, including women, children and the elderly trapped in places inaccessible by boats were winched up by defence helicopters and shifted to safety.
TV channels telecast disturbing visuals of a woman in labour being pulled up with the help of a rope dropped down from a Navy chopper, swinging violently in the air.
The woman, whose amniotic sac was ruptured, was shifted to a Navy hospital where she gave birth to a baby boy.
Both the mother and the child are doing fine, officials said.
Desperate non-resident Keralites from Australia, the US and the UK were making fervent pleas to authorities through television channels seeking help for their dear ones.
Soumya from Australia said her parents and their relatives were stranded in Aluva for the past two days.
Another said an elderly relative Mary Varghese was badly in need of an oxygen cylinder and her condition was worsening.
In a WhatsApp video, a stranded woman with her 6- year-old child was seen pleading for help. "We have no food or water. Please help us."
Prime Minister Narendra Modi is expected to reach the state tonight and is likely to undertake an aerial survey of the flood-affected areas tomorrow.
"We discussed the flood situation across the state and reviewed rescue operations. Later this evening, I will be heading to Kerala to take stock of the unfortunate situation due to flooding. @CMOKerala," Modi tweeted after talking to Chief Minister Pinarayi Vijayan by phone. The two have been in regular touch for the last two days.
Vijayan, who also spoke to Defence Minister Nirmala Sitharaman, said the situation continued to be "grave" with over 2.23 lakh people from more than 50,000 families sheltered in relief camps.
Though there was some let up in rains at a few places, four districts of Pathanamthitta, Alappuzha, Ernakulam and Thrissur remained in the throes of the monsoon fury.
Officials said many private hospitals in Ernakulam district are running out of oxygen, forcing the authorities to shift patients to nearbyfacilities. Many had to be evacuated after flood water entered hospitals.
People in relief shelters also complained about dearth of food and drinking water.
Quite a few petrol pumps, even in places like the state capital Thiruvananthapuram, which has escaped the monsoon fury to some extent, have run dry.
Long queues of motorists were seen at several fuel stations in Thiruvananthapuram district. Authorities have directed each of these fuel bunks to keep in reserve 3000 litres of diesel and 1000 litres of petrol at all times for relief operations.
Local fishermen have also joined in the rescue mission with their boats and could be seen evacuating those marooned in places like Aluva, Kalady, Perumbavoor, Muvattupuzha and Chalakudy.
Several roads in the hill district of Idukki, including in picturesque Munnar, have been badly damaged from a string of landslides. Wayanad, among the worst-hit by the floods, is cut off from the rest of Kerala.
The Kochi airport is shut with rain water flooding the runways.
Several trains were either cancelled or rescheduled, sources said. Services on the Kochi Metro are, however, unaffected.
The weatherman has forecast heavy rain and gusty winds in various parts of the state.
Winds packing speed up to 60 kmph are likely in Pathanamthitta, Thiruvananthapuram, Kollam, Alappuzha, Kottayam, Idukki, Ernakulam, Thrissur, Palakkad, Malappuram, Kozhikode and Wayanad districts.