Hindus have no aspiration of dominance, says RSS chief Mohan Bhagwat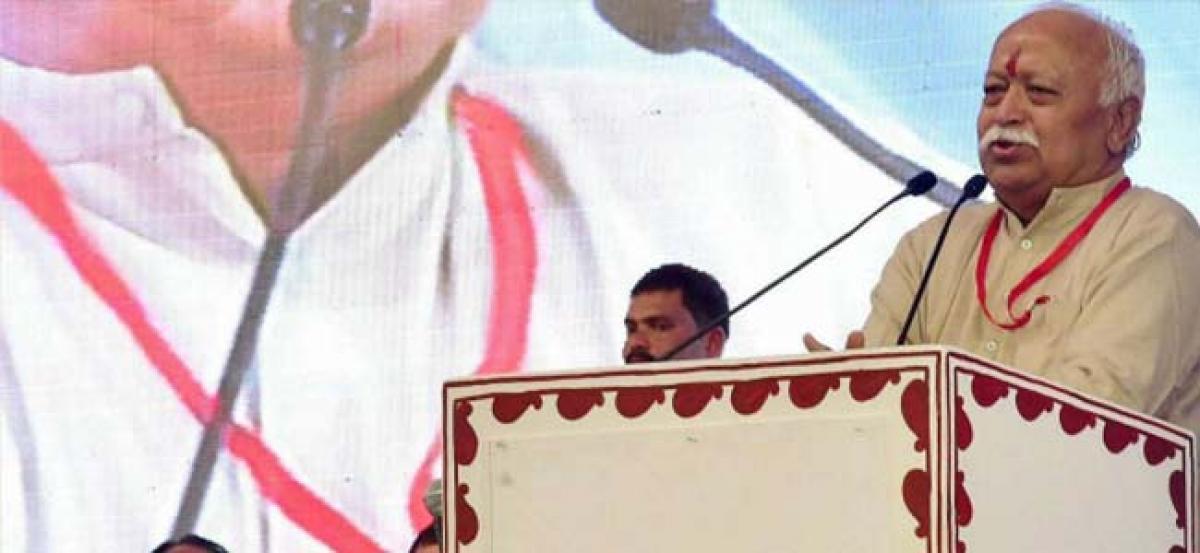 Highlights
Hindus have no aspiration of dominance and the community will prosper only when it works as a society, RSS chief Mohan Bhagwat has said and urged the community leaders to unite and work for the betterment of the mankind
New Delhi/Chicago: Hindus have no aspiration of dominance and the community will prosper only when it works as a society, RSS chief Mohan Bhagwat has said and urged the community leaders to unite and work for the betterment of the mankind.
Addressing a gathering of some 2,500 delegates attending the second World Hindu Congress in Chicago, Bhagwat said one of the key values to bring the whole world into a team is to have controlled ego and learn to accept the consensus.

The second World Hindu Congress marks the commemoration of the 125th anniversary of Swami Vivekananda's historic speech at the Parliament of the World's Religions in 1893 in Chicago.
"If a lion is alone, wild dogs can invade and destroy the lion. We must not forget that. We want to make the world better. We have no aspiration of dominance. Our influence is not a result of conquest or colonisation," he said.
Bhagwat said a sense of idealism is good and described himself not as "anti-modern", but as "pro-future". He sought to describe Hindu dharma as "ancient and post-modern".
"Hindu society will prosper only when it works as a society," he said at the conference inspired by the Hindu principle 'Sumantrite Suvikrante' or 'Think Collectively, Achieve Valiantly'.
Sarsanghchalak Dr Mohanji Bhagwat's address at the World Hindu Congress at Chicago, USA. https://t.co/1Chy6isdfU

— RSS (@RSSorg) September 8, 2018
"One of the key values to bring the whole world into a team is to have controlled ego and learn to accept the consensus. For example, Lord Krishna and Yudhishtra never contradicted each other," Bhagwat said.
In this context, he alluded to the war and politics in the Hindu epic Mahabharata, and said politics cannot be conducted like a meditation session, and it should be politics.
"To work together, we have to accept the consensus. We are in a position to work together," Bhagwat said.
He urged the conference attendees to discuss and evolve a methodology to implement the idea of working collectively.
He said the Hindu society has the largest number of meritorious persons.
"But they never come together. Coming together of Hindus in itself is a difficult thing," he said.
He noted that Hindus had been suffering for thousands of years because they forgot to practice its basic principles and spiritualism.
Addressing the congress on the theme drawn from the Mahabharat, 'Think Collectively, Act Valiantly,' Bhagwat highlighted the need for such an action, and how Hindus should work together.
He said in Hindu dharma, even a pest is not killed, but controlled.
"Hindus don't live to oppose anybody. We even allow the pests to live. There are people who may oppose us. You have to tackle them without harming them," Bhagwat said.
SP Kothari, chair of WHC, said he and many speakers attending the conference received calls and petitions from organisations and individuals to withdraw from the Congress on the ground WHC or some of its organisers are "socially and religiously divisive."
"I categorically reject this supposition," Kothari said. "I urge them to listen to my talk and reflect on whether it is tainted with hate. I have chosen to disregard those petitions as originating from a lack of complete understanding of the Word Hindu Congress," Kothari said.
"The three goals of WHC are enlighten, reform and advance. WHC brings enlightenment throughout the world about Hindu community through spirituality, harmony and inclusiveness," he said.
"Hindus must reform and be in the forefront in eliminating social and economic inequality, fostering cooperation among those with ideas and resources, and view commerce as a means to furthering Hindu dharma for a better tomorrow," he said.
Vice-president of the Republic of Suriname, Ashwin Adhin, in his address said, "We as Hindus never forsake our mission. Hindus have always been the missionaries of renunciation and service."
"Words like peace, harmony and spirituality do not appeal to ordinary people easily and they have to be framed in the right perspective terms so that they become established in people's mind," Adhin said.
Addressing the "confluence of Hindu leadership who have come to connect, share ideas and inspire one another and impact the common good," WHC coordinator Abhaya Asthana stated we have gathered to reaffirm the same message of diversity, cooperation and universal acceptance uttered by Swami Vivekananda 125 years ago.
WHC, he stated, is not an event, but rather a community movement. It seeks to encourage Hindus around the world to ascend to the highest levels of excellence.
Speaking at the conference, actor Anupam Kher said Hinduism is a way of life and one becomes a Hindu by living like one.
"Tolerance was the centrepiece of Vivekananda's message. Despite being refugees in their own country, Kashmiri Pandits have practised tolerance for 28 years like nobody ever has," he said.
"As a Hindu, it pains me deeply to see how half knowledge and ignorance are trying to destroy one of the world's oldest, most peaceful religions," he said.