Central agencies not being misused says Union Home Minister Rajnath Singh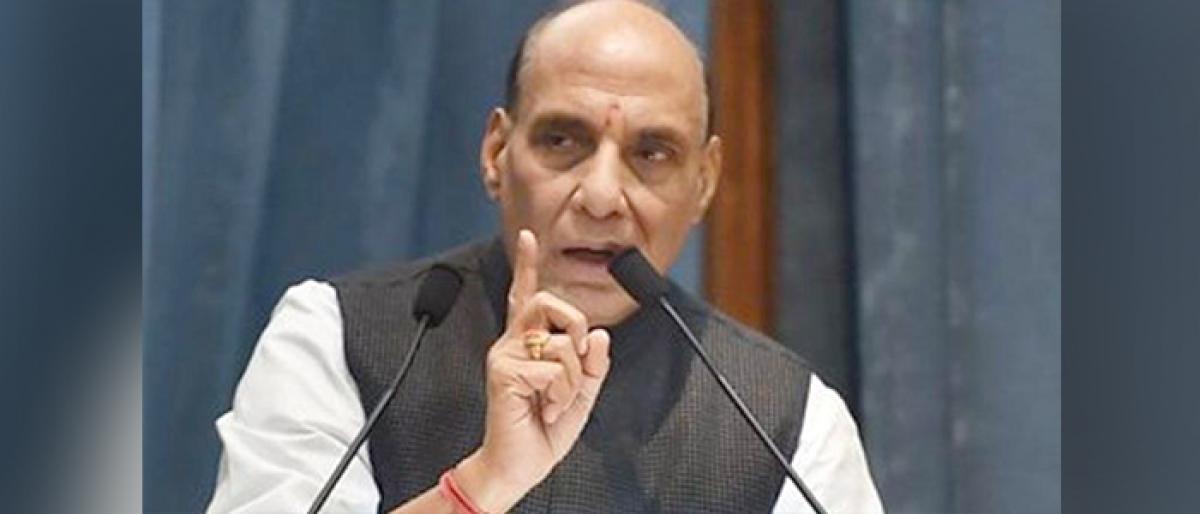 Highlights
Union Home Minister Rajnath Singh on Tuesday rejected the accusation made by the Congress and JDS that central agencies were being misused to harass the ruling coalition leaders in Karnataka, saying he did not think such things happen
Bengaluru: Union Home Minister Rajnath Singh on Tuesday rejected the accusation made by the Congress and JD(S) that central agencies were being misused to harass the ruling coalition leaders in Karnataka, saying he did not think such things happen.
"I don't think, it is the job of CBI or ED to harass people. I don't think such things happen. People should stop making such accusations.
It is not good. Aren't we all sitting together or not?" said Singh pointing to chief minister H D Kumaraswamy who was sitting next to him.

Congress and the JD(S) have been accusing the Modi government of using the central agencies such as CBI, Enforcement Directorate (ED) and Income Tax department to harass state senior minister D K Shivakumar for taking on the BJP time and again.
Singh's rebuttal came on a day when the ED registered a money laundering case against Shivakumar and few others on the basis of an alleged tax evasion and hawala transactions case.
The agency has booked Shivakumar, Haumanthaiah, an employee at Karnataka Bhavan in New Delhi, and others under the Prevention of Money Laundering Act, according to officials.
The case has been filed based on a charge-sheet (prosecution complaint) filed by the Income Tax Department against him early this year before a special court in Bengaluru on charges of alleged tax evasion and hawala transactions worth crores. The agency is expected to summon the accused soon for recording their statements.

Earlier, deputy chief minister G Parameshwara, who holds the home portfolio, had told a private T V channel "We don't object to whatever they (ED and other central agencies) are doing within the framework of law but our only concern is why repeatedly they are harassing him like that."
"If he has done something wrong then bring him within the framework of the law. Everybody suspects that there is something else to these kinds of harassment, may be political or something else," he said.
On the issue of National Register of Citizens, Singh said each country should have information about the natives and foreign nationals staying in the country.
"There is no harm in having such information (about the citizens). The NRC process has started in Assam only. We will see what can be done next," he said.
Asked whether there were discussions about the Sri Lankan Tamils issue, which is as concerning as the Bangladeshi immigrants, Singh said wherever there were issues relating to the security of the nation, government would take necessary security measures.
"Government has its own feedback about whom there is a threat and from whom there isn't, based on which decisions are taken," Singh said.
To a question on two main political parties boycotting the panchayat elections in Jammu and Kashmir starting from November 17, Singh said, "some political parties are contesting...
I have appealed to both PDP and National Conference to take part in election." Replying to a query, Singh said if it was required, the government would bring in a new law to deal with rape cases but these days immediate action is taken when such cases come to light.
He said the state government took immediate action and arrested a few in connection with the Rewari case in Haryana where a 19-year-old CBSE topper was gangraped.
Singh was speaking to reporters after the southern zonal council meeting where out of 27 agenda points, 22 were resolved.
The rest will be discussed in the next council meeting in Tamil Nadu, whose date has not been fixed.