Kisan rally: Thousands of farmers try to enter Delhi, police use tear gas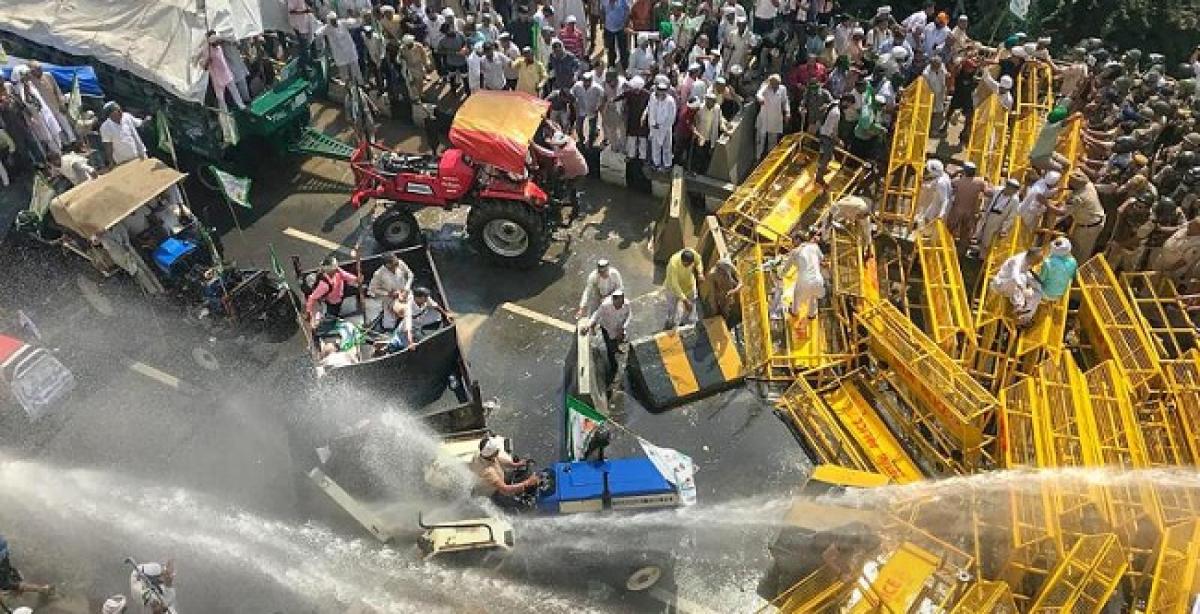 Highlights
Thousands of farmers on Tuesday marched towards Delhi over demands ranging from farm loan waiver to cut in fuel prices, blocking traffic movement on arterial roads leading to the national capital
Ghaziabad: Thousands of farmers on Tuesday marched towards Delhi over demands ranging from farm loan waiver to cut in fuel prices, blocking traffic movement on arterial roads leading to the national capital.
National Highways leading to the national capital were swamped with farmers who came in from places as far as Gonda, Basti and Gorakhpur in eastern Uttar Pradesh as well as the sugarcane belt of western Uttar Pradesh.
Farmers along the UP-Delhi border were stopped during the 'Kisan Kranti Padyatra' and police resorted to using of teargas shells and water cannons to disperse the protesters.
Police picketed the border with Uttar Pradesh, imposing prohibitory orders banning assembly of five or more people and holding of any public meeting, usage of any amplifier, loudspeaker, and similar instruments.
The Kisan Kranti Yatra, which began from Tikait Ghat in Haridwar on September 23, was joined by farmers from various parts of Uttar Pradesh.
They came on foot, in buses and tractor trolleys. They carried banners of Bhartiya Kisan Union, which gave the call for the march to press for a series of demands.
"We are not seeking any alms from the government. We want our right," said Harmik Singh, a farmer who came from Meerut. Farmers are in distress because of high electricity prices and fuel rates shooting through the roof, he said.
"Aap ko 500 rupiya ka gas theek lagta hai? (Does LPG price of Rs 500 sound right to you," he asked.
Another farmer claimed that over 3 lakh peasants are marching towards Rajghat. Their list of demands include unconditional loan waiver for farmers, clearing of dues by sugar mills, higher prices for crops, free electricity for farms and a cut in diesel prices.