Even Karuna could not harm AIADMK, what can Stalin do: EPS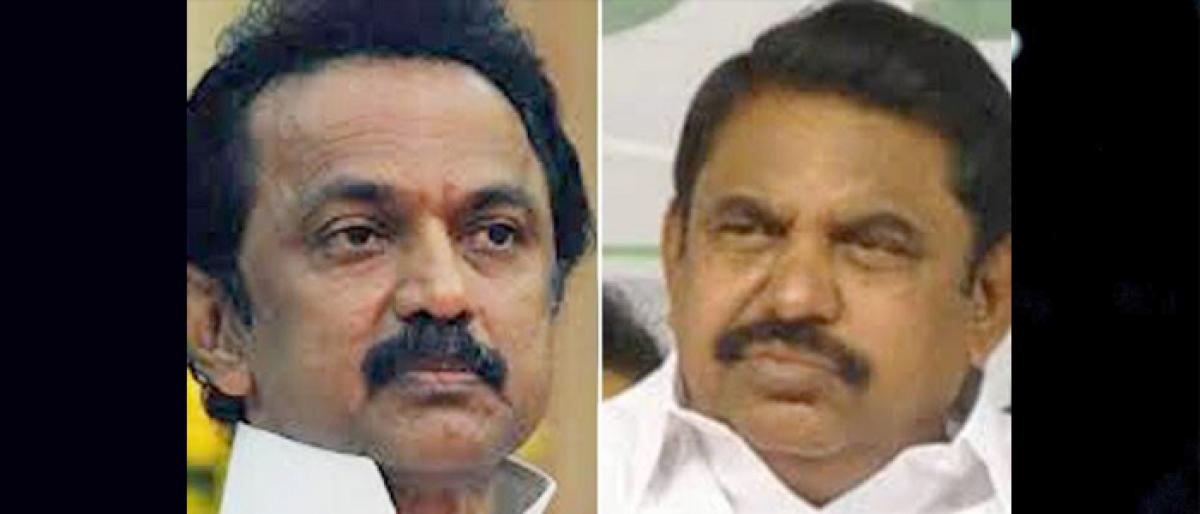 Highlights
Hitting out at DMK, Tamil Nadu Chief Minister K Palaniswami on Sunday claimed it was levelling graft charges against the ruling AIADMK only out of fear of anticipated adverse verdicts against its leaders in pending corruption cases
Salem: Hitting out at DMK, Tamil Nadu Chief Minister K Palaniswami on Sunday claimed it was levelling graft charges against the ruling AIADMK only out of fear of anticipated adverse verdicts against its leaders in pending corruption cases.
Taking on DMK chief M K Stalin, who has been highly critical of the government over the issue of corruption, Palaniswami said nothing could be done to the AIADMK even when late DMK patriarch M Karunahidhi was alive and sought to know what his son can do now.
Seeking to turn the tables, Palaniswami alleged that DMK was synonymous with corruption and referred to the Sarkaria Commission's report against the M Karunanidhi government in the 1970s over the Veeranam project to cater to the drinking water needs of Chennai.
It was only after late chief minister J Jayalalithaa introduced a new Veeranam drinking water scheme later, Chennai was getting "uninterrupted" supply.
Addressing a function at nearby Veerapanandi after distributing welfare assistance, the Chief Minister said the DMK was repeatedly making wrong calculations regarding the survival of the AIADMK ever since it was found by M G Ramachandran (MGR).
"MGR himself built a party of cadre and then 'amma' ( Jayalalithaa) who succeeded him strengthened it further. They both faced several trials and tribulations and challenges from the DMK but they survived," he said.
Referring to the DMK's charges of corruption, Palaniswami said as per a recent Supreme Court order, any case against an MLA, MP or a minister should be tried by a special court formed for the purpose.
"Today, cases are pending in different courts against 10-11 men who were ministers during the DMK rule.
These cases will come up for hearing before the special court and they will get punishment. This is why the DMK has been levelling charges against us," he claimed.
The DMK has made corruption charges against Palaniswami in the award of road contracts and on a petition by it the Madras High Court has recently ordered a CBI probe.
Palaniswami said he was ready to face any challenge posed by Stalin.
"Even your father Karunanidhi could not do any harm to the AIADMK which ruled the state for 28 years. What you are going to do?" he asked Stalin.
Claiming that the DMK chief was threatening the 'Amma' government, the chief minister said nothing would happen. "We are self-made, hardworking and will survive any challenge.
"AIADMK is a democratic party and only in AIADMK a cadre can hold high post unlike the DMK, which is a family-based party," he alleged.
He said his government has implemented the electoral promises, including free mixer, grinder and laptops, made by the AIADMK.