Mayor, NDMC chief visit Bhalswa landfill fire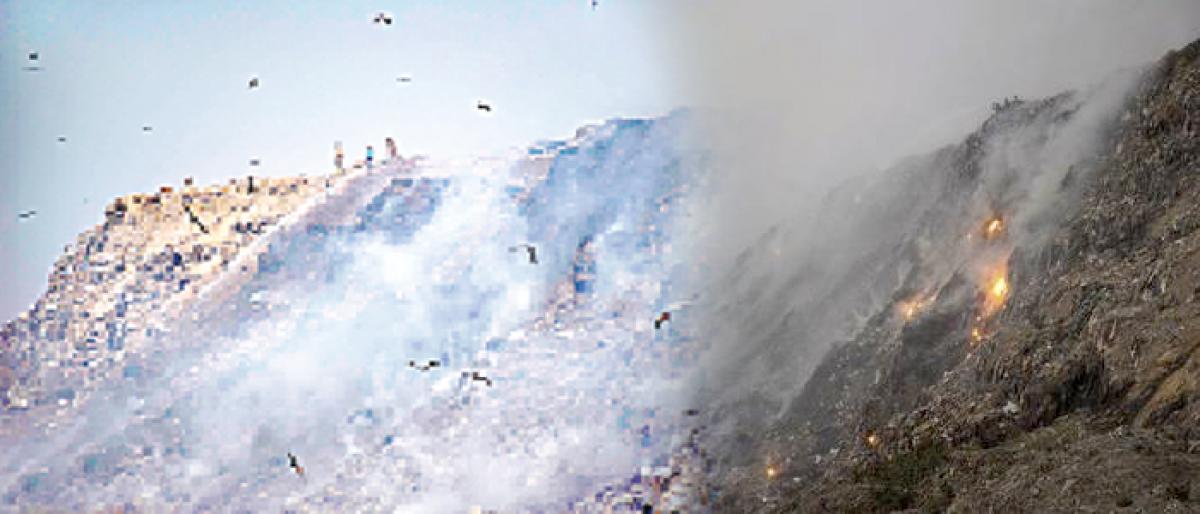 Highlights
The mayor and commissioner of north Delhi visited the Bhalswa landfill site on Tuesday to take stock of the situation there, even as a fire continued to rage in parts of the huge garbage dump, officials said
New Delhi: The mayor and commissioner of north Delhi visited the Bhalswa landfill site on Tuesday to take stock of the situation there, even as a fire continued to rage in parts of the huge garbage dump, officials said.
Municipal Commissioner Madhup Vyas said he visited the site in the afternoon, accompanying Mayor Adesh Gupta.
"The mayor and the commissioner are currently visiting the landfill site to take stock of the situation," a senior NDMC official said.
The Bhalswa landfill site falls under the jurisdiction of the North Delhi Municipal Corporation (NDMC).
The nearly 50-metre-high heap at Bhalswa got saturated several years ago.
Fire incidents keep taking place at the humongous site on and off, caused by natural factors or triggered by some incendiary material.
A fire has been raging at the Bhalswa landfill site since October 20, raising concerns about the air quality in the National Capital Region (NCR) further deteriorating.
The Delhi Fire Service (DFS) department had on Monday night said the blaze at the site was "almost" brought under control by 7:30 pm.
A senior DFS official, however, on Tuesday said the fire was still raging at the dump site.
Delhi's air quality remained in the "poor" category Tuesday, a day after it had improved from the "very poor" Air Quality Index (AQI) zone.
But experts have said it may deteriorate in the coming days due to the toxic air emanating from the fire at the Bhalswa landfill site.
Delhi Environment Minister Imran Hussain had on Monday expressed serious concerns over the fire as the city is already fighting the adverse impact of stubble burning in the neighbouring states.
Hussain directed the three municipal corporations in the national capital to work on preventing incidents of fire at landfill sites.
He also told DFS officials to depute a fire tender exclusively to tackle future fire incidents at the Bhalswa landfill site.