Plot hatched by BJP, YSRCP to gain voters' sympathy: Chief Minister N Chandrababu Naidu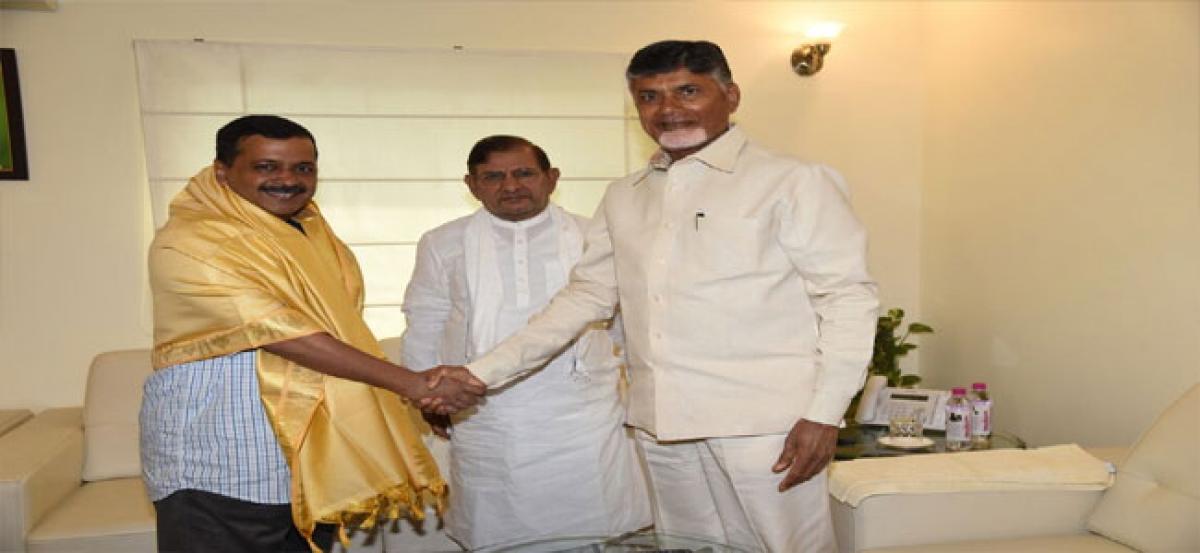 Highlights
Chief Minister N Chandrababu Naidu here on Saturday described the purported attack on YSRCP president Y S Jaganmohan Reddy as a conspiracy hatched by the BJP and the YSRCP to gain sympathy of the voters
New Delhi: Chief Minister N Chandrababu Naidu here on Saturday described the 'purported attack' on YSRCP president Y S Jaganmohan Reddy as a "conspiracy hatched by the BJP and the YSRCP" to gain sympathy of the voters. Ridiculing the claims of the Opposition in this regard, Naidu said, "There was one incident in Visakhapatnam the other day. One Srinivasa Rao attacked Jagan with a small knife. Later, a 10-page written by some three persons was recovered from the attacker. Jagan leaves for Hyderabad with a blood stain and gets admitted to the Hospital there.
How did he leave the attack spot? Why was he allowed to go? If he is attacked then it is his duty to stay there and report the matter to the CISF. Why did not he do it?" Denying his party's hand in the attack, he asked,"Airport belongs to whom? It is under the Centre's security. How can you blame me? How can they blame me? GVL Narasimha Rao and the BJP leaders demand Governor's Rule. You want to destabilise me? You want to destroy the Opposition? What you did in Tamil Nadu to take control of the situation? What did you try to do in Karnataka without any majority?"
He further disclosed that one person Sivaji gave the concept of Operation Garuda in March itself. "Everything is happening now as he said. Whatever he said has come true. He got it from some sources. We are looking into it too. This is one way of attempting to destabilise us. They (BJP) are joining hands with YSRCP and Pawan Kalyan to fight me and finish me," Naidu said.
The Chief Minister also flayed the Centre for pursuing politics of vengeance and directing I-T and other departments to conduct raids on offices and residences of Opposition leaders who were strongly opposing its policies. "Yogendra Yadav was raided, Shiv Kumar was raided in Karnataka, Dinakaran was raided in Tamil Nadu. In HP, West Bengal TMC leaders were raided. In Delhi, Kejriwal was raided and cases filed. In Gujarat too we saw the raids on Congress leaders. NDTV was slapped with cases. You (Media) is afraid to report properly. All this has to be exposed to the nation. People should know their conspiracies and that is the reason why I am here (in national capital," Naidu said.