India lost Test series they should have won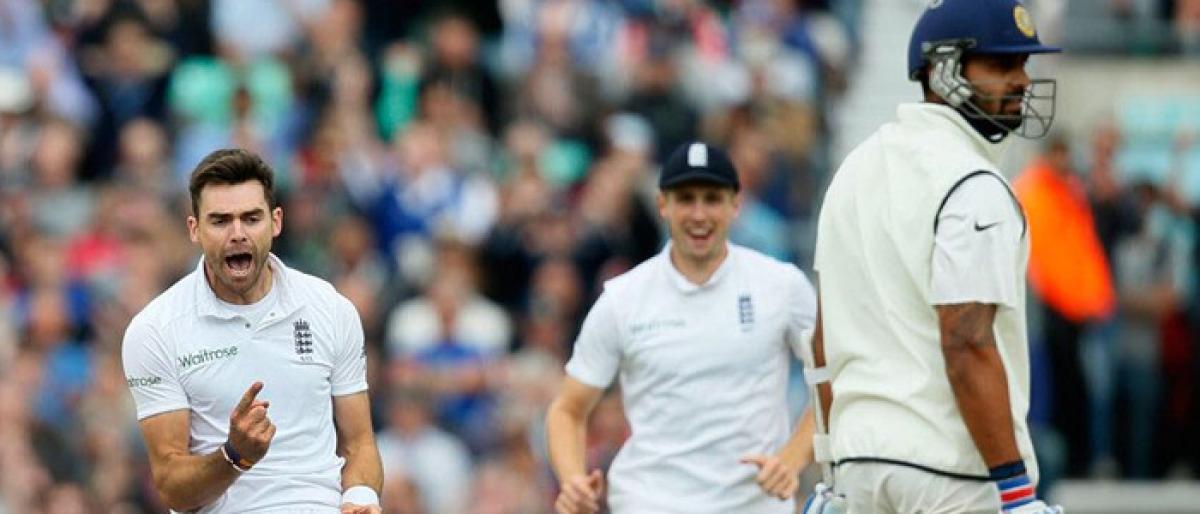 Highlights
After the fourth cricket Test, India are left counting the positives and England walked away with the fivematch series 31 with one to play at the Oval When India went into chase a 245run target in the fourth innings it looked a perfect 5050 game In the end, 60 runs separated the teams
After the fourth cricket Test, India are left counting the positives and England walked away with the five-match series 3-1 with one to play at the Oval. When India went into chase a 245-run target in the fourth innings it looked a perfect 50-50 game. In the end, 60 runs separated the teams. The series summary only says England won the series at Southampton but those who critically view the scoresheets of the four Tests will say that only at Lord's England were all over India. The first Test should have gone India's way but they fell short by 31 runs and the fourth Test should have swung their way after they bowled England out for 246 in the first innings on the first day.
Just when Indian batsmen seemed to be coming to terms with England's pace, they found a new demon in off-spinner Moeen Ali, who ran through their side not once but twice, taking five and four wickets in the two innings, to seal the series. Ironically, Moeen is making a comeback after going back to play in the county championship. He was brought back more to bolster the middle order after a double century the preceding week for Worcestershire in the County Championship. If they needed his spin to add to his batting they could have got him in, not leggie Adil Rashid in the first Test itself.
Moeen's exclusion had a sound reasoning. He had a nightmarish Ashes and then in New Zealand in the winter. He had confidence in his ability and bided his time, performing where it matters, in domestic cricket. On the second day at Rose Bowl, Moeen looked at his best again with the ball after scoring a critical 40 to give England a decent total to bowl at. He found the pitch to his liking and he knew exactly where to pitch and on which footmark to claim five wickets, his fifth in Tests. That's as many as he claimed in the entire Ashes series and lost his place during the New Zealand series.
Come to think of it, he had troubled the Indians on their last tour four years ago on the same ground, returning a career-best six for 53 in the third Test and from then on the series took a different course after India took a 1-0 lead, winning the second Test. Moeen is right, one bad winter doesn't make one a bad player. It could well be a message for some talented Indians, too, someone like Lokesh Rahul or even Ravichandran Ashwin.
A word in defence of Ashwin: He was dogged by groin and hip issues and there is no point after playing so many Tests being scrutinized by experts about his pivoting or about his front-on action while delivering the ball. Suddenly, his speed became an issue, forgetting Moeen is bowling on pitches about which he knows too well. Frankly, not very many spinners from the subcontinent did well in England, barring the genuine wrist spinners.
Some players should take Moeen's advice seriously and sincerely: "I know deep down that I'm not the perfect spinner but I know that, given my day, I can bowl a side out." That's what confidence does to a player. Virat Kohli also knows what went wrong and he was not conservative in his praise of Moeen, saying he was relentless with the areas and speeds, he deserved the wickets he got.
It is foolhardy to say the Indian batsmen could not play Moeen when spin is their staple diet. It's just the pressure and the offspinner could bowl into the roughs better than Ashwin. India sadly lost the fourth Test at a time when Cheteshwar Pujara and vice-aptain Ajinkya Rahane got the hang of the pitches and the bowling in England. They worked hard to righten their technique, too. And with their captain Virat Kohli in such sublime form, they could have put together a winning performance.
It is not that England middle-order was any great shakes, they were bailed out by their lower-order batsmen, their all-rounders. All that needed was for one from the top five to hang around with the tail. Indian tail, too, did enough to bat around Pujara in the first innings, but there was none in the second to encourage Rishab Pant and Hardik Pandya to go after the attack. Pant did show some aggression, but lack of cricket thinking saw him perishing. In the first innings, Pujara added 78 runs with the last two men Ishant Sharma and Jasprit Bumrah, 20 coming from the two. Barring Ishant and Bumrah, all others have a Test fifty.
Once again the Indian bowlers must be feeling let down just as they felt in South Africa. Even if they allowed the lower order batsmen to pull England out of trouble, they did not let the match go out of hand.The only aspect of the game in which the Indians looked better than England is in their slip catching.
All in all, India lost a series they should have won, with some effort.Just to recall, Pakistan did well to share the two-Test series 1-1 and two years ago they played a 2-2 drawn series. If India do not lose heart and play and make it 2-3 instead of 1-4, the series can still have a satisfactory finish.
(Veturi Srivatsa is a senior journalist and the views expressed are personal)