Disturbing signals for TRS from Kongara Kalan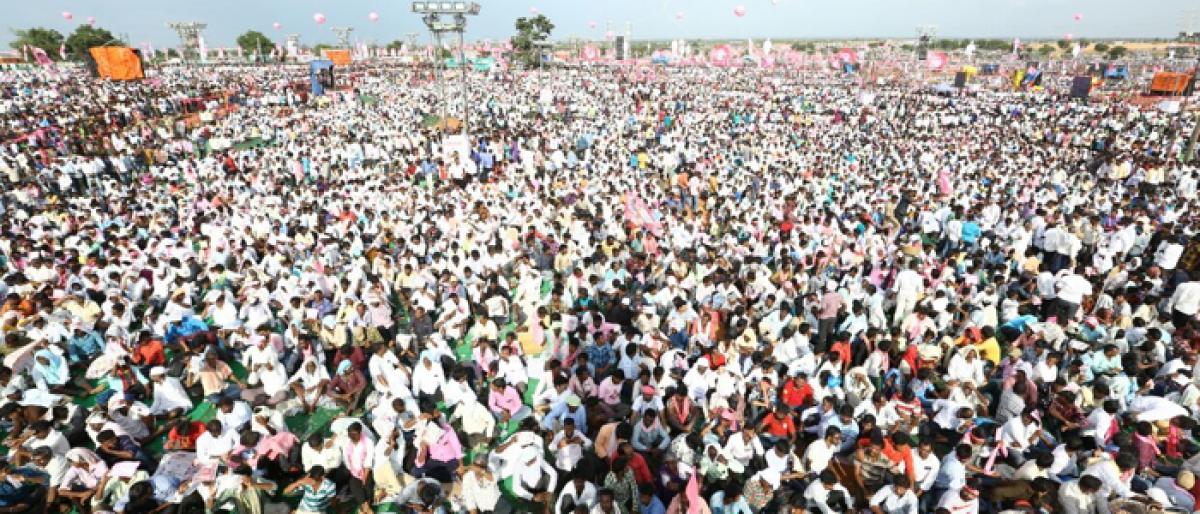 Highlights
Ruling Telangana Rashtra Samithi TRS led by maverick Chief Minister Kalvakuntla Chandrashekar Rao staged a mega show of strength with its public meeting at Kongara Kalan on Hyderabad outskirts on Sunday Claims by TRS and counterclaims by Opposition about the number of people in attendance at the meeting notwithstanding
Ruling Telangana Rashtra Samithi (TRS) led by maverick Chief Minister Kalvakuntla Chandrashekar Rao staged a mega show of strength with its public meeting at Kongara Kalan on Hyderabad outskirts on Sunday. Claims by TRS and counterclaims by Opposition about the number of people in attendance at the meeting notwithstanding, it was an impressive gathering, though it might not be anywhere near 25 lakh mark as targeted by the pink party. The way the entire show of strength was conducted goes on to indicate that the local cadre of TRS has become strong, both financially or otherwise. That should be music to TRS leadership's ears.
But there are conflicting signals as well, from the hurriedly-prepared grounds at the nondescript village near Outer Ring Road, which shot to fame with this meeting. KCR, as Rao is popularly known, wasn't in his best elements. Unlike in the past, his hourlong speech lacked punches and barbs at rivals. There were no grand announcements too. This has already set tongues wagging in political circles.
That apart, there is a most important signal that should worry TRS. As I noticed at the meeting, people started leaving the venue even before KCR could complete half of his speech. The main women's enclosure near the main dais was literally empty. So were other galleries in the back. Was KCR disappointed by people leaving the venue in droves while he was addressing, and so delivered a lacklustre speech?
Furthermore, TRS chief's speech failed to evoke big positive response from the crowds. There was not much response when he made references to earlier governments led by Andhra people and how they neglected Telangana. More importantly, response was also muted from those present when he said: "Before coming here, I have seen people at meeting speaking to the media, saying they want TRS to come back to power.
They want KCR to come to power again." Also, public response was feeble when he made plea to them to bless TRS again and bring it back to power. Last, but not the least, not many people responded and joined voice with him when he said, 'Jai Telangana'. Disappointed by this, he had to prompt them again. This raises some pertinent questions. Are women not happy with his dispensation? Is something wrong with the ruling party at ground level?
It is worth recollecting a 1995 incident. As a member of students' study tour of Osmania University Journalism Department, l met Duddilla Sripada Rao, former speaker of Andhra Pradesh State Assembly (1991-94), at a dinner hosted by G Venkataswamy, the then Union Minister for Labour, for us at the latter's official residence in New Delhi. Incidentally, Sripada Rao, who lost Assembly elections from Manthani constituency in 1994, and myself hail from neighbouring villages in Kataram mandal of the then Karimnagar district (now in Bhupalpally district).
When I introduced myself to the former speaker, the first thing he did was expressing his anguish and pain at losing elections to a novice. "I did everything to my people. I don't know why I lost elections?" he rued. I gave him a frank feedback. "It is a fact that you have done a lot. But it is your followers who benefited from them, not the people.
Moreover, your followers some of whom are good for nothing started throwing tantrums and displaying their new-found riches. It is a verdict against your second-rung leaders, not you," I told him. It is unfortunate that he was killed by naxalites in 1999 when he came to attend to my paternal uncle's (my father's elder brother) 10th day death ceremony in Annaram village, which is now in limelight for hosting a mega barrage and pump house as part of Kaleswaram Lift Irrigation Project (KLIP).
But Sripada Rao is not the only politician to lose elections because of anti-incumbency against local leaders. In Telangana, MLAs, MPs and Ministers of ruling party face similar problems. That's why we regularly get to see majority of ministers in Telangana biting the dust in elections. Is TRS facing similar hurdle? But one thing is crystal clear.
People who enjoyed power in earlier Congress and TDP governments are calling the shots even in TRS government and not much has changed on the political landscape of Telangana post-bifurcation. Talk of injustice done by Andhra rulers and tales about Telangana struggle are unlikely to cut much ice now. KCR has however an undeniable advantage i.e. the TINA factor - There Is No Alternative. That is likely to help him return to power even if there is anti-incumbency against his local lieutenants.