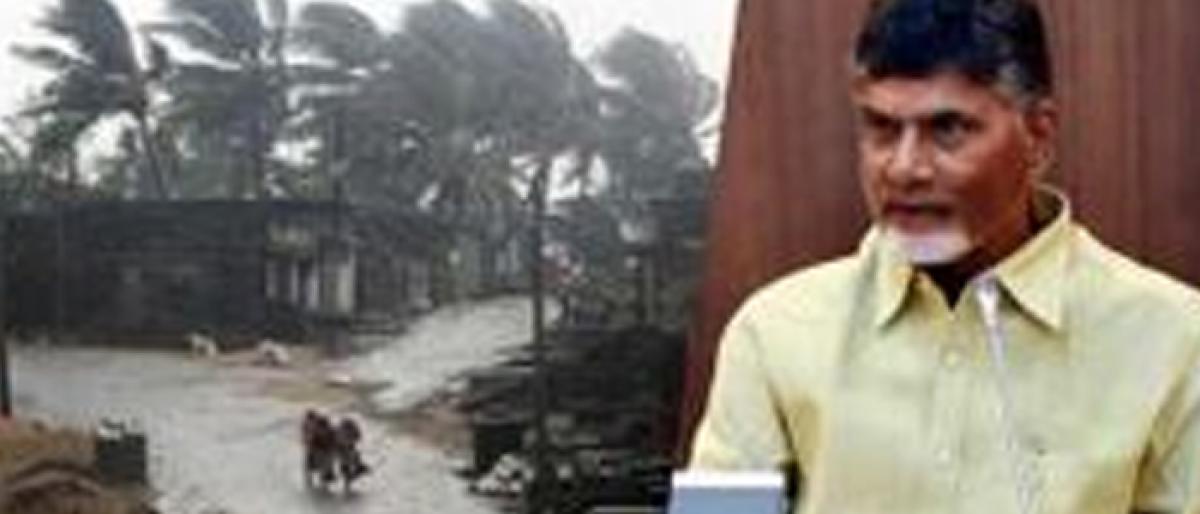 Highlights
Sometime back at the time of Kerala floods, Minister of Finance of Kerala, Thomas Isaac, called the policy of the government of India in not allowing taking of grant from UAE as the dog in the manger policy Reacting on this, I wrote an article explaining the institutional mechanism that governs the handling of any natural calamity by the state government with the support and involvement of the
Sometime back at the time of Kerala floods, Minister of Finance of Kerala, Thomas Isaac, called the policy of the government of India in not allowing taking of grant from UAE as the "dog in the manger" policy. Reacting on this, I wrote an article explaining the institutional mechanism that governs the handling of any natural calamity by the state government with the support and involvement of the centre.
Within two months cyclone Titli struck on the east coast and different accusations are being made with greater force from Andhra Pradesh. Titli actually crossed the coast in Orissa and three Orissa districts are affected by Titli compared to one in AP but the severity of accusation we are hearing is more from AP than from Orissa that the Centre is non- responsive and inhuman in its approach. It would be worthwhile to see the institutional mechanism in place to meet any such calamity before analysing the respective roles, responsibilities and discharge of the same by state and Centre.
The Central government enacted Disaster Management Act in 2005 which broadly defines and fixes the roles and responsibilities of state and central governments in facing and managing a disaster natural or man- made. They have also brought out a Natural disaster management plan in conformity with the act which details the plan of action and its implementation in facing a disaster. Both are in conformity with the Sendai frame work a non- binding UN initiative for a plan of action to face natural calamities.
As per the manual and also as reiterated in their report by the 14th finance commission primary responsibility for undertaking rescue, relief and rehabilitation measures during a disaster lies with the State Governments. The Union Government supplements their efforts through logistic and financial support during severe natural disasters. Hence there is no confusion as to who is primarily responsible for disaster relief operations.
The act clearly lays down the role of NDMA headed by PM and SDMA by the CM. More important role in handling cyclones is played by the national crisis management committee headed by the cabinet secretary and state executive committee headed by chief secretary who keep in regular touch through video meetings or other wise and coordinate activities between state and centre.
It is here crucial decisions of where to deploy NDRF forces is taken and any coordination issues with army navy and other central departments are sorted out. When AP CM says Centre is behaving without humanity does he mean they refused to deploy the forces or conduct these coordination meetings? In any case that never will be the case.
Then the issue of financing the disaster rescue and relief work. Funds for the same as awarded by the finance commission automatically come to the states each year provided 75 per cent of the balance available is spent.
They are credited to a separate fund at state level called SDRF (state disaster relief fund). For the first three years of 14th F.C. award starting from 2015, an amount of Rs 1247 crores have come to AP and this year first instalment of 229 crores also would have come if 75 per cent of earlier balance was spent.
Any funds that come after a central team visit will be in addition to these amounts so it is not fair to blame Centre in this regard without explaining what is the balance in SDRF. In any case as long as spending is as per the norms state can spend and include it in their memorandum at the time of central team visit. There are certain norms of relief like how much to be paid for death damaged houses etc and these norms are revised periodically. If any state chooses to pay over and above these norms then they will have to bear the additional expenditure.
All this is covered by a statute and hence the powers and responsibilities of the state and Centre in tackling a disaster are legally binding and are enforceable by a court of law. When this is the laid out institutional procedure without specifying where exactly there was a failure on the part of the central government in a general way to comment that central government is inhuman in responding to the cyclone may not be fair.
Recently in another letter chief minister of Andhra Pradesh requested central government to declare Titli cyclone as a national disaster. At the time of Kerala floods itself Centre had made it clear to Kerala High Court that there is no such provision to declare a calamity as a national calamity though assistance will be made available depending upon the severity of the calamity. I'm sure the state government is aware of this position.
When such is the factual position to request for declaring as a national calamity and when is not done to accuse centre of insensitivity is just nothing but enacting a drama to show central government in bad light. The cyclone crossed the coast in Orissa. Compared to one district affected in Andhra Pradesh three districts of Ganjam ,Gajapati and Rayagada are affected in Orissa. They seem to be facing the calamity quietly without looking for scapegoats.