When betterment means sell off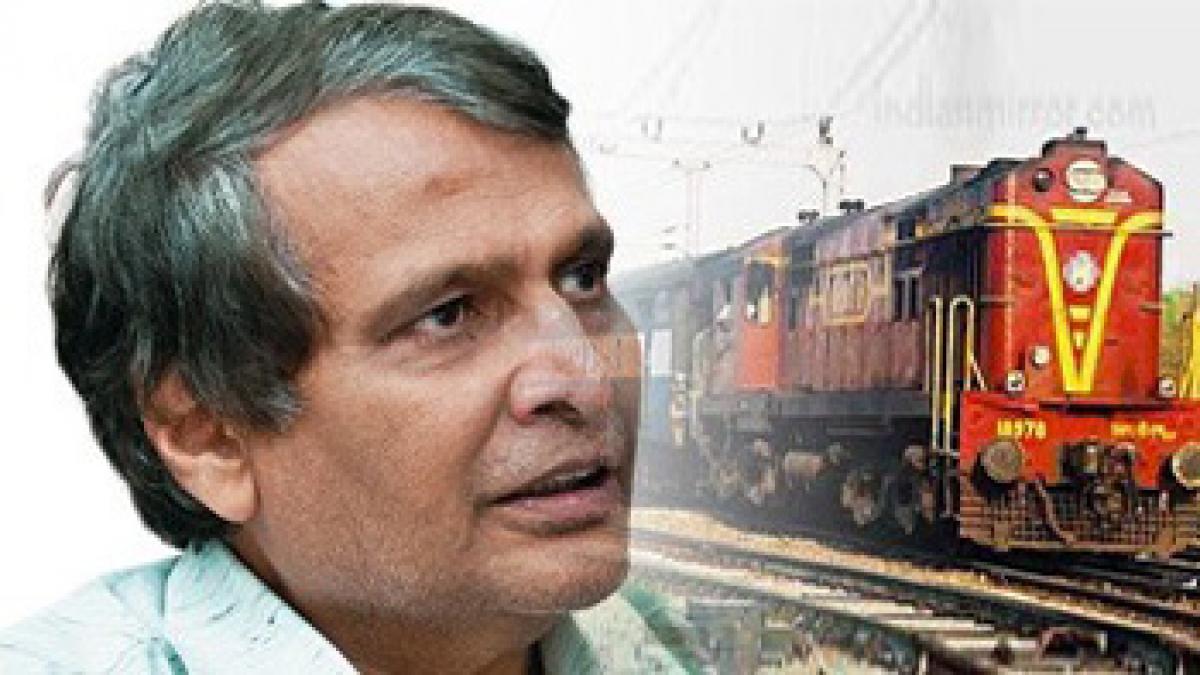 Highlights
Prabhu zooms in on Comfort to make a rail change.-' -'Rail Budget: No Hike in Fares.-' -'Customer takes first class seat in Prabhu-'s plans." These...
How is Suresh Prabhu planning to develop the Indian Railways? His mantra is: Take away railway protection forces, schools and railway hospitals as well as production, maintenance and construction units and joint ventures with other government agencies. What will be left of the Indian Railways, then? Like air traveller, be ready to shell out for every additional comfort with the entry of private players.
Prabhu may not have touched the regular tariff. But all other things he talks about including passenger amenities fall under the non-fare box revenue category. All add-on services including WiFi and concierge service fall under the sundry earnings category. These demand extra payment by each of the passengers
"Prabhu zooms in on Comfort to make a rail change." "Rail Budget: No Hike in Fares." "Customer takes first class seat in Prabhu's plans." These were some of the headlines that the Union Railway Minister, Suresh Prabhu, bagged a day after he presented his budget this year with a focus on boosting finances, network and customer care. Really? Or, is it the other way round? Has he been really passenger friendly?
It does not require any brilliance to understand what Prabhu has proposed. The Budget reflects Prabhu's efforts, rather, the Modi Government's bid, to classify passengers according to their ability to pay. The Budget is central to the 'Power of the Purse" philosophy of this pro-rich government and a few seem to realize it anyway.
Prabhu has not thrown open any rosy option to his consumers. In fact, he is going to charge them more for their every step towards comfort. A hassle-free journey in clean and neat environment should be a natural corollary if one were to undertake a train journey.
First of all, let us have a look at the non-tariff revenue or non-fare box revenue that the Railway Minister has proposed. Prabhu may not have touched the regular tariff that the railways earns through fares. But all other things he talks about including passenger amenities fall under the non-fare box revenue category. All add-on services including WiFi and concierge service fall under the sundry earnings category.
These demand extra payment by each of the passengers. Prabhu also talked of introduction double-decker trains called Uday on busy routes. He also referred to the introduction of Tejas with speeds of up to 130 km per hour and other on board services such as entertainment and local cuisine. A new superfast service, Humsafar, is to cater to the needs of value-conscious traveller.
In fact all these facilities mean that there will be now two classes of passengers in the railways - value-conscious travellers and non-value passengers. We always have had three segments amongst our passengers - one is that of the non-reserved 'mango people' (thank you Mr Vadra), the second is the reserved category passengers and the third is the luxury class segment travelling in AC comforts.
Prabhu now has one more segment of commuters - that of the unreserved ones who could seek reserved accommodation on board paying whatever is the going rate (the dynamic fare, perhaps). The Prime Minister, Narendra Modi, is said to have asked the Railways to put maximum stress on advertising when he said "learn from cricket, which has ads even on the stumps". Suresh Prabhu has taken it very seriously now.
Advertisements apart, cricket stadia now have gone corporate with each box containing seats going at exorbitant prices only to be grabbed by corporate companies. What begins with this budget as an optional rail travel insurance choice could soon become a compulsory one to all. This could pave to absolve Railways of any financial obligation in case of an untoward accident.
Presenting Railway Budget 2016-17 in Parliament on Thursday, the Minister said that redevelopment of stations using different models was being experimented. Based on one of these models, financial bid has been received for redevelopment of Habibganj station in Bhopal, while 4 other stations are in advanced stage of bidding.
It is a landmark decision he said and added that the Cabinet had approved redevelopment of 400 stations through PPP. This is expected to be the largest transit-oriented development in the world and, hence, involves complex decision-making. Apart from taking up stations through the PPP mode, the possibility of availing of multilateral financial investments and partnering with State governments are also being explored, his speech says.
Just sit back and relax and try to understand the implications of this development for the passengers. Every air traveller knows that he not only pays a development fee to the airport but also a user development fee. This is so because the airport is built by a private player and he needs to make money every which way.
Now when your railway stations are redeveloped with the help of multilateral financial investments or new stations built on the new railway lines to be developed by the joint ventures formed by the State governments in association with private investors and the Indian Railways, would it be out of place to expect such user charges imposed on passengers?
This is the new rule book of Suresh Prabhu. In fact, the Bibek Debroy Committee in its interim report on the Indian Railways recommended several such sweeping changes. From encouraging private players to run trains to eliminating the Railway Budget altogether, the report dwells on "all that ails Indian Railways and recommends steps to decentralise its operations for effective management."
In all, there are ten such key recommendations of the Committee. The first amongst these is the transition to commercial accounting. The committee felt that the process of accounting in Indian Railways was "very complicated" and hence, it had to be simplified and redrawn "consistent with principles and norms nationally and internationally accepted".
Casting accounts in standard commercial accounting format and making appropriate financial disclosures would not only facilitate prospective investors in assessment of risk and decision on their possible investment forays into Indian Railways but would also help it to quantitatively assess impact of policy interventions on cost of various services.
If carefully read the last part of the sentence means that the costs would be dynamic throughout and could be changed as per the demand and necessity. Then there are other recommendations that ask the Railways to wash its hands off several tasks it has been carrying out apart from its core business of rail transportation.
These activities identified include running hospitals and schools, catering, real estate development, including housing, construction and maintenance of infrastructure, manufacturing locomotives, coaches, wagons and their parts, etc.Of course, Debroy Committee reiterates: "Not for a moment have we suggested that you close these down." It has not suggested a close down of all these activities that could axe all the work force associated with such activities.
It also had gone ahead to add to this list the Railway Protection Force and Railway Protection Special Force, which carry out functions which should normally be performed by State Police forces. The logic is simple and extensive. "To maintain and run these diverse sets of peripheral activities, Indian Railways has created a monolith organizational structure. There is a strong case for revisiting these activities. Indian Railways should focus on core activities to efficiently compete with the private sector.
It will distance itself from non-core activities, such as running a police force, schools, hospitals and production and construction units. It had also recommended that the needs of the children of railway employees could be met through subsidising their education in alternative schools, including private schools, rather running its own schools". What does this above recommendation indicate?
Take away these things from the Indian Railways and also take away the maintenance of railway stations built with the participation of multilateral agencies and also those railway lines laid by the joint ventures of governments. What will be left of the Indian Railways? An organisation with that of a facilitator role?
Would you then be surprised to catch an Adani's rapid rail transit at GMR-Secunderabad station to de-board at Ambani-Amaravati station in near future? By the by did you know that the Delhi Metro has already rechristened some of its stations on those lines? The Indian Railways will be dead soon. "Requiem aeternam dona eis, Domine" – "Grant them eternal rest, O Lord". Happy private journey, madam/sir!
Subscribed Failed...
Subscribed Successfully...