GM crops answer to food security?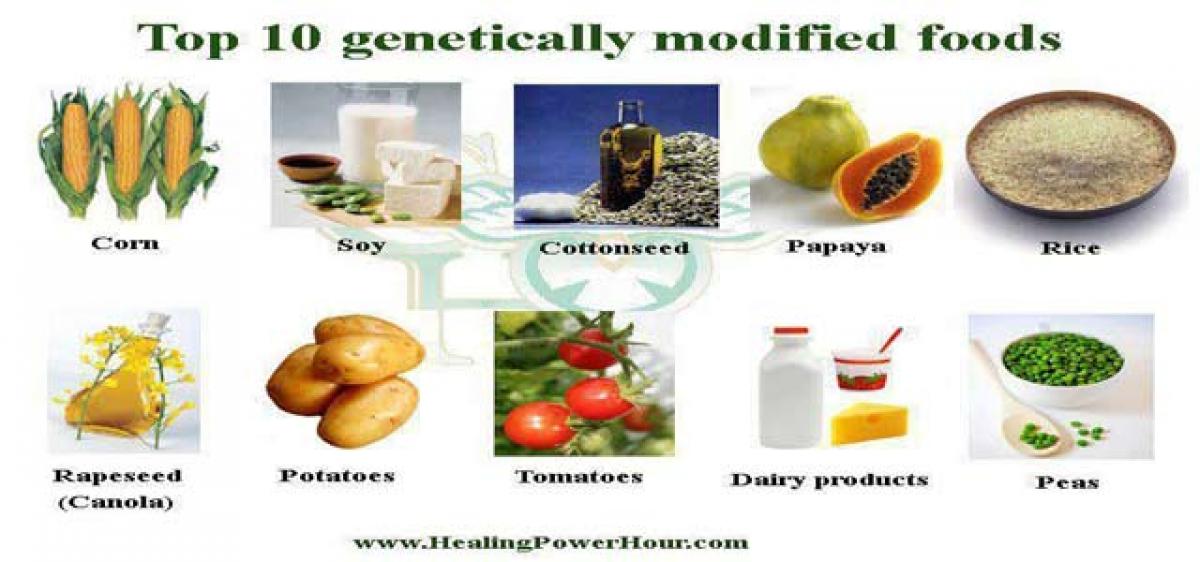 Highlights
It is significant to note that 109 Nobel laureates recently signed a letter urging the well-known environmental NGO, Greenpeace, to end its opposition...
It is significant to note that 109 Nobel laureates recently signed a letter urging the well-known environmental NGO, Greenpeace, to end its opposition to genetically modified organisms (GMOs) and called upon governments across the world to reject the NGOs campaign that opposed biotechnological opposition in agriculture. This appeal is indeed important for a country like India, where over 60 per cent of the population is engaged in agriculture and there is an imperative need to increase production and productivity.

The letter clearly stated: "Scientific and regulatory agencies around the world have repeatedly and consistently found crops and foods improved through biotechnology to be as safe as, if not safer, than those derived from any other method of production."
The scientists regretted the fact that the campaign led many to stop its efforts to block introduction of genetically engineered crops but it noted that "there has never been a single confirmed case of negative health outcome for humans or animals from consumption."
Richard J Roberts, who is currently chief scientific officer of the New England Biolabs, in a recent interview to The Washington Post, stated that Greenpeace and some of their allies deliberately "went out of their way to scare people. It was a way for them to raise money".
In tune with the above opinion, a technical body of the Central Government of GM mustard stated that it is safe for human and animal health and doesn't pose any threat to biodiversity. The Environment Ministry recently made this report public, wherein it clearly stated: "From the toxicity and allergenicity studies, it is concluded that GE mustard, the parental lines and Dhara Mustard Hybrid-II (DMH-II) doesn't raise any public health and safety concern." But recently the RSS has pressurised the Modi Government not to allow GM mustard in the country.
Meanwhile, a report stated that the acreage for GM crops declined in 2015 though by a mere one per cent as commodity prices were low with farmers planting less corn, soyabeans and canola of all types. Only three countries – US, Brazil and Argentina – account for over three-quarters of the total global acreage.
GM crops have been a contentious issue, at least in India. While one section is of the opinion that it could address hunger issues and bring down prices of food and commodities, the other group argues it was dangerous for environment and the health of its citizens.
Five years ago, India was a hostile place for researchers testing genetically modified (GM) crops. Its government barred the commercial planting of a transgenic aubergine (a vegetable locally known as brinjal) after protests from anti-GM activists.
Then it gave state governments the power to veto transgenic-crop field trials. The result: an effective moratorium on such trials. "We felt as if we had come up against a brick wall, and might as well chuck it in and do something else," says molecular biologist Bharat Char, with Maharashtra Hybrid Seeds Company (Mahyco), a firm in Jalna that pioneered the GM brinjal (and in which agricultural giant Monsanto holds a minority stake).

But under the NDA government, India has quietly changed course on GM field testing. In the past year, eight Indian States largely aligned with BJP have approved field trials of GM crops, between them allowing tests that include transgenic rice, cotton, maize (corn), mustard, brinjal and chickpea, according to documents seen by Nature.
Meanwhile, 21 new varieties of GM crops such as rice, wheat, maize and cotton have been approved for field trials by the present government. According to these reports, the Genetic Engineering Appraisal Committee (GEAC) – consisting mostly of bio-technology supporters – rejected just one out of the 28 proposals up for consideration. Six proposals were rejected for want of more information. The move comes while the Supreme Court is in deliberation on the safety of GM crops.
As is well-known, the only GM allowed in the country is for commercial cultivation of cotton since 2002 and this has made India the largest cotton producer in the world. Over 90 per cent of the country's cotton growing areas today grow Bt. cotton, which has resulted in the doubling of cotton yields over the last decade.
Currently, the country has the world's fourth largest GM crop acreage on the strength of Bt cotton, which has been both successful and controversial, over pricing and intellectual property rights (IPR) issues followed by government price interventions and litigation.
There have been significant advances in biotechnology and this has led to the development of transgenic varieties of rice, wheat, maize, sorghum, brinjal, mustard etc. Even recently eminent agricultural scientist M S Swaminathan made a strong case against the moratorium and in favour of a smooth approval process towards field trials for GM crops.
Now with the global scientists consent on such crops, the government should move a step forward. One cannot deny the fact that food security is vital for the country, having only 2.3 per cent of the world's land area but cannot ensure food security for 17.5 per cent of the world's population.
Keeping this in view, time has possibly come to allow GM crops in the country. Multiple studies have shown that benefits include there are no human or ecological ill-effects, yield increases and there is resistance to pests. Perhaps the most wide-ranging of these is a 2014 meta-analysis, by Wilhelm Klumper and Matin Qaim of University of Gottingen, Germany, of 147 studies on farm surveys and field trials of GM crops carried out across the world. Their results: use of GM technology increased crop yields by 22%, reduced chemical pesticides by 37 per cent and increased farmer profits by 68 per cent, with better results in developing countries than in developed ones.
The constitution of the Biotechnology Regulatory Authority of India (BRAI) as an independent regulatory body is thus critical to the country's progress in biotechnology. The BRAI bill has been hanging fire for several years now because of hostile public view propagated by a section on GM crops. It is time the government took a bold stand and laid the ground for a measured and tested introduction of GM crops. Bt brinjal and Bt. mustard could be seriously considered for induction in the country.
Apart from passing the BRAI bill, IPR issues have to be resolved that have again come up with the Andhra Pradesh government seeking compulsory licensing or revocation of the Bt cotton technology patent in its struggle with Monsanto. It is also necessary, to organise a conference of experts to clear misgivings.
International experts connected with the matter may also be invited to give their views to aid the government to take a judicious decision. Keeping in view the issue of food security that is of great concern for a populous country like India, the induction of GM crops may eventually be of help.
By: Dhurjati Muklherjee
Subscribed Failed...
Subscribed Successfully...