Hindi-Amriki-Russi Bhai Bhai?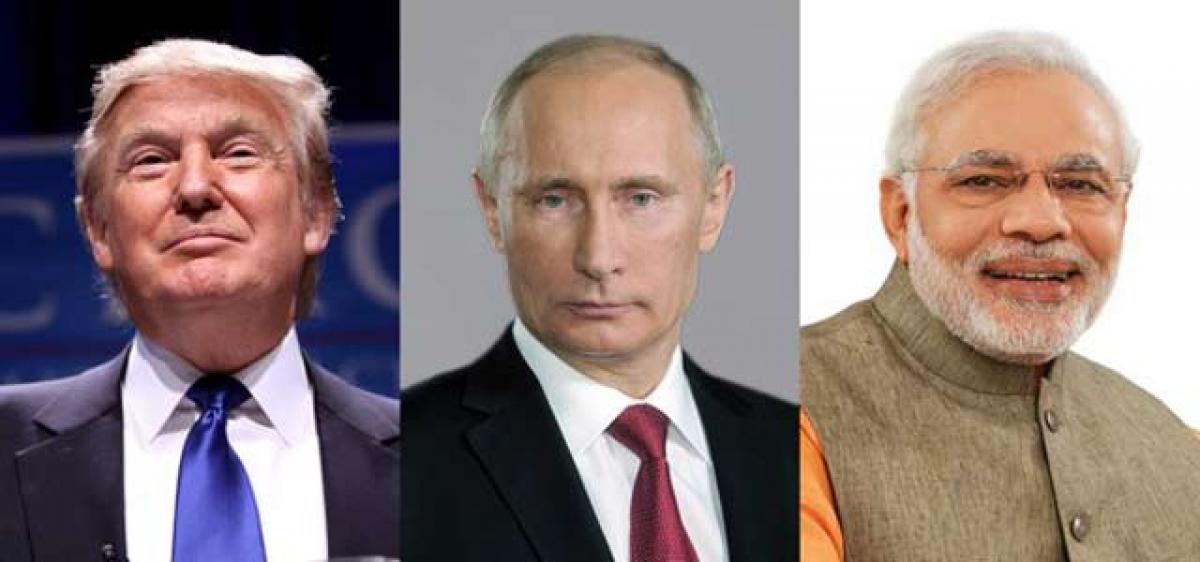 Highlights
Having criticised Donald Trump through his election campaign and on his victory, it is time to assess him and his presidency that will begin next...
Having criticised Donald Trump through his election campaign and on his victory, it is time to assess him and his presidency that will begin next January.
He remains an enigma. But it is essential to take a pragmatic look, even if it means being accused of indulging in hypocrisy, opportunism – whatever.
Serious reservations about him remain if and till they are removed. Undoubtedly, the world is moving like a fast-moving glacier to the political right.
Not just Trump's victory and Britain's Brexit, look elsewhere at Venezuela, Hungary, Poland, Turkey, the Philippines and at home.
It is a throwback to the 1930s when single-minded demagogues spewing exclusivist ideas are getting elected, democratically and within multi-party systems.
That is not likely to alter any time soon. Finding space within this order has become necessary for everyone. The churning is global.
To be fair, Trump seems to be trying to compensate for his destructive road to power. He praised Hillary Clinton who he defeated.
He was gracious at a meeting with Obama, although the latter had campaigned relentlessly against him like no other serving President has, heaping praise on the man he had denounced as a total failure.
The real estate builder-businessman's first priority would likely be making lives of fellow Americans more comfortable, providing them greater infrastructure and protecting their jobs and industries.
He has conceded that he doesn't have to destroy Obamacare, which has brought insurance to over 20 million Americans.
Trump has reached out to fellow-Republicans, like American Indian Nicky Haley, who had opposed his campaign. He has changed tune on some scores.
In his neighbourhood, we haven't heard anything about a Mexican wall, or indeed any of his most loathsome tirades on which he rose to power.
Leaving the Americans to suffer their "shock and awe," leaders around the world have already begun to assess his likely future role.
Expectedly, government leaders, among them Prime Minister Narendra Modi, have said they look forward to working with him.
Modi's effort would likely be helped by the fact that when Trump sought to woo American Indians at a conclave of the "Hindu Republicans," he had made specific references to Modi.
There was also a Modi-sque slogan, "Ab ki baar Trump sarkar" at the last stage of his polls campaign.
Post polls, he reportedly praised Modi while meeting his Indian business partners who may now join the Ambani-Adani-Lodha elite and add to the ongoing projects in India worth billions.
Does that mean doing business with Trump will be easy for the Modi government? Relatively, perhaps, but business and diplomacy run on different tracks, more so when security-related issues figure, or even dominate.
If business determined relationship between two leaders, another businessman named Nawaz Sharif would have by now invested in India and attracted Indian entrepreneurs to his country.
The dramatic Lahore visit by Modi, no businessman himself like Trump and Nawaz, but one who can visualise opportunities in this field, has not helped.
Pulls and pushes of perceived "national interests" are involved. And who guards them better than the Americans?
America cannot but be global. It has had Presidents with little foreign affairs knowledge, leave alone experience. Jimmy Carter was one in recent memory.
For all his global outreach and actions in presidency, Bill Clinton was a relative newcomer to that arena. His wife Hillary, with considerable foreign affairs experience, lost to Trump, a total newcomer to foreign affairs, leaving the world askance how the latter would conduct his foreign policy.
Complicating this has been Trump's polls-time rhetoric on foreign policy issues that seemed born of notions and deep prejudices.
His nationalistic pitch that is his own version of Brexit, advocates "Americanism," not "globalism."
He wants to extricate the US from expensive conflicts abroad, but may end up unleashing some. He looks at military alliances as a businessman would.
He is on record to demand that the Europeans who are part of the North Atlantic Treaty Organisation (NATO), besides the Japanese, South Koreans and others, must 'pay' for the 'protection' the American military power provides them.
Attempts at switchover have begun by the acerbic President Duarte of the Philippines, who has alarmed Southeast Asia by wanting to ditch the US for China.
Trump can't "switch off" America's global presence. But it is difficult to visualise how he will drive, and be driven by, the "American interests" abroad, a task executed by powerful civil and military bureaucracies at home.
Working alongside it are huge arms and business lobbies who have thrived on America's role as the world's top manufacturer and marketer with funds and ability to coerce.
Countries like China and Saudi Arabia have made huge investments in the US that carry implied, and differing quid-pro-quo.
Much as he would want, he cannot cut off America's commitments abroad. He can be expected to alter them. That would mean suitable tweaking of foreign policy goals by others, not the least India.
India may be better placed than many others. Despite Indians being the snatchers of Americans' jobs, the burgeoning bilateral ties can be expected to grow from needles to nuclear power reactors.
But what about the proximity the two have been developing in geostrategic matters? For one, will India change its Act East Policy if the US's Asia pivot move that Obama has initiated is dropped by Trump?
What will be India's approach towards Southeast Asian nations with whom relations over the last 25 years have been nurtured from Narasimha Rao onwards?
What will be India's approach to China, as a neibhbour with bilateral disputes and as a player in Southeast Asia where nations have dispute over access to South China Sea?
More importantly, India cannot ignore China's growing footprint in South Asia as well, now that it has reached the Indian Ocean through Pakistan and making huge investments across India's neighbourbhood.
How will Trump deal with China's increasing footprint across Asia? Last three US presidents, more so Obama, have visualised a larger role for India in Asian affairs.
Will Trump follow that track? The three have preferred India to Pakistan in South Asia, nut consequently pushing it towards China. How will Trump look at the Sino-Pak ties?
Then, will he abort the US deals with Iran and closer home, with Cuba? There are too many imponderables to cope with.
Trump has alarmed the Europeans with his overtures to Russia. Will he end Obama's hunting-with-the-hounds policy on Syria, of supporting those opposing President Assad and team up with Putin?
If Obama had Bush legacy, Trump inherits Obama's. The US quit Afghanistan without resolving anything. Obama's West Asia policy has been a disaster.
The regime-change approach, supporting disunited and fractious and even no-leadership groups has left a trail of death and destruction.
Just look at Iraq and Libya and at the emergence of the Islamic State, or Dae'sh.
Post-polls, Trump hasn't repeated any of his insults against Muslims. That gives hope of a different, positive approach to deal with Dae'sh.
His most recent statement about fighting it being his top priority indicates that he could be less ideological. His cooperating with Russia to fight a common enemy would underscore an old Arab proverb, "The enemy of my enemy is my friend".
Now look at Trump from the Indian prism. India has never before had both the US and Russia on its side. If Trump-Putin bonhomie works in Syria, can it work in India's favour, too?
This may provide a window of opportunity for India, giving it a greater elbow-room.
That a recent Putin-Modi push helped rescue Russia's largest foreign acquisition bid to buy a part of Indian energy conglomerate Essar shows India under Modi and Russia under Putin can work together.
Would it be too much to see prospects of Hindi-Amriki-Russi Bhai Bhai?
Subscribed Failed...
Subscribed Successfully...