India's isolation apace in S Asia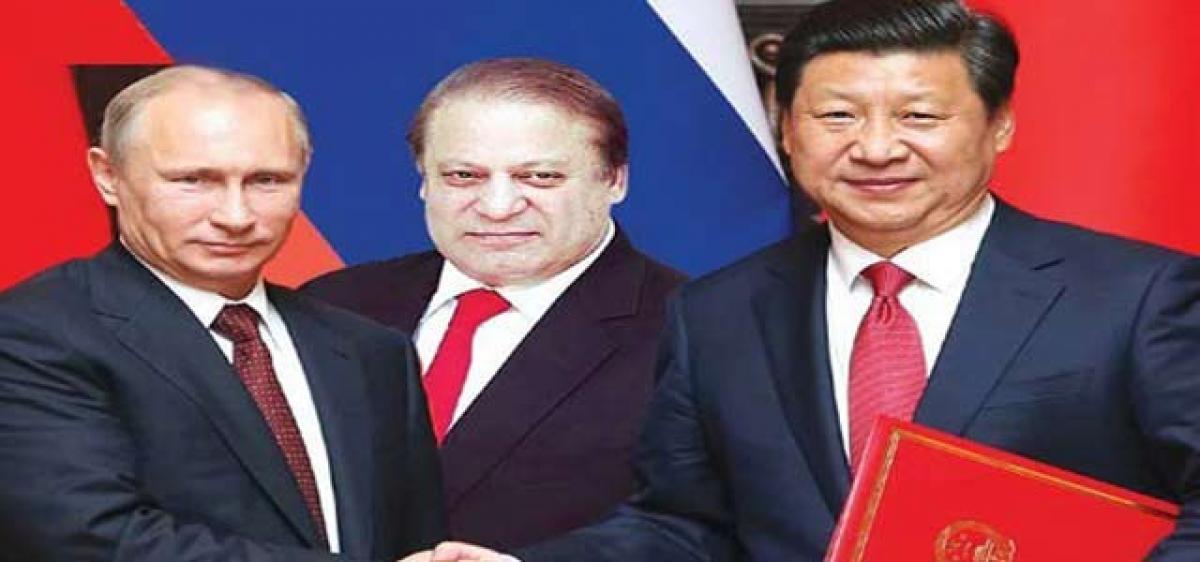 Highlights
The slogan "Hindi-Chini Bhai Bhai" lasted less than a decade and "Hindi-Russi Bhai Bhai" lasted half-a-century. Today, both Russia and China are...
Chinese attitude towards India vis-a-vis Pakistan is hardening. Moscow has for some time been getting closer to China. It is also reaching out to Pakistan. The three want Taliban in power in Afghanistan
The slogan "Hindi-Chini Bhai Bhai" lasted less than a decade and "Hindi-Russi Bhai Bhai" lasted half-a-century. Today, both Russia and China are ganging up against India as they perceive it is engaging in "Hindi-Amriki Bhai Bhai."
Undoubtedly, India-United States ties are blossoming and, keep the fingers crossed, it may continue under Donald Trump whose inauguration as the US President is but 10 days away.
The Western world thinks of India as America's 'pivot' in Asia, rivaling China. But how far is that true and how far is it helping India? India would like to be "multi-aligned" – engaging with everyone.
But unofficial talk projects it as China's adversary. And China is responding to it in good measure, opposing India wherever it can.
The 'pivot' angle has acquired a potential new dimension with Trump seeking to change a lot that President Barrak Obama had said and done for the last eight years.
If Obama is supposed to have allowed China a free run of Asia and the world, will Trump, decidedly hawkish on China, reverse it, how and how far?
Like much of the world that is uneasy with Trump's advent and struggles to engage with him before his formal inauguration, India also has its reservations.
The broad Indian sentiment, like much of the world again, had favoured Democrat Hillary Clinton despite her weaknesses. But now, everyone accepts the reality and must deal with Trump.
The ground reality, however, is that the world is groping to understand Trump, having little more than his prejudice-laced fulminations towards known American allies and adversaries alike to go by. His team selection makes the assessment even more confusing.
To the chagrin of his country's establishment, even during his election campaign, Trump displayed a measure of cozy relationship with America's traditional rival Russia.
And Russian President Vladimir Putin responded with alacrity, enough to cause serious misgivings in the West.
That Moscow had helped rig the American elections, and by implication making Trump win, is being alleged at the highest level in America's intelligence community and the Congress.
Trump has said things favourable to India during his campaign and after, even as he said he 'hated' Indians for taking away American jobs.
He has particularly gushed about Prime Minister Narendra Modi. That he has had business interests in India favours Indo-US ties.
He has to shed it to avoid being charged with doing business from White House. But India should remain a favourite investment destination for Americans in general.
If that is the likely scenario for the near future, will the Trump administration cajole India towards rivaling China in a bigger way? It would seem so.
If Trump has been anti-China, his views on Pakistan and Muslims have created misgivings in Islamabad. One does not know what to make out of Trump's reported remark that he would "love to help Pakistan solve its fantastic problems."
Prime Minister Nawaz Sharif's telephone diplomacy went awry after Islamabad foolishly made public what Sharif said and also what Trump did. This is not done in diplomacy and Trump team is livid.
Be it China or Pakistan, Indians would be naïve if they saw Trump's observations as plus points in their favour. There is a lot at stake in Sino-American relations and Pakistan-American relations.
Pakistan, with long years of military ties, has strong allies in each American administration. That of Trump will not be an exception.
To return to an earlier point, 'pivot' or not, perception that India and the US are close and getting closer shall persist and to that extent and more, those inimical to the US, India and the US-India influence in Asia are bound to gang up.
The Chinese attitude to India vis-a-vis India-Pakistan relations is hardening. Repeatedly blocking India's entry to the Nuclear Suppliers' Group and vetoing UN Security Council's placing Maulana Masood Azahar on terror list are only two of the visible moves.
China increasingly views any Indian move affecting Beijing as also affecting Islamabad's interests. The latest is a threat coming from its state-owned media that if India makes more long-range Inter-Continental Ballistic Missiles (ICBMs), Beijing may help Pakistan do the same.
Enter Russia – Moscow has for some time been getting closer to China. It's akin to tail wagging the once-powerful dog.
This is impacting India and the region as never before. The once-starry Russia-China-India relationship of the 1990s is all but forgotten.
That being the case, after over six decades of ties that were exclusive to India, Russia is getting closer to China's "all-weather friend" Pakistan.
The first-ever Russo-Pak joint naval exercise took place last month, close to Indian waters. Although a $10 billion worth of military hardware was recently ordered by the Modi Government, Russia is looking to Pakistan as a market for its weapons. Top Russian officials are visiting Pakistan.
A visit by Russian intelligence chief to Pakistan's Chinese-built-and-run Gwadar port has caused speculation that Russia might join the China-Pakistan Economic Corridor (CPEC).
Come to think of it, whether or not Russia joins the CPEC, would it not be logical to assume that if China wants access to the Indian Ocean, so would Russia?
The fast-changing global scenario is already impacting our region. Russia, China and Pakistan have begun to forge a new axis in Afghanistan to accommodate Taliban as a tool against the Islamic Sate terror group. This has obvious and unforeseen consequences for the Russia-India relationship.
Putin once described himself as "India's best friend." Despite his meetings with Modi, most recently in Goa, the India-Russia communication has suffered.
Moscow's joining the new axis could lead to a drift in Indo-Russian relations. This is because Russia, India and Iran have for long been among the regional powers opposing the Taliban. Now, even Teheran is being roped into the new alliance.
China, Pakistan and Russia met in Moscow – it was their third meeting – to discuss Afghanistan's "deteriorating" security situation, despite strong protests from the Afghan government.
The idea is to foist a 'solution' on Afghanistan that faces existential threat from the Taliban operating from the Pakistani soil. Following Kabul's protests, the three agreed to expand the group to include Afghanistan the next time.
The statement issued at the end of the meeting said, "The Russian Federation and the People's Republic of China as the UN Security Council permanent members confirmed their flexible approach to delisting Afghan individuals from the UN sanctions lists as their contribution to the efforts aimed at launching peaceful dialogue between Kabul and Taliban." This is advantage Pakistan.
Conspicuous by its absence at the meet was India, which continues to hold Taliban as the biggest threat in Afghanistan. Besides India, the Afghan government and the US both agree to this.
India is holding on to the "red lines" for integration of Taliban into the Afghan government but that seems to be getting diluted by the new axis, which is less Afghan-led and more Pakistan-led, putting Pakistan once again in the driver's seat on Afghanistan's future.
Iran, which has been doing its own outreach to Taliban, is equally apprehensive of the fallout of IS cadres relocating to Afghanistan as they get driven out of Syria and Iraq.
This is essentially a return to the good-Taliban, bad-Taliban argument, as everybody wants to do a peace settlement in Afghanistan. India will remain out of this move yet again.
One must hark back to when India was supportive of the Russian presence in Afghanistan. When Russians withdrew, India was left without any friends there.
It took a full decade to nurture ties with the squabbling Mujahideen. After the Taliban were overthrown in the wake of 9/11, India helped in Afghanistan's nation-building, successfully investing in goodwill and pumping in $2billion.
Will the success of the new axis and a possible return of the Taliban again render India friendless in Kabul?
Subscribed Failed...
Subscribed Successfully...